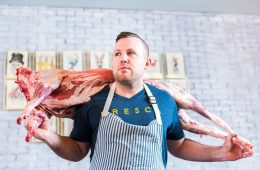 JÔNT
PROJECTED OPENING DATE:
Spring 2020 1906 14th St NW
Chef Ryan Ratino, brains behind the one Michelin star Bresca, has carefully curated a new dining experience for DC residents: Jônt. This intimate, 18-seat, venue will offer an ever-changing menu that features about 8-11 courses. Ratino wants his new restaurant to reflect his culinary journey and will only be using ingredients that are emblematic of his hard work. The menu will focus on certain elements like dry-aged meats, vinegars, lacto-fermented fruits and vegetables, and various miso. Chef Ratino has partnered up with local DC designer, Amber Kendrick, to curate an approachable space that feels both chic yet homey.
Photo Credit:www.dc.eater.com