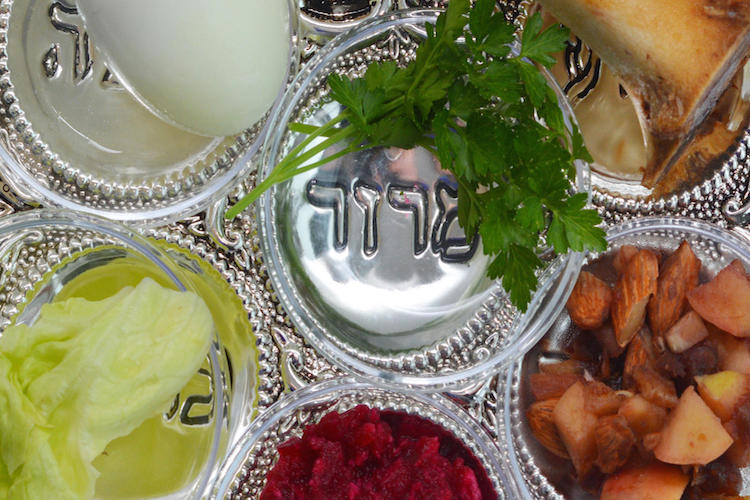 PASSOVER POSSIBILITIES

Commemorating not getting killed by a plague during a plague is about as Jewish as you can get. With that in mind, the Passover holiday begins the evening of April 8 regardless of the current Covid-19 crisis. Take a break from the stress of social distancing at the grocery stores and let area restaurants assist with this year's Seder. Gather the family around the table -via Zoom- and figure just out who is asking the Four Questions:

ANXO
The District's cidery recently released a can, District Kosher, that is perfect for a virtual Passover. This 6.9% alcohol Certified-Kosher dry cider can be delivered to your doorstep or can be delivered as a gift (from $12); 202.986.3785; Order Here


Call Your Mother
One of the few delis in the DC Area and a local favorite is offering a Passover menu, which includes a main dish, sides, and dessert, available to pick up or to be delivered on April 8th and 9th (from $70 for two people). All orders must be placed by April 6th; 3301 Georgia Avenue NW; Full Menu/Order Here

City Winery
City Winery will host a live-stream for The Downtown Seder 2020 on their website on April 6th at 6:00 p.m., two days before Passover begins. This stream will feature comedian Lewis Black talking Bitter Herbs, David Broza and Peter Yarrow singing hits from the Exodus, Judy Gold's annual Dayyenu, and much more. Visit City Winery's website here for more information on the stream.


Cork Wine Bar & Market
At the time of year when families of all faiths are traditionally gathering to celebrate different holidays Cork Wine Bar & Market is making it easier to have a virtual Passover with friends and family by offering a Seder-in-a-Box. Featuring all you need for a family of four including everything for your Seder plate and a full Seder dinner. Vegetarian options available upon request. Order by 8:00 p.m. Sunday April 5 for pick up on Tuesday April 7 after 5:00 p.m. (or Wednesday after 12:00 p.m.). Email [email protected]


Equinox Restaurant
Equinox is offering its customers "Passover In A Box" starting April 7th until April 16th. The box contains a 5-course menu that honors the traditions of the holiday and also includes a complimentary bottle of Manischewitz Concord Grape. Customers can either have orders delivered or picked up. All orders should be placed by 3:00 p.m. on April 6th (from $55 per person); 202.331.8118; 818 Connecticut Ave NW; Order Here


Gepetto Catering
Let Gepetto Catering set you Seder table with contactless delivery. Their Passover menu
includes choice of soup, salad, main course, two side dishes, and flourless chocolate cake for dessert. Items will be delivered cold in foil pans with reheating instructions. $35 per person with a minimum of 5 per order. Orders must be placed by 5:00 p.m. on Monday, April 6th. Use code HOME at check out for free delivery. Order from the Passover Menu
here
.
Gravitas
Bring Gravitas home this year for your Passover celebration. They are offering a four-course meal for two available for takeout and delivery, featuring a starter and entree, as well as a set snack, side and dessert ($90). Customers also have the option to order suggested wines; 202. 763.7942; 1401 Okie St NE;
Order Here
Neighborhood Provisions
NRG and Chef Jarrad Silver have developed a festive menu perfect for the Passover holiday. Whether you are looking for pantry items like boxes of matzo a Seder plate or babaganoush and tabbouleh, Neighborhood Provisions has it and is ready for the holiday. Chef's whole roasted chicken and/or lamb shoulders will make the perfect centerpiece on your holiday table. Other chef-prepared items available to order; 703.549.5051; Order Here

Prescription Chicken
Starting April 4th, Whole Foods Market stores in Maryland and Virginia will begin carrying Prescription Chicken just in time for Passover. If you cannot make it to a Whole Foods, you can still order direct from the site and have it delivered. Perfect for Passover? Prescription Chicken's Grandma Matzah Ball (onions, garlic, pulled chicken, vegetables, and homemade matzah balls, $12); Order Here

Shilling Canning Company
Available through April 16th, Shilling Canning Company is offering a Passover dinner that can serve up to four people ($80). Some highlights from this meal include: Shilling whole roasted chicken, matzo ball soup, poached pear cheesecake, and more; 202.554.7474; 360 Water St SE; Order Here

Xiquet

The Glover Park restaurant is offering a grab and go meal perfect for Passover, available starting April 2nd until April 19th. This Holiday Lamb Feast can serve four guests and includes two pounds of Roasted leg of lamb with two sides (marble and sweet potatoes and roasted carrots and broccoli; from $90). Desserts are available to order as well; 202.913.4671; Order Here

Zoe's Chocolate Company
Zoe's is offering chocolates that are perfect for the Passover holiday. Order a box of Zoe's truffles or for the holiday a box of dark-chocolate covered matzo (Dark chocolate, dustings of pistachios, turbinado sugar, from $12); 717.387.5882; Order Here