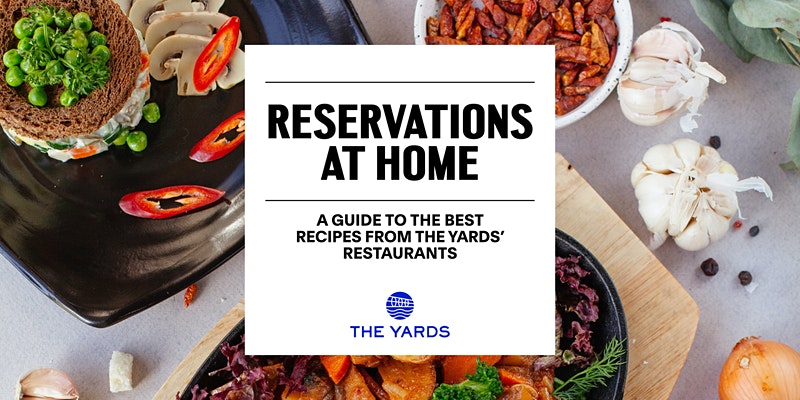 Out of the Box Thinking
Even in the toughest of times, creative juices flow ...
BIDGO
Rosslyn "BIDGO," now available on the BID's website, is a take on a classic BINGO game that incorporates at-home activities and Rosslyn-specific tasks. To play BIDGO, participants must complete five tasks on the card in a vertical, horizontal, or diagonal line, and send a photo of each activity with descriptions to [email protected] The first 25 participants to submit a completed card verified by the BID will receive a $25 gift card from a participating #RosslynRewards restaurant of choice. Activities on the BIDGO cards range from at-home activities like reading a new book or playing the BID's virtual trivia game, a twice-weekly online event where participants have the chance to win gift cards of up to $75 to Target, Safeway, and CVS. Other tasks include completing activities on Rosslyn BID's wellness page, which was set up in partnership with local fitness studios, gyms and coaches to bring free content for residents and employees to view at home. Content relating to physical therapy and overall well-being are also available. Participants can also cross off BIDGO spaces by supporting local restaurants through the BID's #RosslynRewards program and restaurant directory. (rosslynva.org)
DC To-GoGo
Ivy and Coney's Josh Saltzman, Adam Fry and Chris Powers have launched a platform called DC To-GoGo that allows bar and restaurant owners to regain control of their food delivery process, especially those forced into delivery by the pandemic. These business owners are paying up to 30% of their profits to larger food ordering platforms. DC To-GoGo provides the ability for restaurants and bars to minimize these fees, at a time when sales and profits are down. With the number of COVID-19 cases in the U.S. continuing to grow, many state and city officials have ordered the closure of dining rooms and bars across the country and millions of hospitality workers remain without income. Ivy and Coney/DC To-GoGo wanted to figure out a way to help restaurants and bars survive while providing as much employment to their furloughed workers as possible. In addition to paying 10% in fees versus 30% or more, restaurants are strongly encouraged to hire their furloughed staff as couriers. The DC To-GoGo team is also adamant that the platform will not create gig economy-style jobs, and that all restaurant partners must agree to pay their staff a living wage. Unlike larger ordering platforms, DC To-GoGo will not delay payments due to the COVID-19 emergency. As a nonprofit, DC To-GoGo's 10% fee is strictly for operations. The service charges paid by the restaurants will be split evenly and go right back into their pockets once the bills are paid. DC To-GoGo will not only save restaurants from predatory fees, but the name is a show of DC pride with a nod to the official music of DC: Go-Go. Patrons can order at DCToGoGo.com
Federal Realty's The Pick-Up
The Pick-Up, Federal Realty's contactless pick-up program at its shopping center properties in Washington, D.C., Maryland and Virginia, is made available to all tenants and customers looking for comfortable ways to return to shopping at their favorite stores. The program expands on an already popular curbside pick-up program that was rolled out for restaurants at the start of the COVID-19 mandatory closings. Customers will be able to place orders directly with stores by phone or on-line, and arrange for same day pick-up, or a time most convenient to them. Look for The Pick-Up to launch by May 15th at Federal properties throughout the DC-metro region, including Bethesda Row, Congressional Plaza, Mount Vernon Plaza, Old Keene Mill Shopping Center, Pentagon Row, Pike & Rose, The Village at Shirlington, Wildwood Shopping Center, and more. (federalrealty.com/)
#LoveNationalLanding
The Crystal City Business Improvement District (BID) has launched #LoveNationalLanding, a new art campaign designed to enliven the local streetscape while also highlighting the work of area businesses and local artists. The initiative kicked off with the unveiling of an array of vibrant artwork featuring sunbursts, blooming flowers, and oversized hearts emboldened with encouraging messages across several storefronts in National Landing, the district that encompasses Crystal City, Pentagon City and Potomac Yard. Drawing inspiration from Andy Shallal's #PaintTheStorefronts program, and neighborhoods across the country that have utilized art to beautify the public realm during the COVID-19 crisis, the BID worked with curator Tom Pipkin to select a lineup of local artists who were then tasked with creating facade designs that would serve as a source of community-wide inspiration. In addition to the storefront beautification project, the BID has enlisted local muralist team Brocoloco to create eye-catching vinyl wraps that will cover two welcome boxes with frontages that span over 20'-by-8'. Brocoloco will also produce 100 sidewalk decals featuring positive and amusing messages that will be scattered throughout the neighborhood. These features, along with a social media component, will roll out over the month of May.
Reservations at Home

The Yards has developed a virtual cookbook, Reservations at Home, to feature more than 20 of the most popular recipes from bars and restaurants at The Yards. While DC stays home and stays safe, The Yards' cookbook gives the community a chance to try their hand at their favorite dishes and drinks, while also educating area residents on delivery and pick-up options available at The Yards' restaurants. Restaurants include Agua 301, Albi, Anchovy Social, Chloe, District Winery, Due South, Ice Cream Jubilee, Maialino Mare, Maxwell Park, Nando's Peri Peri, and Shilling Canning Company. The cookbook can be purchased on Eventbrite for $10. All proceeds will benefit The Yards' virtual tip jar, supporting the restaurant employees impacted by COVID-19.

Tiny Chefs Virtual Classes
Children can "travel" around the world with Tiny Chefs' virtual kitchen, and learn how to make ten delicious recipes in this online cooking class. Recipes such as basic crepes with honey sea salt whipped cream & bananas from France, chicken gyros with cucumber salad & tzatziki from Greece, and tortilla fruit cups from Mexico are just a few of the creations that will be made. Your child will be able to follow along with a video instruction of each recipe or print the recipe and shopping list to make at a later date. Students will learn a variety of cooking techniques and terminology, and their knowledge will be tested with a short quiz and fun activities after each video. For $10 off, use discount code Dawsons10 at checkout. (tinychefs.com)

Voraciously "Essential Cookbooks"

The Washington Post has launched an email series providing the necessary tools for cooking with advanced culinary techniques and guidance on everyday recipes from a variety of skilled chefs, Voraciously's "Essential Cookbooks" newsletter. Starting Monday, June 1, the Voraciously staff will feature 10 selected cookbooks that are considered vital for home cooks. Each week, the newsletter will showcase a cookbook, introducing readers to techniques, ingredients and flavor combinations that they can apply. Chefs can also enrich their day-to-day cooking with featured cookbook recipes that they can add to their rotations. For more information, please click here.
The Yards at Home
The Yards is announcing a new, ongoing virtual programming series, "The Yards at Home," featuring the faces and voices behind businesses at The Yards. All content will be streamed live on the @TheYardsDC's new IGTV channel in 10-minute segments focused on health and wellness, fitness, nutrition, family fun, pets, food, and wine, brought to you directly from retailers at The Yards. Some of the unique segments retailers and restaurants at The Yards will be bringing into homes in the coming weeks include wellness workouts and tips from Lululemon Ambassador Tim Williams, VIDA Fitness instructors, Pacer's Running and more; map out the best running routes and bike paths for safe, social-distancing compliant outdoor fun; Get to know the movers, shakers, and drink-makers of The Yards community including Maialino Mare Sommelier Marcie Gsteiger-Cox, bartenders and brewers from Bluejacket, Albi, District Winery and more through virtual tastings, blind taste tests, and behind-the-scenes content; Join Banfield Pet Hospital for Press Paws with tips on how to keep your pet tick-free, healthy, groomed and entertained while outdoor options remain limited; Get crafty with hands-on virtual workshops and personal shopping with Steadfast Supply, and more. (TheYardsDC.com)