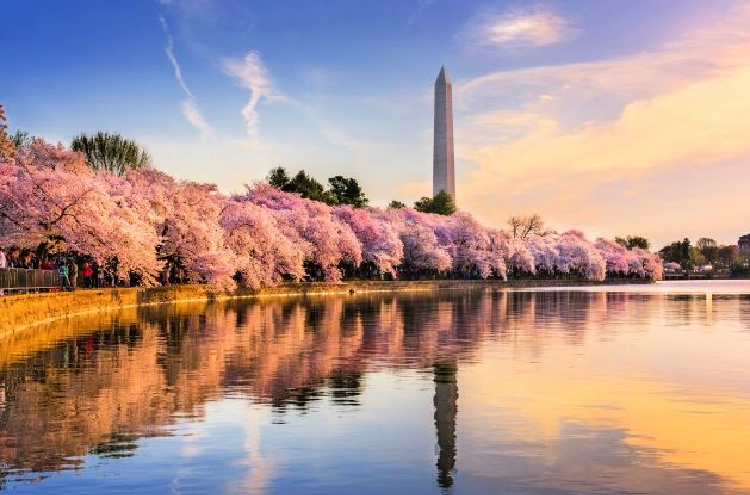 The Cherry Blossoms Are Coming!
The 2021 National Cherry Blossom Festival is coming, March 20th through April 11th - and you know what that means. Beautiful blooms across the city, and fun activations for the whole family. While most of the programming will be virtual this year, there is still plenty to celebrate. The festival will offer engaging virtual and personal experiences through unique programs, activities, and events that honor the Festival's deep traditions and bring the celebration of spring to the DC area and beyond.
In particular, this year's Cherry Picks Program will help feed your springtime cravings. Presented by The National Cherry Blossom Festival with the Restaurant Association of Metropolitan Washington, Cherry Picks works to shine a spotlight on the region's dynamic food & drink options and encourage the community to support local restaurants throughout the festival. Restaurants, both in the District and Maryland/Virginia, include many classic favorites along with nearly 130 brand new spots ready to be sampled. Options include ABC Pony, American Son, Baker's Daughter, barmini, Ben's Chili Bowl, Cafe Georgetown, Central, Colada Shop, Daikaya, Dog Tag Bakery, Estadio, Fare Well, Founding Farmers, Foxtrot Market, Glover Park Grill, Hank's Oyster Bar, HipCityVeg, Immigrant Food, Laos in Town, Le Diplomate, Lei Musubi, Mintwood Place, Moby Dick House of Kabob, Nick's Riverside Grill, Nina May, Nobu DC, Officina, Oohh's & Aahh's Soul Food, Ottoman Taverna, Pâtisserie Poupon, Pizzeria Paradiso, Perry's, Roaming Rooster, RPM Italian, Shilling Canning Co, Slate Wine Bar, Stable, Supra, Taïm,The Duck & The Peach, Thomas Sweet, Lia's Restaurant, Caboose Brewing Company & Tavern, Portofino, The Rub Chicken & Beer, Wildfire, and many more. For the complete list of Cherry Picks restaurants, click here.