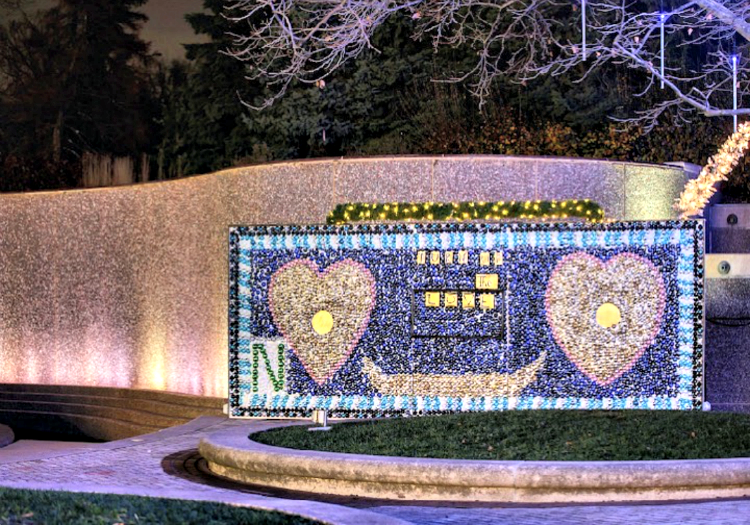 Let There Be Light: Light Shows All Around Town
We can't gather in large groups, We know. But, don't be a Scrooge! You can mask-up, socially distance and enjoy all the holiday light shows happening around the city.

Adams Morgan Interactive Holiday Light Display
Celebrate the holiday season in Adams Morgan. Enjoy a variety of socially-distanced holiday activities, an interactive light display, plenty of shops for all of your gift-giving needs, and restaurants galore - ideal for dine-in or at-home holiday feasts. In order to help spread joy and bring additional foot traffic to businesses in the neighborhood, The Adams Morgan Partnership BID is launching a month and a half long interactive light display through January 4th in BB&T Bank Plaza located at 1801 Adams Mill Road NW. Enjoy an illuminated plaza full of gift boxes and street light decorations throughout the community.
Guinness Holiday Light Walk
Guinness Open Gate Brewery announces its Holiday Light Walk with a number of outdoor installations to view as you enjoy a beer or two responsibly. The installations will feature historic Guinness artwork, such as a toucan, harp, seal and even a Maryland crab. In addition to the lights, the brewery will bring back its Diageo holiday keg tree, constructed from more than 250 kegs. The installations can be enjoyed all December long and are free and open to the general public. Visitors must be 21+ to drink. Holiday Beer specials include Gingerbread Spiced Stout, Imperial Stout, Winter Warmer, and Barrel Aged Coffee & Coconut Porter.
Light Yards
The Yards is bringing back Light Yards for its fifth year at The Yards Park. While this year has looked very different, Light Yards will continue its tradition as an opportunity to safely celebrate the holidays in a fun and socially-distant way during a time when many holiday traditions and events are not possible. The annual holiday installation will feature the premiere of the installation "Stars" by Australian-based immersive light design sculptors
Amigo & Amigo
. The larger-than-life stars constructed from metallic mesh feature dancing lights and play festive music, making for a perfect socially-distanced stroll for guests of all ages who want to safely experience some holiday cheer. This free-to-all installation will be illuminated nightly from 6:00-10:00 p.m. through January 10th. The Installation is FREE and open to all. All DC COVID protocols must be followed at Light Yards, including wearing masks and practicing social distancing.
Turn Up the Love at National Landing
As part of National Landing's mission to activate public spaces, the BID is unveiling "Turn Up the Love," a winterlong campaign featuring a series of engaging outdoor pop-ups. These festive installations will include a 10 foot tall life-size boombox made from thousands of ornaments which plays holiday music, three shareable standing photo frames, and even more surprises to be announced after the holidays. "Turn Up the Love" spurs from National Landing BID's #LoveNationalLanding art series, which launched earlier this year with the unveiling of an array of uplifting artwork on storefronts in the area. Building on these efforts, "Turn Up the Love" is designed to engage the community and ignite some extra cheer during this winter season. This activation will be open to the public through mid-January. Click for more details on National Landing winter activations.
The Symphony of Lights
This walk-through showcase has been a time-honored Howard County holiday tradition set in historic Merriweather Post Pavilion. Made up of more than 300,000 bulbs, this family-oriented spectacular is a dazzling display of larger-than-life animated and stationary holiday light creations. With the addition of new lights and a refreshed course, your time walking through the twinkling, winding path will surely be a night to remember. Tickets are valid any night through January 2nd except December 7th and 31st for walk through events. A portion of proceeds from this event benefit the Howard County General Hospital. For more information, click here.