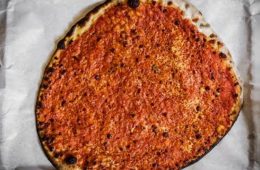 Frank Pepe Pizzeria Napoletana
PROJECTED OPENING: Late 2020
7101 Democracy Blvd, Bethesda, MD

Frank Pepe Pizzeria Napoletana, a 94-year-old family owned pizza chain based in New Haven, Connecticut, will be opening its first restaurant in Maryland at Bethesda Montgomery Mall in late 2020. The restaurant features a variety of specialty pizzas such as their White Clam and Original Tomato Pie. The pizzas range in price from $10 to $31 and varies between 12, 16, and 18-inch pizzas and patrons have the ability to customize their own toppings.
Photo by Tom McGovern