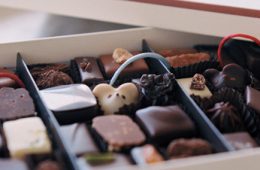 L.A. BURDICK CHOCOLATIER
PROJECTED OPENING DATE:
January 2020 1319 Wisconsin Ave NW
L.A. Burdick Chocolatier, The High-end New Hampshire Based Chocolate Boutique, Will Be Opening Up Their First DC Location, In Georgetown, Later This Year. The New Venue Will Serve As A Traditional Storefront As Well As A Cafe. Guests Can Expect A Multitude Of Chocolates, Pastries, And Cookies Combined With The Signature Hot Chocolate And Petite Fours. L.A. Burdock Chocolatier Will Also Be Offering Their Namesake Chocolates In The Shapes Like Penguins And So Forth.