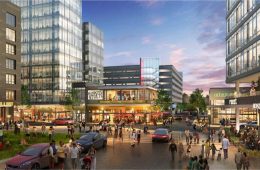 MERRIWEATHER DISTRICT: DINING CONCEPTS
PROJECTED OPENING DATE: No New Info At This Time
Merriweather District
Expected to debut in the summer of 2020, the Merriweather District will feature exciting dining components. Currently being built by The Howard Hughes Corporation, the up and coming neighborhood will be situated in downtown Maryland. For a look at the confirmed dining partners, take a look below:
Busboys & Poets will occupy a 10,700 square-foot venue, which will take up two floors to be used as a restaurant, bookstore, and event space. Led by creator and founder Andy Shallal, the new location will place an emphasis on the emerging area's culture and rich heritage. The concept will offer indoor and outdoor seating and a carefully curated selection of books as well as all day dining options.
Clove & Cardamom will be bringing some authentic Indian cuisine to the area. Coming form the owner of the Indian restaurant Rangoli, the brand-new spot will occupy a 2,680 square-foot restaurant and café area that will exude a warm, clean, and inviting atmosphere. In terms of the menu, guests can expect Clove & Cardamom to authentic Indian dishes that are also health-cocnious and vegan.
Dok Khao Thai Eatery, a favorite to local Northern Virginia residents, will be joining the Merriweather District in a new 3,400 square-feet space that will offer both indoor and outdoor seating. Guests will still be able to sip on fresh cocktails and enjoy the same menu inspired by dishes sourced from Bangkok.
Matchbox, a DC-born restaurant, will be opening in an expansive 5,000 square-foot space. The new location will offer guests their beloved wood-fired pizzas and American-Italian dishes. Guests will also be able to enjoy the full cocktail menu; featuring an extensive list of cocktails, wines, and beers. On the weekends, Matchbox will be offering a bottomless brunch where diners can participate in unlimited small plates alongside discounted bloody marys, peach bellinis, and mimosas.