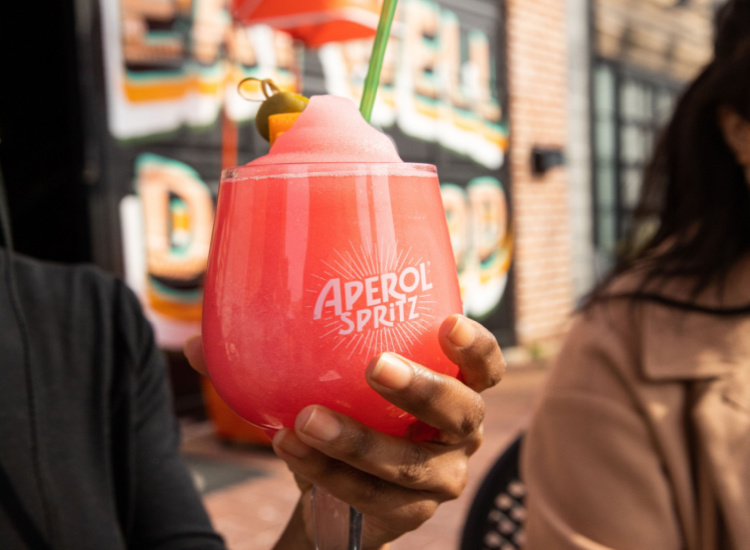 The Latest in Area Pop-Ups & Ghost Kitchens
It's no surprise that local restaurant and business owners continue to pivot & pirouette in order to handle everything that is happening in the industry right now. Between city shut downs, the ever-changing restrictions and bans on indoor dining restaurants have had to get creative. Below see the latest in Pandemic Pop Ups as more spring up around town, we will add them here:
Ampersandwich
Sandwich lovers rejoice: chef Reid Shilling's new concept, Ampersandwich, has a rotating list of sandwiches available for delivery during lunch and dinner hours. Highlights of the comfort food-inspired menu include: E. Lombard Street Corned Beef (hot corned beef piled high, "heavy on the mustard," on house made Jewish rye), the McReid (smoked and slow cooked St. Louis ribs and chopped pork shoulder, topped with dill pickles and BBQ sauce on a house-made bun) and a chivito (wood-fired beef, Virginia ham, applewood smoked bacon, egg, roasted red peppers, chimichurri, garlic aioli, onion, lettuce and melted mozzarella on a house-made bun) among others. Ampersandwich will be available for delivery on partner platforms including DoorDash, GrubHub and UberEats. Those looking to enjoy Ampersandwich in-restaurant can stop by Shilling Canning Company during happy hour from 4:00 to 6:00 p.m. on Wednesdays and Thursdays for sandwiches, beer + wine specials and a specialty cocktail. 360 Water Street SE; Ampersandwichdc.com

One Night in Tokyo at barmini
The latest in barmini x minibar's ongoing pop-up miniSERIES, One Night in Tokyo is a unique snack tasting menu inspired by Japan. Highlights include Breakfast in Hokkaido, which is made with goat milk aerated ice cream, hay-infused goat milk sauce and puffed wild Japanese rice with makrut lime powder, hay caramel and fennel flowers, and a Matcha Donut, made with matcha ice cream and matcha powdered sugar. In addition to the option to order beverages a la carte, you can also select a wine pairing that has been curated by Mastre Sommelier, Andy Myers. Tickets are $70 per person and available on Tock.

Butter Me Up
Butter Me Up is a virtual breakfast pop-up with two locations within the District: HalfSmoke restaurant and Mess Hall culinary incubator. Dishes are available for carryout and delivery seven days a week, from 8:00 a.m. to 3:00 p.m. For additional information or to place an order, visit @buttermeupdc on Instagram, and call 202. 971.9139 (Mess Hall) or 202.986.2127 (HalfSmoke). Delivery options are also available through GrubHub, Postmates, UberEats, and DoorDash. 651 Florida Avenue NW; 703 Edgewood Street NE.
CAKES by CUT
Executive Pastry Chef Kieu-Linh Nguyen has launched Cakes by CUT, a specialty cake concept within CUT DC at the Rosewood Washington, D.C. A fixture in the D.C. restaurant community for nearly a decade, Chef Nguyen invites guests into her magical pastry world with a decadent assortment of cakes to select from for any occasion. Designs may be fully customized, and orders may be placed on Tock three days in advance of pick-up. 1050 31st Street NW.

Clous du Roy
Corduroy and Baby Wale, two seperate DC restaurants, have teamed up and opened Clous Du Roy. Located in the alley behind both spots, the menu features a selection of plates that focus on fresh produce and ethically sourced proteins. In terms of the atmosphere, Clous Du Roy features a new mural wrapping around the back of both buildings along with fire pits. 1124 9th Street NW; corduroydc.com

CODA by Nicholas Stefanelli
Chef Nicholas Stefanelli and team are excited to launch CODA, a new ghost pizzeria concept out of Officina at the Wharf. CODA is inspired by the local corner Italian pizza & sub shop Chef Stefanelli grew up on and worked at, combined with the street food and experiences of his travels throughout Italy- from the Roman Alimentari to the arancini of savia pasteceria in Cataina. When the bakery at Officina is "dark" the CODA ghost concept comes to life, taking over the decks of the baker's ovens to produce the pizzas, toast the bread for the specialty sandwiches and bake the pasta al forno. Orders are now available from 4:00-9:00 p.m. Wednesday to Sunday through the Winter season via Doordash & Ubereats, or pickup at the Mercato at Officina at the Wharf. 1120 Maine Avenue SW.

Etta Faye's Chicken Shack
The team behind Smokecraft Modern Barbecue has just opened up Etta Faye's Chicken Shack. It's a ghost kitchen concept and can be enjoyed for takeout or delivery. The concept has been created in honor of Executive Sous Chef William Burke's grandmother. Chicken Shack features a menu rooted in comfort food, offering up seven different types of sandwiches. Standout dishes include a pimento cheese and biscuit crostini with pickled onions and hatch peppers and a sweet BBQ fried chicken sandwich. chickenshack.com

Get Social
HalfSmoke has just announced the addition of Bart Hosmer as corporate culinary director and partner. For some background, the concept is best known for their house-made sausage and wood-grilled dishes. With the new addition to the team, Hosmer has taken charge of the menu and launched Get Social; a virtual Detroit-style pizza pop-up. Currently, guests can order for delivery or takeout, and enjoy Get Social's eclectic menu. Some pizza standouts include the Young, Wild & Basic with triple cheese, robust tomato sauce and basil; Don't Fake the Funk with roasted mushroom, gooey taleggio cheese and crispy rosemary; and Char + Cupping'Roni with artisan pepperoni, whole milk mozzarella and basil. Dessert options also include Cinnamon Sugar Donuts. 651 Florida Avenue NW; halfsmoke.com

Good Eats Emporium Ghost Kitchen
Good Eats Emporium has expanded with a second outpost as a ghost kitchen at Ozzie's - bringing its bites to Fairfax Corner for curbside pickup and delivery, featuring four distinct menus: Best Buns, Stupid Good BBQ, Taqueria Loca, and Good Eats Burgers & Wings. Start your morning with Best Buns - satisfy sweet tooth cravings with artisan pastries accompanied by freshly brewed Starbucks coffees and espresso drinks. Arriving just in time for backyard BBQs, Stupid Good BBQ is taking care of the cooking, so you don't have to labor over the grill. Taqueria Loca shares Mexican-inspired cuisine, with flavors deftly balanced in the exotic and familiar, the simple and complex. Good Eats Burgers & Wings is bolstered by beefed-up offerings, featuring a range of premium Black-Angus Pattiesand a vast array of Classic, BBQ or Smoked & Grilled Wings. Curbside pickup and delivery is available at GoodEatsEmporium.com or the GAR app. 11880 Grand Commons Avenue, Fairfax, VA.
Itty Bitty Sandwich City
The Imperial launches "ITTY BITTY SANDWICH CITY" – a ghost kitchen pop-up serving more than a dozen mini sandwiches, pie bites & bottled cocktails for takeout & delivery. Offerings include a trio of housemade pie bites featuring dark chocolate mousse, a brown butter apple tart, and peppermint cheesecake, mac n cheese, and more. 2001 18th Street NW; imperialdc.com

Jimmy's Philly Steaks
I'm Eddie Cano, the pasta concept in Maryland, has launched a pop-up: Jimmy's Philly Steaks. The new venture is available for pickup or delivery via Doordash. Guests have the chance to order off a menu that features sliced ribeye sandwiches, with the option to add "chedda-whiz". Jimmy's Philly Steaks also offers loaded tater tots and meatball hoagies. jimmysphillysteaks.com

Little Prince Pizza
Schlow Restaurant Group has officially opened up a ghost kitchen in Georgetown: Little Prince Pizza. The new concept features a plethora of pizzas and specialty pies; including "The Hamilton" with shredded short rib, ricotta, truffle, honey, and fresh herbs. You also have the option to enjoy other dishes like wings and burgers. Currently, Little Prince Pizza is open for takeout and/or delivery, and is also selling alcohol like beer and white claw. 2505 Wisconsin Avenue NW; littleprincepizza.com

Lucky Danger
Chef Tim Ma has rolled out another pop-up concept: Lucky Danger. It has taken over the kitchen at Prather's on the Alley in Mt. Vernon Triangle and will stay for about a year. Guests have the chance to order either delivery or takeout. Lucky Danger's cuisine is dubbed as Chinese-American, offering up favorite dishes like spring rolls, orange beef & chicken, and lo mein. A standout plate from the new spot proves to be Lucky Danger's duck fried rice, using confit duck legs. 455 I Street NW; luckydanger.co

Morning After Next
Morning After Next is a virtual pop-up operating out of the HalfSmoke restaurant. Dishes are available for carryout and delivery seven days a week. For additional information or to place an order visit @MorningAfterNext on Instagram or call 202.986.2079. Delivery options are also available through GrubHub, UberEats, and DoorDash. 651 Florida Avenue NW.
Napoli Pasta Bar
Napoli Pasta Bar will be hosting a pop-up at their sister restaurant, Napoli Salumeria. Executive chef Andy Clarke will be offering a four course meal ($40 per person) of some of Napoli's most popular Italian dishes with a wine pairing and extra bites. The menu is available for dine, carryout, or free delivery. You can book a dine-in reservation at the chef's counter to engage with chef Clarke and hear more about the dishes and how they are prepared. Dining room tables are also available. 1301 S Joyce Street, Arlington, VA; napolisalumeria.com

No Soup for You
Beloved restaurant The Fainting Goat has announced the opening of a new pandemic pop-up: No Soup For You. The concept is solely focusing on hearty soups and stews, dips, and sandwiches. Soup standouts, which range from $9-$14, include the Chicken Pot Pie, Roasted Tomato, Braised Short Rib, and Shrimp Gumbo. Guests can also order a plethora of Hot Cocktails To-Go like the Hot Toddy, Boozy Mocha, Mulled Wine, and Irish Coffee. Currently, The Fainting Goat and No Soup For You can be ordered for either takeout or delivery. 1330 U Street NW; faintinggoatdc.com

Pho Joint
Pho Joint, housed inside the Duke's Grocery in Foggy Bottom, is serving up a variety of pho dishes for dine in or takeout (available on UberEats, GrubHub, and Doordash). Guests also have the opportunity to add brisket, eye round, meatballs, or chicken to their Vietnamese soup. The idea for the new venture came from the teams appreciation for the dish along with their desire to add some hearty and healthy options to the menu. 2000 Pennsylvania Avenue NW; dukesgrocery.com

SANdwich LORENZO
After nearly three years in business, the team at San Lorenzo has decided to start a new sandwich shop inside the restaurant during lunch hours. SANdwich LORENZO will feature simple sandwiches that Chef Massimo Fabbri grew up eating in Tuscany, made for him by his Mom when he was young. A few examples include Prosciutto, Mortadella, Caprese, Nutella, and Fichi. The menu will also feature four simple salads and a soup of the day. Orders will be available through DC to GoGo, Doordash, Grubhub, Uber Eats or via pick-up at San Lorenzo by calling the restaurant at 202.588.8954. 1316 9th Street NW. SanLorenzoDC.com

The Spritz Garden
To usher in the spring season on April 7th, Columbia Room is launching The Spritz Garden, an homage to the outdoor cafes in Italy and the iconic Italian libation itself. The Spritz Garden, including the rooftop patio and Blagden Alley streatery, will boast a menu of unique spritzes, apéritif cocktails, and snacks to graze on between sips. The Spritz Garden drink list, designed by Columbia Room general manager Paul Taylor, will feature its namesake drink in a few forms: the Aperol Spritz- perhaps the most famous of the spritzes, and the Cynar Spritz bolstered with housemade salted grapefruit soda. Other apéritif cocktails will include a Negroni, a classic Americano, and the Watermelon Americano, plus a frozen Aperol spritz, all available to go as well. A menu of Columbia Room favorites, currently offered on the rooftop patio, will also be available on both the rooftop and streatery seating areas. You can also order sandwiches from Your Only Friend, Taylor's sandwich concept operating as a ghost kitchen out of Columbia Room. The Spritz Garden at Columbia Room will be open on Wednesday through Saturday from 5:00-10:00 p.m. (streatery) and 5:00 p.m. to midnight (rooftop patio). Reservations are encouraged via Tock. 124 Blagden Alley NW; columbiaroomdc.com.

Stingray
Stingray Kitchen is the ghost kitchen concept that will roll out of the Declaration Shaw space until March 31, 2021. Offerings include hot and sour matzo ball soup, steamed chicken dumplings, and more. 804 V Street NW; declarationrestaurant.com

The Wine Shop at Shilling Canning Company
This Shilling Canning Company concept is in partnership with Moët-Hennessy and is offering guests a wide selection of wines, to pair with their already-established Dine-In and Takeout menus. Standout plates from the menu include truffle fries, the lobster roll, and buttermilk fried chicken. The new pop-up is emphasizing the concept of pairing wine with food, inviting guests to connect with staff on their suggestions. 360 Water Street SE; shillingcanning.com
Your Only Friend
The sister sandwich shop to Columbia Room, Your Only Friend, is now operating as a ghost kitchen out of Columbia Room. Orders for Your Only Friend sandwiches and cocktails can be placed at exploretock.com/columbiaroom. 124 Blagden Alley NW; youronlyfrienddc.com
Want to hear more about area pandemic pop-ups? Tune into Industry Night on Real Fun DC. Nycci chats with guests Gerard Bertholon (Cuisine Solutions), Rob Sonderman (Fedwich), Nathan Beauchamp (No Soup for You) & Nick Wiseman (Little Sesame Rotisserie). Listen to the
full episode here
.