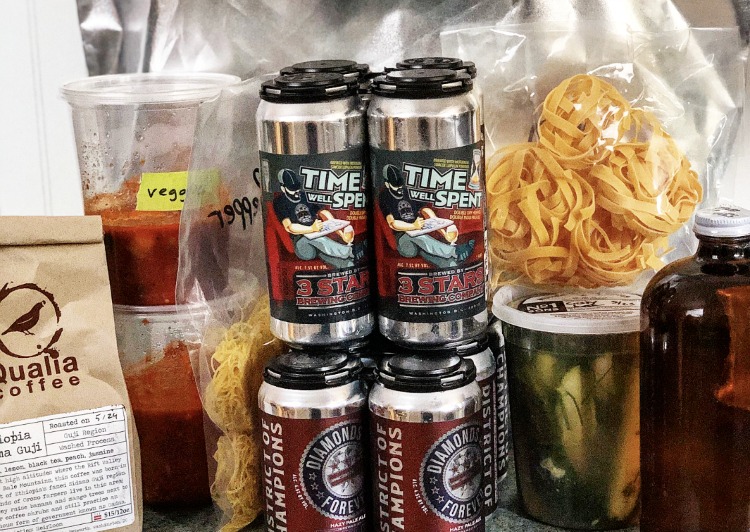 CSA, CSB, & All Your Groceries Delivered
3 Stars Brewing Company CSB - Community Supported Beer
The boys at 3 Stars Brewing Company have launched the first-ever, Community Supported Beer (CSB). The CSB program is similar to farm CSA programs (Community Supported Agriculture), as a CSB Member, you become a "shareholder" on a week by week basis or can enjoy even more specialty offerings and savings when you sign up 4 weeks at a time. What you can look forward to:
Beer releases are pre-paid and included with your membership cost and feature specialty releases for you

Flexible membership plans & tiers to fit your budget & beer needs

A mix of specialty cans, growlers, and core 6-packs (including such offerings as Peppercorn Saison, Ghost IPA, Diamonds are Forever and Southern Belle)

"CSB exclusives" - rare and experimental items that may never hit market
With your subscription price, you will receive a set number of beers per week, which will have for contact-free curbside pickup or delivery. Simply swing by the brewery on Tuesdays during open hours to pick up your CSB order or select the delivery option online and they will drop it at your door on Tuesday afternoon. Please note, the offerings will change with inventory and rotate weekly so that you are being provided with the best variety of great local beers and products.

All Purpose
Chef Mikey Friedman and his team at All Purpose Shaw are now offering All Purpose CSA in partnership with their Pennsylvania-based farm collective, Earth and Eats. While ordering your Santa Cruz pizza, sign yourself up for a box of farm-fresh veggies and dairy available every Tuesday & Friday. A weekly CSA commitment is $25 with 20% of sales going to their employee fund. Order via website and get contactless pick-up at Shaw. Stay tuned for information on All Purpose Capitol Riverfront.

ANXO

ANXO is offering weekly CSA Boxes for pick-up on Tuesdays and Wednesdays, along with their cider and provision delivery options. Boxes include items like citrus fruits, garlic, onions, potatoes, tomatoes, lettuce, bread, milk, and eggs, and will change weekly. ANXO has partnered with Warshore for a sustainable seafood option, as well as Fields of Adventure at Smithfield Farms. This family farm is raising grass-fed pork and cattle just 90 miles from DC and will be providing all of their meat, including bacon and ground beef.
As an essential business, Butcher's Alley will remain open. In order to maintain the safest environment possible and to ensure social distancing, they will only allow a maximum of 6 shoppers in the store at a time, and gloves will be available for customer use. The shop is stocked with butcher cut meats, grab and go meals, fresh local products such as milk, eggs, and other dry good grocery items. They are also offering low or no contact curbside pick up, call 301.841.8151 and their team will put together your order.
The Grill, KNEAD Hospitality + Design and chef Roberto Santibañez's restaurant located in The Wharf, now offers The Butchery, a selection of raw pre-marinated meats to grill at home, with options including king salmon, ribeye, and filet mignon, among other cuts. You can opt for having the meat cooked to your preference prior to pick-up for an additional $10.
The Canopy Hotel

The Canopy Hotel at The Wharf's Canopy Central Cafe & Bar and Whiskey Charlie have teamed up to sell family style meals, alcohol, frozen foods, dry goods and even produce. They've got everything from alfredo pasta Lean Cuisines to steel cut oatmeal.

Centrolina Mercato

Centrolina's Market is open for pickup and delivery, and remains stocked with pantry staples and pizza kits for two, which include 2 rolls of pizza dough, fresh tomato sauce, chipped mozzarella and fresh basil ($15).
The Del Ray location has expanded their retail offerings to include fresh produce and hard-to-find cleaning supplies (and toilet paper!) for pick-up and delivery. Cheesetique is working hard to serve as a vital source for your nourishment and health during this difficult time, with produce an household supplies coming soon to Shirlington.
Chicano Sol

A certified organic farm that sells at three DMV farmers markets and also has a small CSA (community supported agriculture) Chicano Sol is interested in expanding their CSA with a couple of drop-offs in the DMV. A CSA is like a food subscription of pre-selected seasonal produce - you pay in advance for the season and are guaranteed the freshest food. Chicano Sol will offer two sizes (small/medium for 1-2 people and large for 3 to 4 people) as well as optional add-ons each week from other farms (tree fruit, eggs, meat, mushrooms, and maybe cheese and bead). Please email [email protected] for more info and availability.

CHIKO

Well this is exciting. CHIKO has begun offering ChiKo-At-Home Pantry Kits on Capitol Hill's online marketplace. They have a variety of bundles available: Two Chinese Kits and two Korean Kits. Get the standard for $28 or splurge on deluxe for $38 for additional goodies. They all come with special recipe cards, and find more recipe cards online. Looking to whip up some delish dishes at home? Let our curated boxes help you channel your inner Masterchef. Pick-up and delivery are both available.

D'Artagnan

If you have been anywhere near the food industry for the last 35 years, then you have heard of D'Artagnan. Known as the preferred brand for the highest quality meat, poultry and game with the best chefs, butchers, and retailers nationwide, D'Artagnan is still run by Ariane Daguin, daughter of a Michelin-starred French chef. The company has been fully committed to free-range, natural production and sustainable farming since its inception. And now, it delivers to you. DMV residents sheltering in place to help flatten the curve of COVID-19 cases, the D'Artagnan team has created a unique Home Delivery Program that not only offers D'Artagnan's specialty products but products from other renowned retailers such as Samuel & Sons Seafood, Katsiroubas Brother Produce and White Toque. The collaboration between these companies offers customers an array of free-range, sustainable, and humanely farmed products. Partner products are ONLY available to truck home delivery customers and are not available to regular D'Artagnan web consumers via FedEx. To order for your specific DMV town, simply go to homedelivery.dartagnan.com and select your community. The home delivery minimum is $150. The promo code to use at the end is the name of your city/town.

Founding Farmers Market & Grocery
Dan Simons and his partner Michael Vucurevich time early in their careers developing and running eatZi's Market & Bakery, so pivoting their restaurant group to a market and grocery store is something they know well. Founding Farmers cooks makes everything in house, they have the culinary team and the equipment to do a wide offering. They will continue offering their revised a la carte restaurant menu, and now also find new Grocery & Market categories like cakes, pies, ice cream (all made in-house), cocktail batches, bottles of wine, and Founding Spirits booze, fresh pasta and breads and staples like paper towels, toilet paper, and household products and a line of healthy boosts and supplements plus so much more. Order online, for touchless Curbside Pickup or touchless delivery to your home. (On another note: Founding Farmers continues to give free food daily to their employees who were laid off. The more ways they can grow their revenue, the more support they can give to their staff.)
Geppetto Catering's Farm to Fridge
Geppetto has teamed up with Central Farm Markets and their partners to bring you fresh, locally sourced groceries to your door. If you're staying home and don't want to make a trip to the grocery store, this service is perfect for you. Deliveries will be made every Sunday between 8:00 a.m. and 1:00 p.m. To place an order you must submit and confirm your order by 3:00 p.m. on the Friday before delivery. Be sure to check their website, as the list of products will be updated periodically.

Glen's Garden Market

Place curbside pick-up & delivery orders entirely online using Glen's extensive inventory catalogue, which you can consult to inspire your grocery lists. To support people's new cooking projects, they are bringing in some more items for you to experiment with, including larger cuts of meat, some fancier meat options and new seafood selections, in addition to a locally sourced meat CSA. Your weekly share (available Tuesdays for pick-up or delivery within a one-mile radius of the store) will include three or four different items (like whole chickens, bacon, duck breasts, ground lamb, bison steaks and more), which will rotate weekly. From time to time, they'll also include house-made items like stuffed burgers or ready-for-the-grill kebobs. To sign up, click here. In addition, there is a weekly provisions program: for $40, you get a chef-curated selection of pantry staples, prepared foods and produce, along with recipes and preparation ideas. Newly added is their weekly indulgences option for $60 (available for pick-up at 5pm Thursdays), which will include cheese, charcuterie, accompaniments and perfectly paired alcoholic beverages. For additional details on provisions programs, please click here.

To ease the pressure on grocers working overtime, the Good Food Foundation has created the Ship Anywhere Good Food List – a growing resource of good food and drink companies that will ship vegetables, meat, cheese, pantry staples, chocolate and coffee to your home. Some discounted rates are offered on shipping, and all are committed to building a community in these uncertain times. For all those sheltering in place, another way to support small, community minded businesses.
In response to concerns with the safety of entering busy grocery stores at this time, Goodstone is launching Goodstone Market, a new drive-thru grocery service offering proteins, breakfast kits, vegetable kits, and fruit kits. Call to order and schedule your pick-up 540.687.3333.
Great American Grocery Essentials
In addition to Great American Restaurants' offerings of grab-and-go, curbside pickup and delivery, and their Go Fund Me/Employee Relief Fund, the family continues to reach out to the community with the introduction of Great American Grocery Essentials. Designed to eliminate the stress of shopping with long lines, this pre-packaged kit is full of hard-to-find items and key kitchen ingredients needed in everyone's household, such as milk, eggs, butter, rice, toilet paper, and more. It is available for grab-and-go, curbside pickup or delivery at the side-by side restaurants Patsy's American and Best Buns Bakery & Cafe in Tysons, VA.

The Grill

In addition to the restaurant's butchery offerings, which showcase a menu of pre-marinated meats to grill at home, The Grill will now feature an assortment of pantry items for purchase. Items include sanitation supplies like masks and gloves, prepared foods, produce, and cooking kits for making homemade bread, pasta and cookies, and other market items. The Grill also offers liquor, beer and existing menu items to-go. Orders can be placed daily from 11:30 a.m. to 8:00 p.m. by visiting The Grill's website. The restaurant will offer free delivery to The Wharf neighborhood, including The Banks, and will offer same-day contactless pick-up.
A new bodega in the Tenley area that now delivers to their community, Heart + Seoul provides affordable, convenient, access to groceries and food while keeping their team employed during these unprecedented times. High quality pantry & produce items are available via free doorstep delivery or curbside pickup with no minimum orders. Orders received by 5:00 p.m. will be delivered to a doorstep between 11:00 a.m. and 2:00 p.m. the next day. They are also open to procuring hard-to-find pantry goods (pasta, toilet paper, etc) for those in need.
Shizu Okusa, the innovator behind the DC-based cold-pressed juicery and wellness brand, Jrink, has looked to her fellow food-industry entrepreneurs — Soupergirl, Whisked!, Wellfound Foods, Snacklins, Amazi, & Small Planes Coffee, to name a few — and together they have joined forces to deliver their products to customers' doorsteps. Now coffee, freshly made soups, snacks, and lunch, and all your Apothekary needs are available in a on e-stop shop that will keep you well and home.
Each week Mastiha will create a produce box, good for a 2-4 person household, and carrying a variety of rotating items. Order by Monday at 8:00 p.m. for Wednesday contactless pickup, of Wedensday by 8:00 p.m. for Friday contactless pickup. If you have been provided a neighborhood code, enter it into the discount code box at checkout. This will communicate which orders belong together. To order a produce box, please click here. Bakery staples are also available to order online, including eggs, butter, flour, and sugar. PLace your order any day before 10:00 p.m. for next-day pickup.
DC's southern Italian diner in Columbia Heights has partnered with Huntsman Specialty Game and is providing the neighborhood with meat pickup at the restaurant.
Neighborhood Provisions is an online destination offering a selection of comfort meals, ready-to-cook foods, pantry items, wine and beer (and, in DC, liquor) all delivered to your door. Neighborhood Provisions is a joint effort of the chefs, managers and beverage specialists of the Neighborhood Restaurant Group. Count on a broad range of chef-driven options in all their delivery regions - from Tony Chittum's chicken soup to Jarrad Silver's mushroom fricassee, from Nate Anda's meatball sub to Stephen McRae's Sgt. Pepperoni pizza. Red Apron's butcher shops in DC's Penn Quarter and VA's Fairfax will remain open for counter service, but Neighborhood Provisions will also have access to its ground beef, sliced bacon or brined chickens, all for purchase online and available for delivery. Buzz Bakeshop in Alexandria will continue counter service as well, while also supplying Neighborhood Provisions with its sweet treats and Nazia Khan's cold brew concentrate. Beer and wine delivery from Bluejacket, Planet Wine, The Partisan, and B-Side, with spirits and curated cocktails available at the DC locations (thanks to Nick Farrell) and their cans and bottles will also be available through Neighborhood Provisions. Bonus: every purchase made at Neighborhood Provisions will support their team and the community at large. A 10% discount is available to anyone in the restaurant industry on all purchases. Lastly, every dollar spent will earn guests points toward NRG gift certificates for use at any of their businesses once the world gets back to normal.
Occasions Caterers Mobile Market

During a time when shopping for healthy food can be challenging, Occasions Caterers is launching a drive-through Mobile Market to ease the stress. Every Tuesday and Thursday, the catering company will offer local produce, prepared foods, and beverages in various neighborhoods around the city. Featuring vegetable & dairy boxes, family-style prepared meals, wine, beer, spirits, and fresh cut flowers from LynnVale, the Mobile Market will act as a one-stop shop for your grocery needs, while supporting 4P Foods' small network farms. Beginning Thursday, April 16, and every subsequent Thursday, the mobile market will service Cleveland Park, Woodley Park, Spring Valley, Georgetown, and Chevy Chase. On Tuesdays, locations will include Logan Circle, Bloomingdale/Shaw, Park View, and Brookland. All orders must be placed 48 hours prior, and pick-up locations will be drive-through friendly and staffed by gloved and masked attendants to make for no-contact pick-ups. Updates - including location, items available and more - will be shared on Occasions Caterers' Instagram account and website. In addition, Occasions Caterers is proud to launch the Occasions Giving Kitchen, a fundraising initiative that feeds under-served and at-risk communities throughout the region. Proceeds from their home meal kits and the Mobile Market will help fund the Giving Kitchen program.
Officina Provisions

Masseria and Officina are now introducing Officina Provisions, a weekly delivery service that brings the Italian culinary experience to your door. This subscription will feature both meal kits for you to craft at home and prepared dinners. In addition, the Provisions will include local produce, hand-crafted butcher products, fresh bread, and artisanal snacks and preserves. Best of all, cases of fine wine curated by their sommeliers are available to add to your subscription.
Paul's Pantry is stocked with local market items such as SouperGirl Soups, Firefly Farms Cheeses, and MeatCrafters Salami. Additionally, they have fresh baguettes on Fridays, Saturdays, & Sundays. For questions, email [email protected]
The Rare Butcher Shop gives diners full access to Chef Marc Hennessy's prized dry-aging room, offering all-natural, butchered-in-house beef, pork, chicken, and more for pick-up and delivery, all at 25% off. All orders include kosher salt, black pepper, beef butter, and jus.
The Shouk Pantry features plant-based Israeli kitchen staples like hummus, cashew labneh, secret spice blends, harissa, almond feta, pickled vegetables, and more. Order online for delivery or carryout from the Mount Vernon Triangle location.
For DMV residents only, Soupergirl is now delivering a fresh "Farmer's Market Box" of seasonal vegetables and fruit right to your door. To help hard-hit local farmers, they have partnered with Spring Valley Farm of West Virginia to deliver a fresh and unique selection of early spring fruits and vegetables. The market box is only $35 when added to any soup order, and can be bought here. While the Soupergirl stores are currently closed, they are offering next day local delivery, and are offering a 15% discount on all orders with code community15.

Vegetable and Butcher

The DC, MD, and VA meal delivery service is now coming in handier than ever. V+B offers healthy, ready-made meals that are 100% compostable, nutritious, and designed to make you stronger, fitter, cleaner – both mentally and physically. Their meal services are entirely gluten and dairy-free, proven to help you stay at a healthy weight, give you more energy, and eliminate bloat. They are a great subscription service option to use during quarantine making cooking easier without the hassle.
Colin Clark, executive chef of Via Sophia, a southern Italian Osteria housed in the Hamilton Hotel, and Earth N Eats, a family farm that supplies the best restaurants in D.C. with heirloom produce, have joined forces by creating & selling CSA boxes throughout the Metro D.C. area to help the local community and aid in relief efforts. Boxes include items such as eggs, milk, vegetables and cheese. Order Deadline is 10:00 a.m. on Monday and order payments can be made via Venmo (@EarthNEatsLlc) or Paypal. In addition to the CSA box program, Via Sophia and Earth N Eats have created a GoFundMe to support Chef Colin's laid-off workers.