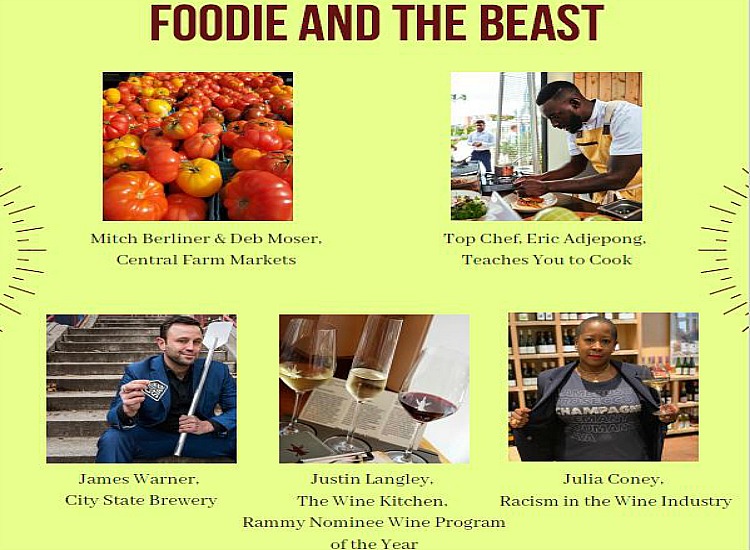 Foodie & The Beast from Home: July 26, 2020
It's not live in studio, but Foodie & The Beast is still serving up all the necessary interviews to keep you in the know. So, instead of saying "Live, In Studio" we'll say "Recorded From My Bedroom" with:
- The RAMMY-nominated Wine Kitchen had their very own Justin Langley join us to talk about their nomination for wine program of the year and his favorite wine for sticky summer days.
- Racism in the wine industry? Nationally known wine writer and educator, Julia Coney, had a thing or two to say about it and her recently launched Black Wine Professionals database that features Black wine talent – somms, winemakers, and more - for gatekeepers who say they want to diversify their wine business.
- DC's Ward 5 has some exciting economic development and jobs news. City-State Brewing Company, a DC-centric craft microbrewery, taproom, and community gathering space broke ground on July 22 for its future site. Owner James Warner joined us to chat what's coming soon and announced the creation of an Opportunity Zone Fund that will leverage the investments to create an array of jobs and apprenticeships at the brewery.
- Top Chef alum, DC's Chef Eric Adjepong (a finalist on Season 16 of Bravo's Top Chef and a contestant on Season 17 of Top Chef All Stars), recently launched a series of virtual, interactive cooking classes where he teaches some of his signature dishes to a Zoom audience of up to 30 students. A first-generation Ghanaian-American, Chef Eric brings West African cuisine to the mainstream as a way of teaching Black history and the influence of West African cuisine and culture on the dishes we love here.
Tune in here for all the tasty tid-bits.