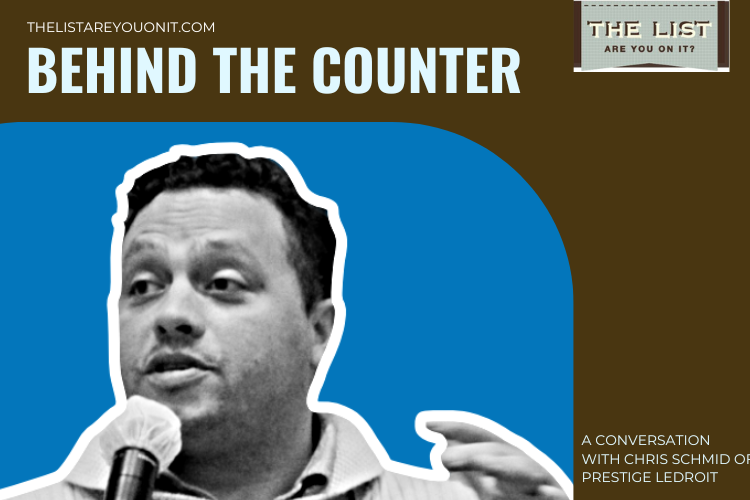 BEHIND THE COUNTER: A CONVERSATION WITH CHRIS SCHMID OF PRESTIGE LEDROIT
International Whiskey Day is March 27, and with that in mind, we decided to get a recommendation from Chris Schmid. You all know Chris Schmid, right? Chris leads all new business development at Prestige-Ledroit. If you don't know, Prestige-Ledroit, formed after the merger of Prestige Beverage and Ledroit Brands, is a leader in providing distribution of craft spirits and boutique wines from around the globe. Prestige-Ledroit represents a growing number of family-owned producers who are dedicated to the quality and authenticity of their craft. Through Prestige-Ledroit, Chris actively partners with current and potential producer partners to capitalize on market and category opportunities. Chris' efforts are focused on continued growth and profitability in the ever-changing climate of the wine and spirits industry. In his spare time, Chris serves as a judge for the Tales of The Cocktail Spirited Awards and the World Whiskey Awards.
Why are you the expert we should hear from?
As a judge in several spirits awards, I have had the chance to taste and review whiskey from every corner of the world. I am a recognized spirits expert that has devoted my career to exploring and working with many small family-owned producers from around the globe, with a strong emphasis on whiskeys and their countless varieties.
What is your top International Whiskey Day rec?
First, let's cover the basics. Whiskey is a strictly regulated distilled spirit that is consumed and sold worldwide having many classes and types. Whiskeys at their core are made from fermented grain mash and aged in barrels. Various grains like barley, corn, rye, and wheat are used in the production of whiskey depending on their type/class. The top globally recognized regionally made whiskeys are Scotch Whisky, Canadian Whisky, Irish Whiskey, Japanese Whiskey, Kentucky Bourbon, and Tennessee Whiskey to name a few.
For me, International Whiskey Day is all about discovery. Challenging yourself to try something new and outside of your comfort zone, or introducing a friend to something new. The date March 27th was deliberately chosen to honor the late Michael Jackson (No, not that one, the famed whiskey writer) and his contributions to the malt whiskey and beer category. With that in mind, it is only fitting to start with a Single Malt which is what he would have chosen.
Single malt whiskey is produced by a single distillery using a single malted grain (typically barley). The most famous and widely consumed is single Scotch whisky, and it's the model for other single malts made throughout the world. One of my favorites is Amrut Distillery Fusion Single Malt. Amrut, founded in 1948, is located in Bangalore India, a country that is more widely known for its whiskey consumption than its production. While the distillery is 75 years old, it wasn't until the early 2000s that it entered the single malt category. Rick Jagdale, executive director and grandson of the founder of Amrut Distilleries, went to Britain for his MBA program. During his MBA dissertation and inspired by his father, he had decided to create his marketing thesis on the global viability of his family's single malt whisky also, meeting Ashok Chokalingam, their current Head of Distilling and International Sales. During that time he tested Amrut single malt whisky throughout the United Kingdom. The conclusion was that they were making a whiskey in India that rivaled the best whiskeys being made in Scotland. With proof of concept and plenty of barrels the Jagdale family decided to launch the first ever single malt whisky from India into the Global market in 2004. The product was launched in, of all places, Glasgow, Scotland. It raised eyebrows of many in the industry as the initial reaction was great.
While they have a number of whiskeys and styles the most sought after and awarded is Amrut Fusion Single Malt. It is a combination of their two flagship whiskeys, 75% Cask Strength Single Malt and 25% Cask Strength Peated Single Malt. The combination of the two single malt whiskies is then further aged in ex-bourbon barrels for 6 to 9 months to create this multi-award winning whisky. Dubbed "One of the great whiskies found anywhere in the world" by famed writer Jim Murray, the majority of malt used in production at Amrut is local, and the barley used in the peated malt is malted at Bairds Malt, Inverness Scotland. The typical intensity of the peated barley is mellowed on its journey to India. It is then further mellowed when blended with the single malt, leaving a flavor that is more fruit forward, spicy and layered than peaty, which is why it has won so many fans world-wide. When I taste the whiskey I pick up fresh peaches, tangerine, mangos, apricots, plus spicy cinnamon and clove, with a tea-like note and just a touch of smoke and sea spray. On the palate a real hit of fresh orange notes, with black pepper and cinnamon adding a zingy layer of spice. Rich and refreshing; absolutely delicious and a lingering spiced finish.
What are you waiting for? Go find yourself a bottle of Amrut Fusion. Any great whiskey bar or reputable package store in the region will either carry the product or has access to it.