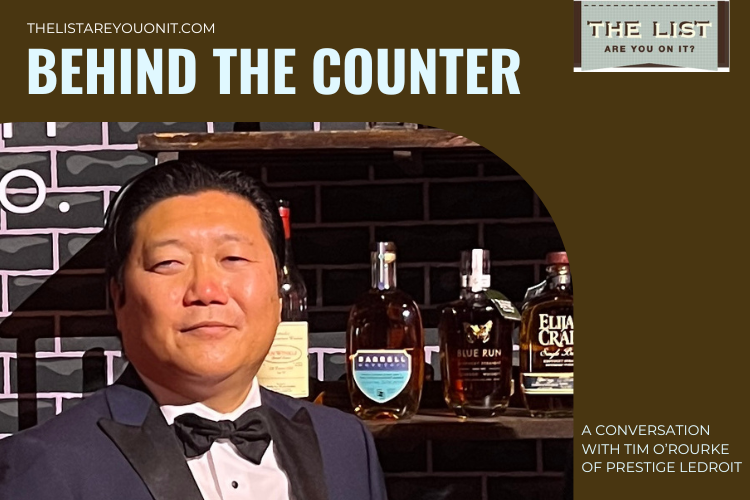 BEHIND THE COUNTER: A CONVERSATION WITH TIM O'ROURKE OF PRESTIGE LEDROIT
Tim O'Rourke was born in Seoul, South Korea, grew up in Chevy Chase, MD, and has lived in DC
since 1997. The first of two career changes saw him through culinary school at L'Academie de
Cuisine. That led him to formative stints cooking for José Andrés, at the birthplace of minibar,
Café Atlántico, and the late, great Michel Richard, at Citronelle. It was Michel who first
introduced Tim to all that the wine world had to offer, and that eventually led to his second
career change—moving from food to beverage. Tim helped Peter Weygandt open Weygandt
Wines, a European import wine shop in Cleveland Park, and served as General Manager for
about six years. From there he helped establish the Concierge Sales program nationally for
Total Wine and then opened Zachys DC, which included the first live auction of fine wines in the
area in more than 25 years. Five years ago, Tim joined Prestige-Ledroit Distributing Co. as
District Manager for DC. He now serves as the company's Wine Sales & Education Manager.
With all of Tim's knowledge of the industry we here at TheListAreYouOnIt.com wanted to ask
Tim's advice to get that loving feeling up and running~
Why are you the expert we should hear from?
I feel like I have a somewhat unique background in that I've cross-trained pretty much all aspects of the F&B world—front and back of the house in restaurants, along with retail, import, and distribution on the wine and spirits side. One enduring way that my experiences have shaped me is my perspective on how I approach eating and drinking. I think many of us who enjoy eating half-seriously think our lives revolve around food. For me, it's like that, only add in the extra layer of pairing the best beverages (usually wine) with my next meal and then changing half-seriously to pretty, pretty seriously. It's not to say all food needs wine, but when I'm planning out a meal, it's almost always about what goes with what. So with that in mind, let's get to work!
What are your at-home Valentine's Day recs?
For me, Valentine's Day at home is all about indulgence and texture. Using quality and luxury ingredients that make us feel posh is ok for a day—we all deserve a little something extra! It's not necessarily about experimenting or trying something outside of your comfort zone, but more importantly adding in that extra something to make you and your loved one or ones feel special. And I've tried to work with different price points so that everyone can find something they can try.