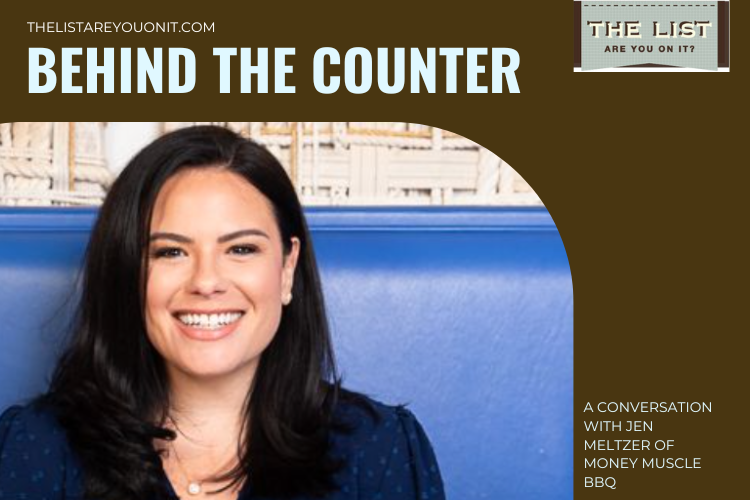 Behind the Counter: A Family Feast with Jen Meltzer of Money Muscle BBQ
Just in time for the holiday season, we stole a few moments with good friend, Jennifer Meltzer. We love Jen, and not because she is behind the magic at the delish food truck, Money Muscle BBQ, and the New England-inspired restaurant, All Set. Jen has always had a soft spot for the hospitality community thanks to the numerous "Crab & Coors-Lite" parties hosted by family during the summers of her childhood. Her formal start in hospitality came while she was a student at the University of Virginia working part-time at a local sandwich shop, which is where she discovered the joy in making people happy with a simple sandwich and a smile. And while she received her Master's in Middle Eastern Studies at Georgetown University it's the Industry that pulled at her heartstrings. To the dismay of her father, a former bar owner well-versed in the ups and downs of the industry, Jen gave into the pull of what she describes as "hospitality endorphins". She thrived off the high energy of service at many downtown establishments like BLT Steak, Founding Farmers, Del Frisco's Grille, and The Capital Grille where she met her then future business partner and now husband, Chef Edward Reavis. Since 2015 the couple have operated All Set, added Money Muscle BBQ during the pandemic and most recently, acquired Fryer's Roadside, a casual eatery serving Southern-style comfort food. Jen is a mom-prenuer that has truly made her passion her profession and wants you at her table — especially during the holidays! See more below:
How did you first get involved in hospitality?
Before I began my career in restaurants, I studied abroad in Doha, Qatar where I was able to experience firsthand the importance of hospitality and sharing meals. Eating daily meals with my host family was one of the first experiences I had that emphasized how food can bring people together across cultures. When I began my career in hospitality at BLT Steak in downtown D.C., I saw countless tables come through celebrating birthdays, anniversaries, and other milestones every day. Working in hospitality has shown me that one of the easiest things people in our profession can do is make those special days even more special by going above and beyond to connect with our guests. When you're doing what you love and trying to make a moment special, you never know how you might be improving someone's day.
Why is it important to you to provide holiday meals for your community?
We have an unofficial slogan: "the holidays are awful." Between hosting family, shopping, and cooking for everyone, it's easy to get buried under the chaos of all the production needed just to spend time with the people you love. Our hope is that by providing an easy, delicious solution to our community with our pack out meals, people are having more special and stress-free holidays. Silver Spring is an extremely diverse community, and we want to be able to reflect that in what we offer and extend hospitality to all our neighbors. It means a lot to us that people trust us to provide meals for their families, and we've had some customers return for four years in a row. We also tell our customers that they can re-plate our dishes and tell their families it's homemade.
Where do you get inspiration for your holiday menus?
Growing up, my diverse family would always have some variation on turkey, mashed potatoes and gravy for the Thanksgiving, ham on Christmas Day, and brisket for Passover, all of which has inspired the holiday menus we offer across our three restaurants. Because Ed and I work in the restaurant industry, people might expect that we spend the holidays cooking our own elaborate meals or working in our restaurants. Since we have non-traditional schedules and a young son, we want to ensure that we're spending the holidays with him instead of buried under holiday orders or stuck in the kitchen all day. Doing pack out meals and being closed on holidays means that we and our staff can spend the day with family. As a testament to the quality of our holiday pack outs, we've been serving them at our own holiday dinners for the past few years.
What can people expect from your businesses this holiday season?
For this year's holiday meal, we're going to be doing a meal with elements from all three of our restaurants. Guests can choose between a honey baked ham, grilled salmon with dill cream sauce, or smoked ribeye with horseradish cream (for an extra fee) for their main. All our holiday meals come with our classic sides: mac and cheese, garlic string beans, brussels sprouts, mashed potatoes, Parker house rolls, and our famous chocolate chip cookies. Orders are due on Monday, December 18th and will be ready for pickup on Christmas Eve, and the entire meal will serve four people and cost $195. Anyone who's interested in spending less time in the kitchen over the holidays can visit our website to order.