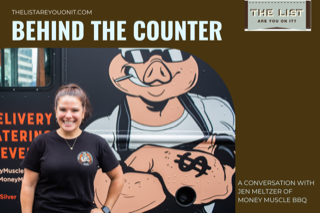 Behind the Counter: All That Muscle
Jennifer Meltzer is a mom and the managing partner of barbeque food truck, Money Muscle BBQ, and All Set Restaurant & Bar. A Maryland native, Meltzer grew up with "Crab & Coors-Lite" parties hosted by family during the summers of her childhood. Her love of family-centered celebrations has its roots in those backyard feasts and annual summertime trips to New England. Meltzer worked part-time at a local sandwich shop while at University and quickly discovered the joy in making people happy with a simple sandwich and a smile. After graduation, she went on to obtain her Masters in Middle Eastern Studies at Georgetown University and continued to work in restaurants while applying to think tank and non-profit jobs. To the dismay of her father, a former bar owner well-versed in the ups and downs of the industry, Meltzer abandoned her job search after a few months and gave into the pull of what she describes as "hospitality endorphins". Her fifteen-year career history includes management positions with Founding Farmers, Del Frisco's Grille, and The Capital Grille where she met her then-future business partner, Chef Edward Reavis. In 2015, the duo opened their first concept, All Set, the New England inspired restaurant in Silver Spring, Maryland. In the middle of the pandemic, the duo opened Money Muscle BBQ food truck, named as a nod to Reavis' love of health and fitness and the award-winning barbeque pork cut.
Mom, managing partner, restaurateur, food truck entrepreneur. We had to ask Jen how she does it all:

- All Set was the OG of your growing empire. How do you keep the concept fresh, not just for your patrons, but for you all in the kitchen?

I believe that restaurants go through life cycles. When things start feeling dull, you really have to work to stay relevant. At the beginning stages of the cycle, it's just about making it, then, once you can get your footing, you can begin to embrace the role your concept plays in the community and listen to patrons about what they like and don't like. Just as we were hitting our stride, the pandemic hit, and we had to reevaluate our business model. Now, as we celebrate our 7th year, it feels like we finally have a strong, tight-knit team. Most of All Set's current team members have been with us since the beginning or at least since before the pandemic. The amount of new and innovative menu items we've been able to add to our menu in recent years is a testament to how hard working our kitchen staff is. Having such a dedicated and talented team working together certainly helps us push our creative limits and expand our menu options.

- Both seasonally and regionally, what can we look forward to when it comes to oysters?

We always try to have at least two varieties of oysters in house: one local and one New England. I love New England oysters! Wellfleets are my favorite and I think they are a wonderful way to start a meal. Their crispy, briney flavor is the perfect way to wake up your palate. In addition to our raw oysters, our fried oysters are pretty awesome, too. Our Surf & Turf Burger with comes topped with crispy, fried oysters, Old Bay tarter and coleslaw and it's definitely a customer favorite.

- What is your favorite way to dress a lobster roll?

Here at All Set, we serve the lobster roll two ways: either tossed in hot drawn butter or in a light tabasco mayo. We added both to the menu because we couldn't decide which was better. Personally, I'm partial to the lobster salad style with mayonnaise. I love to add lettuce and tomato as well!

- Money Muscle was born out of the pandemic - and is a runaway hit. As life resumes, how does what you're doing there evolve?

We were so fortunate that people embraced the Money Muscle brand during the pandemic – it really kept All Set afloat. I am so thankful that we were able to create a concept that people enjoy and moving forward we're focused on continuing to grow the brand. One of our top priorities this year is getting the Money Muscle BBQ trucks out into the neighborhoods again, particularly as the summer months are approaching. Our recent partnership with Denizens is transforming how we do business; people will be able to get a taste of Money Muscle in that space. We are also focused on developing our menu. Our cooks are excited to offer new recipes and dishes, so I'm hopeful that we will be able to offer more specials and new BBQ sauces in the future.

- What was it about barbecue that appealed to you?

We started Money Muscle BBQ as a ghost kitchen right before the pandemic. We love BBQ, Ed grew up eating it and loves to cook it. We also felt like we could reach more people with a new concept that differed from our New England-inspired offerings at All Set. With the closures of indoor dining and the increase in pick-up and delivery orders, we thought a food truck made sense. It was a great opportunity for us to diversify and create flavorful food with a business model that also helped to keep All Set going.

- Now that you have been serving up a variety of amazing BBQ for a while, is there a dish or two that has totally changed as you got deep into BBQ?

I think the biggest changes have actually been with our BBQ sauces and the smokers! We've worked overtime to make our BBQ sauces vegan and add more depth of flavor, which has been well-received. We also started Money Muscle BBQ with a pellet smoker before switching to a 500-gallon offset smoker and I think that made a big difference with the smokiness of our meats.

- Can we talk wine? And Wine Wednesdays? What are you pouring and why?

I love wine and love how it can transform a dining experience. We love hosting Wine Wednesdays at All Set because it is an opportunity to show off our list and have our customers take a chance on something they wouldn't try at full price. Our wine list is very eclectic, and you will seldom see the same varietal coming from the same place at the same price point. There are so many wonderful wines to try, and our goal is to diversify our list as much as possible. Our wine list is arranged from light to full with descriptions so you can have an idea of what you are getting yourself into. My recent runaway favorite that we just added to the list is Carol Shelton's Coquille Blanc. It's a mix of Grenache Blanc, Roussane and Marsanne from Paso Robles. These varietals are usually not my go-to, but Carol Shelton's treatment of the blend is just so thoughtful it is a joy to drink.