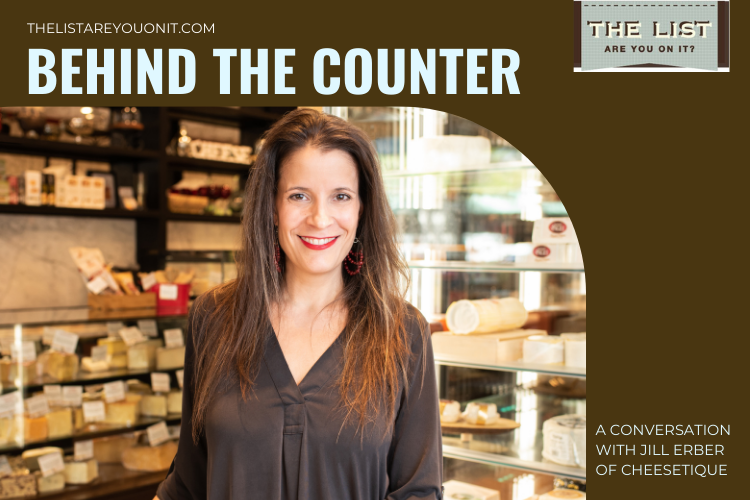 Behind the Counter: She's the Cheesiest
Good friend Jill Erber - aka, the "Cheese Lady"- is the founder of the Cheesetique Specialty Cheese Shop AND Cheese & Wine Bar (two locations in Northern Virginia). Jill is a passionate wine and cheese educator who has been entertaining her patrons for nearly 20 years.
Since 2004, Cheesetique has been the go-to spot for fine cheeses, food-friendly wines, and an eclectic, cheese-centric menu. Their retail shop offers thousands of cheeses, charcuteries, and wines. And their restaurant menu reflects a long history with—and deep appreciation of—the very ingredients found in their shops -- ahem, cheese! Jill is an amazing girl-boss, mom, and entrepreneur who dares us all to go for the ooey-est, gooey-est and maybe the stinkiest! She took time out of her busy schedule to answer a few of our questions for this "Behind the Counter":

- How can we not talk about cheese?! Let's start with all the cheese and what is happening now at your Cheesetiques?

It is all about in-person events now—and the reaction has been beyond enthusiastic. People are clamoring to get out and we're trying to give them new and interesting experiences to enjoy. You ask about cheese? One of the first things we did in our brand new Del Ray retail shop was to bring in a crowd to witness us cutting into a gigantic wheel of Rahmtaler from Switzerland. By gigantic I mean over 200 pounds and 3 feet across. You can check out the video on Instagram.

- You recently launched Jill's Reserve, what is it and what can we expect?

We typically offer around 30 wines by the glass, which is a big deal, even amongst "wine bars." They are all delicious, unique, and very approachably priced. Still, we noticed that there are not many options for high-end wines by the glass. So, we created a list of really top-notch offerings across the spectrum—and called it Jill's Reserve. It's Tuesday and you want to indulge, but just a little bit? Now you can come into Cheesetique and get a glass of Jill's favorite Châteauneuf-du-Pape.

- What can we look forward to seeing from Jill's Reserve in the coming months?

Right now, Jill's Reserve includes six wines across various categories, which means you won't see multiple California Chardonnays at any one time. BUT, we don't have a red Burgundy right now. That is going to happen for sure. Same with Brunello di Montalcino. So, the list will get a little longer—and we'll start to rotate some of the categories.

- You are always doing events, both virtual and in person. What are you most looking forward to?

Covid forced us to develop a robust online/virtual offering. Of course, we have online ordering for both retail and restaurant, but we also added online classes and private events. Over the past two years we have done well over 100 online events and shipped "kits" all across the country. The online offerings will continue for sure. It also gave us an opportunity in Del Ray to expand our outdoor seating. We added a "grass" patio with tall green hedges, twinkle lights, and a full-size cow. We affectionately call it Le Pré (the Pasture). What we are most excited about now is returning to in-person events, especially when we can hold them outside on Le Pré. This month is our annual WineFest and we've had two sold out "tasting expos," a sold out wine dinner in Shirlington, and just this week we announced an intimate "meet the winemaker" at our bar in Del Ray.

- The weather is warming up. What should we be putting on our cheese plate when we entertain AND what wine should we be serving with it?

Summertime brings the focus to fresh cheeses like our house made Mozzarella or Burrata. July is MozzarellaFest at Cheesetique and we are going to have a full Mozzarella-themed menu, as well as a series of events and hands-on workshops. When it comes to wine, in anticipation of our next wine dinner, I just tasted some spectacular Greek wines (there are none better during the heat of summer!) This month's dinner sold out in about a week, so check out "Greece is the Word!" in June before it's gone.