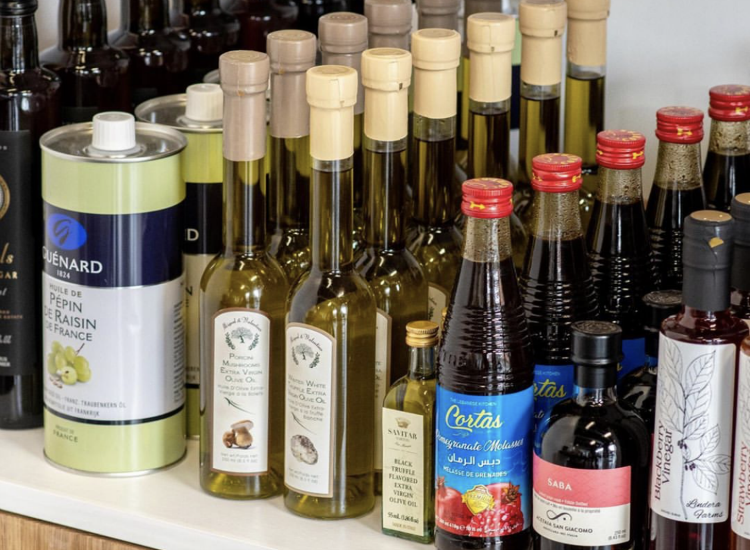 From Their Kitchens To Yours
It has been amazing how people in the Industry have "pivoted" and come up with new and interesting ways to engage with their patrons. Truly thinking outside the box! Or in this case -- maybe it's in the box. Area chefs, purveyors, farmers, brewers, and artisans have banded together in interesting ways in order to create unique offerings. We are the lucky ones ~

ANXO Membership Clubs
ANXO is now offering a variety of cider and food membership clubs. Sign up to receive cider on a weekly, bi-weekly or monthly basis for pick-up or delivery, including three options, called Economy, Provisional, and New Release. There are also five different curated food-related memberships to keep your fridge and pantry stocked at home. These include the CSA Membership, plentiful enough for a vegan or great as a base box, this box features produce, fruit, and fungi from the region based on what is available during the current growing season. Some featured farms include Little Wild Things and Three Part Harmony Farm, as well as Earth Spring Farms out of PA and Madison Mushrooms from VA. The Seafood Box Membership includes a total of 3-4lb of three to four seafood items selected each week for their freshness and abundance or a larger box great for families and includes a total of 6-8lbs of four items. The Meat Box Membership features meat from Huntsman Specialty Game & More, who sources animals from local farms and performs much of the butchery in-house. The Shroomhead Membership offers freshly picked mushrooms from Madison Mushrooms every Saturday morning. The mix varies each week but is a full pound and usually features oyster, shitake, maitake, pioppino and lion's mane mushrooms. Finally, the War Shore Oyster Membership, with the best local oysters every Tuesday right from the water. Members will always get the freshest local oysters, complete with ANXO Cider Mignonette.

Baker's Daughter CSA Boxes
Chef Matt Baker and the Baker's Daughter team work with local farmers and suppliers to put together a one-of-a-kind CSA box for you to create meals at home. Each box includes a bountiful assortment of local, seasonal produce and meat, along with a handful of homemade sauces, condiments, pickles, and breads, as well as a thoughtful recipe that can be used with that week's set of ingredients and products. Available for pick-up at Baker's Daughter on Thursdays. bakersdaughterdc.com/csa-program

Catoctin Creek
This one-stop shopping cocktail kit will give you everything you need to make excellent cocktails at home. The kit contains one bottle of Catoctin Creek spirits, and all the bitters, mixers, and instructions needed to make at least eight cocktails at home. Plus, it is in a very handsome box, suitable for gifting. Each month, Catoctin Creek will feature a new cocktail. The October feature cocktail is the Virginia Buck, including one bottle of Roundstone Rye 80 Proof, ginger beer, lime, sugar cubes, and collectible recipe card. You can purchase kits from their online store.

D'Artagnan Home Delivery
If you have been anywhere near the food industry for the last 35 years, then you have heard of D'Artagnan. Known as the preferred brand for the highest quality meat, poultry and game with the best chefs, butchers, and retailers nationwide, D'Artagnan is still run by Ariane Daguin, daughter of a Michelin-starred French chef. The company has been fully committed to free-range, natural production and sustainable farming since its inception. And now, it delivers to you. DMV residents sheltering in place to help flatten the curve of COVID-19 cases, the D'Artagnan team has created a unique Home Delivery Program that not only offers D'Artagnan's specialty products but products from other renowned retailers such as Samuel & Sons Seafood, Katsiroubas Brother Produce and White Toque. The collaboration between these companies offers customers an array of free-range, sustainable, and humanely farmed products. Partner products are ONLY available to truck home delivery customers and are not available to regular D'Artagnan web consumers via FedEx. To order for your specific DMV town, simply go to homedelivery.dartagnan.com and select your community. The home delivery minimum is $150. The promo code to use at the end is the name of your city/town.

Fabio at Home
Fall into the ease of at home dining, but with all the bells and whistles of an epicurean experience from Fabio Trabocchi Restaurants. Fabio at Home is direct from Del Mar at the District Wharf, and from Fiola Mare at the Georgetown Waterfront to backyards and kitchen tables. With 24-hours advance notice: place your order, sit back, and the respective kitchens will prepare for you the ultimate feast. Packages include the Sea Bucket, with snow crab, shrimp, lobster, mussels, clams, spicy sausage, and fresh corn packed in a bucket and ready to boil with a special spice blend, aioli, cocktail sauce, and lemons; the Grill Master, with seasoned Beef, Branzino, Sausages, and more, differing by location and served with seasonal sides; the Crab Feast, at Del Mar, a snow crab & shrimp Feast and at Fiola Mare, a classic summer crab feast; the Salad Night, with an array of seasonal fresh greens, roasted vegetables, seasoned grain salads and flavorful dressings and bread rolls; the Paella Pack from Del Mar, featuring seafood paella, cogollos con cerezas, gazpacho Andaluz, tortilla Española, and flan con duraznos; the Lobster Roll pack from Fiola Mare, and the Chef's Weekend Sweets pack. Add wine or cocktails to any order from either location. Fiolamaredc.com; delmardc.com

JL Seafood Group Current Catch
Hank's Oyster Bar and War Shore Oyster Company have joined forces to deliver the freshest, responsibly sourced domestic seafood alongside chef crafted sauces, allowing you to cook up restaurant quality seafood meals in your home. Choose from four seafoods and three sauces. Order before Sundays at 12:00 p.m. and your food will be delivered by Thursday the same week. 1624 Q Street NW; 202.733.1971; hanksoysterbar.com

La Bodega at Compass Rose
La Bodega, a dedicated bakery and store front with freshly-made grab and go goods ranging from Paola Velez's sweet treats and show-stopping cakes to the restaurant's famed khachapuri and Chef Marcelle Afram's new Tigris kebab menu, as well as pantry staples and wines from around the world. La Bodega at Compass Rose is named for and pays tribute to the staple of chef Paola's hometown of New York City, the go-to spot in every neighborhood. La Bodega at Compass Rose will be open Friday through Sunday from 11:00 a.m. to 2:00 p.m., with the Tigris menu available for lunch Wednesday through Saturday from 11:00 a.m. to 3:00 p.m., and Compass Rose open for dinner for takeout and delivery from Wednesday through Sunday from 4:00 p.m. to 8:00 p.m. 1346 T Street NW; 202.506.4765; compassrosedc.com.

Near Country Provisions
As we all try to get our households organized for the fall, Near Country Provisions wants to help with their meat delivery program. By subscribing to receive pasture-raised proteins from local farms, you can set up a no-hassle regular delivery schedule. Set it and forget it, with the flexibility to modify, skip a month, or cancel your subscription at any time. The meat Near Provisions sources and delivers is flavorful, nutrient-dense and ethically-raised on partner farms that are local to the District (you can read about them here). The beef is 100% grass-fed; the pork is pasture- and woodlot-raised. For more information, visit nearcountry.com.

One Eight Distilling
One Eight Distilling is introducing cocktails to go, where they have curated a collection of 12 cocktails. Each bottle contains enough for two cocktails and detailed instructions for serving at home. They provide the spirit, mixers, and garnish, so the only things you need are ice and a glass. Cocktails include gin and tonic, Maryland mule, and more. 1135 Okie Street NE; 202.636.6638; oneeightdistilling.com

Stable Seasonal To-Go Packages
Fixings for an at-home fondue night, Oktoberfest feasts, and cocktails featuring fall produce and Swiss spirits are among the autumn offerings at Stable. New to-go packages are perfect for fall- loaded with all you need for a cozy fondue night at home, a picnic for an autumn day spent at a local winery, or an Oktoberfest celebration. Packages include the Vineyard Picnic Package, the Fondue Package (with or without wine and kirsch), and the Oktoberfest Package (with or without German beer), along with seasonal cocktails available to-go. Order online or by calling 202.733.4604.

Tea Drunk
On the tails of the COVID-19 pandemic, Tea Drunk has started an online Educational Tea Club with a monthly subscription opportunity that offers the chance to meet and connect with team members, brew tea samples while following video, and receive special discounts on pre-sale teas. Live and recorded classes are available in brewing, tea crash courses, and even for the tea connoisseur wanting to gain higher experience in tea making. Tea Drunk provides tea service to corporations and institutes as well. Shunan Teng, founder of Tea Drunk, is the educator for the TED-Ed lesson – The History of Tea and has collaborated with the Metropolitan Museum of Art to execute a temporary Chinese tea house in the museum. She is an avid educator on tea and has spoken on the subject matter at many institutions including Yale University, World Tea Expo, and Stony Brook University. For more information, visit tea-drunk.com/tea-club.