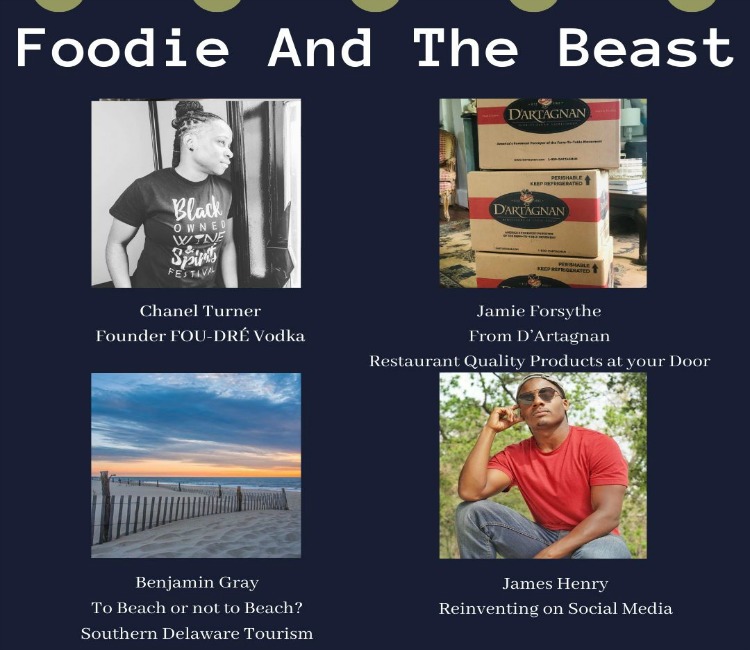 Foodie & The Beast from Home: June 6, 2020
Once again, the curtain has been lifted and the spotlight is focused on the horrific impact that systemic racism has on our city and our county. David and Nycci stand in solidarity against racism and oppression of the Black community. There is much to condemn and so much work to do. Now is not the time to sit. Now is the time to stand. We have the platform of Foodie & The Beast and will use it to amplify the Black voices in the restaurant and hospitality space.
This week, we were joined again by Chanel Turner, founder of DC's award-winning Fou-Dre Spirits. Chanel is a prominent force and is the first African-American woman to own and operate a Vodka brand. Chanel talked pivoting her business profitably in the COVID 19 era and the hurdles of being a Black female in the otherwise mostly white and male-dominated spirits industry. Accomplished actor and Rockville native, James Henry, is a strong supporter of representing diversity in the community. He lives his commitment, creating content across various platforms such as TikTok, where he reaches over 3 million followers. He has a Forbes feature coming out this month showcasing his impact, and he joined us on the show to chat about reinventing oneself on social media. To Beach or Not To Beach! Benjamin Gray is the general manager of the Bellmoor Inn & Spa, Delaware's top-rated hotel in Rehoboth. He's also chairman of Southern Delaware Tourism and serves on Delaware's Task Force for reopening hotels in Delaware. David and Nycci got an insider look at what it takes to prepare for and deliver a safe reopening of hotel during the COVID crisis. D'Artagnan is a 35 year-old purveyor of high-quality meats, poultry and game to chefs, butchers, and retailers nationwide. Like every other business, D'Artagnan has had to react to challenges to the food supply chain in order to stay in business. D'Artagnan's Jamie Forsythe joined us and laid out how the company kept all 250 employees on the job by thinking outside the box, literally. Listen to the full episode here.