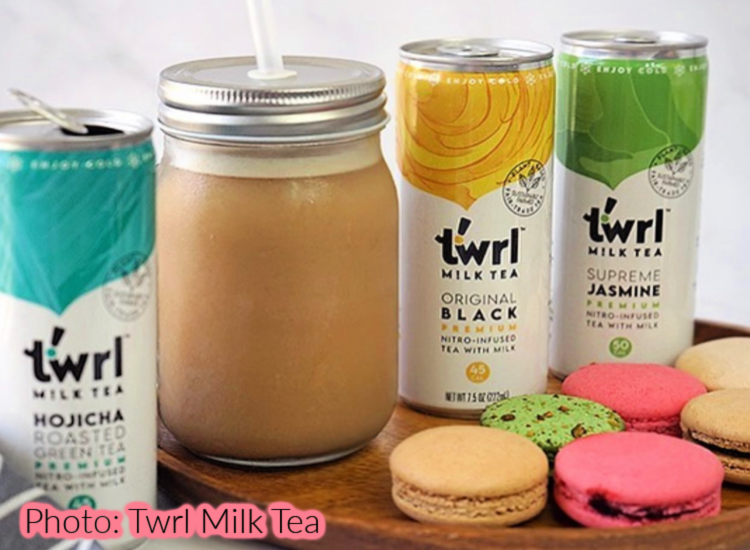 Canned. Happiness.
No longer just in the bottle, refreshing canned beverages are available in an amazing array of varieties and potencies

Milk Tea Fans, This is For You
Pauline Ang , (founder and CT(ea)O of Twrl M!lk Tea) was a milk tea (aka boba/bubble tea) enthusiast ealy on and quickly realized not all milk teas were created equal. Many were filled with sugar, used low-quality ingredients, and some were made from powder. Pauline decided it was time to create a product that she felt truly passionate about. The result: Twrl M!lk Tea, a plant-based nitro-infused milk tea. Crafted with organic, fair-trade tea from small family-owned farms, low-carb plant-based milk and way less sugar, Twrl M!lk Tea is a guilt-free milk tea that does not compromise on ingredients or quality. For any additional information, visit twrlmilktea.com

Say it with Sake That Sparkles
A globally-inspired new twist, now in a can. Smoothsail, the world's first premium, canned sparkling sake that boasts natural flavors, clean ingredients and zero sugar. Made using premium grade sake, ultra-filtered water and precise brewing process, a monk fruit and stevia extract blend, Smoothsail is a unique and light drink that conveniently comes in a can. The 7 percent ABV is made from Japanese rice wine, which is prized for sparing people from hangovers. Available in peach and berry flavors, and exclusively at the HEIST Summer Series at the Kennedy Center rooftop. For more detials, www.heistsummerseries.com - www.sipsmooth.com.

Wine Without The Alcohol -- What?
You can still Rosé all day and not feel the repercussions of it with the recently launched Zoie non-alcoholic wines. The Zoie Company wines are the first non-carbonated wine in a can to have the alcohol removed while still retaining the flavor and notes of your favorite Reds, White,s and Rosé. and all at only 25 calories or less per serving· The wines are produced from organic grapes harvested from California Central Valley vineyards. Learn more at www.zoie.com.

Photo: @smoothsailsake