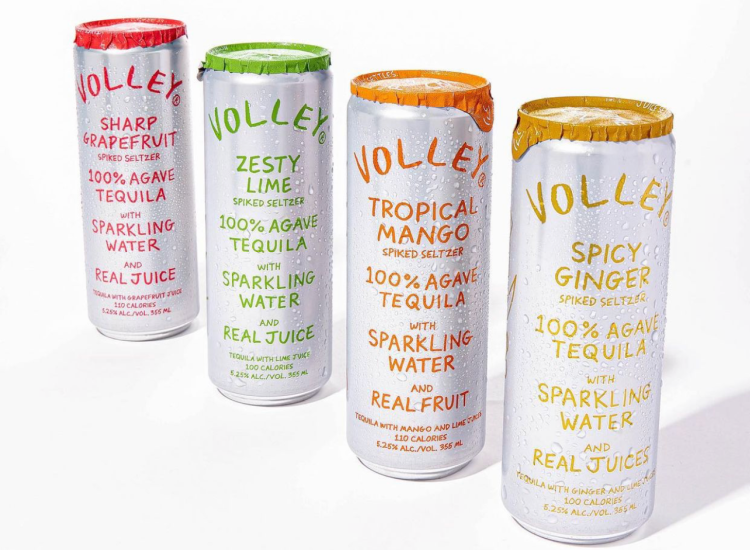 If You're Happy & You Know It, Clap Your Cans
No longer just in the bottle, refreshing canned beverages are available in an amazing array of varieties and potencies

Do The Volley Flip
Here's a riddle: what's clean on the inside and clean on the outside? Volley, the first clean tequila seltzer, has committed to even cleaner cans with the introduction of a distinctive foil topper. Whether grabbing a chilled Volley can from the cooler or pouring one out on the rocks, flipping the can before serving activates the real, organic juice that has settled at the bottom. This new foil topper packaging component conveys that very message reminding consumers to do the "Volley flip" for optimum sipping. Plus, you can have peace of mind that you're getting a clean drinking experience on the outside too, since many uncovered cans encounter bacteria during the supply chain process. Volley is made with only three ingredients, 100% agave blanco tequila from the highlands of Jalisco, Mexico, sparkling water, and organic juice. This means Volley includes zero commonly-used fake sugars, preservatives, "natural" flavorings, essences and corn syrup that hide in the nutrition facts of most other seltzers on the market. Available in four guilt-free ​flavors: Zesty Lime​,​ Spicy Ginger​, ​Sharp Grapefruit​ and ​Tropical Mango​. drinkvolley.com

Forget Seltzer, Have You Sipped Hard Tea?
Tios Drinks is a range of premium low calorie, low sugar and vegan ready-to-drink sparkling hard teas made with brewed organic white tea, premium alcohol (4.4% abv) and natural ingredients, served in recyclable 250ml cans. The three different flavours, White Tea Mojito, White Tea Margarita and White Tea Light & Stormy are tea-based twists of three popular cocktails. All cans are made of recyclable aluminium and the can labels are compostable. The water used is from a local borehole and the production site is carbon neutral. Packaging is kept to a minimum and is FSC certified. Tios is available to purchase on their webshop in 6, 12 and 24 packs.

Milk Tea Fans, This is For You
Pauline Ang , (founder and CT(ea)O of Twrl M!lk Tea) was a milk tea (aka boba/bubble tea) enthusiast ealy on and quickly realized not all milk teas were created equal. Many were filled with sugar, used low-quality ingredients, and some were made from powder. Pauline decided it was time to create a product that she felt truly passionate about. The result: Twrl M!lk Tea, a plant-based nitro-infused milk tea. Crafted with organic, fair-trade tea from small family-owned farms, low-carb plant-based milk and way less sugar, Twrl M!lk Tea is a guilt-free milk tea that does not compromise on ingredients or quality. For any additional information, visit twrlmilktea.com

Say it with Sake That Sparkles
A globally-inspired new twist, now in a can. Smoothsail, the world's first premium, canned sparkling sake that boasts natural flavors, clean ingredients and zero sugar. Made using premium grade sake, ultra-filtered water and precise brewing process, a monk fruit and stevia extract blend, Smoothsail is a unique and light drink that conveniently comes in a can. The 7 percent ABV is made from Japanese rice wine, which is prized for sparing people from hangovers. Available in peach and berry flavors. www.sipsmooth.com

We're Ready to Love Wesake
WESAKE is a Junmai Ginjo-style sake - like all sakes in the Junmai category, it is made with only four simple ingredients: rice, water, yeast and koji (a Japanese fermentation starter). This simple sip joins the market as a "better for you beverage" designed to be enjoyed at rooftop parties, small gatherings, nights out and well, just about anywhere. It's best consumed chilled and meant to be shared with family and friends. WESAKE begins in the rice fields of Tagocho, Japan, where rice grains are carefully grown by local farmers for six months. The rice is then transported to the brewery in Kobe, Japan, an area famous for sake brewing given its climate and pristine water sources. It is brewed Junmai Ginjo style because it's elegant enough for seasoned sake drinkers, but also bright, fun and easy for all those who are starting to drink it. These non-GMO, vegan, gluten-free, 200ml cans clock in at 13% ABV, at $18.99 for a four-pack. They're currently available at wesake.co/products/wesake

Wine Without The Alcohol -- What?
You can still Rosé all day and not feel the repercussions of it with the recently launched Zoie non-alcoholic wines. The Zoie Company wines are the first non-carbonated wine in a can to have the alcohol removed while still retaining the flavor and notes of your favorite Reds, White,s and Rosé. and all at only 25 calories or less per serving· The wines are produced from organic grapes harvested from California Central Valley vineyards. Learn more at www.zoie.com.