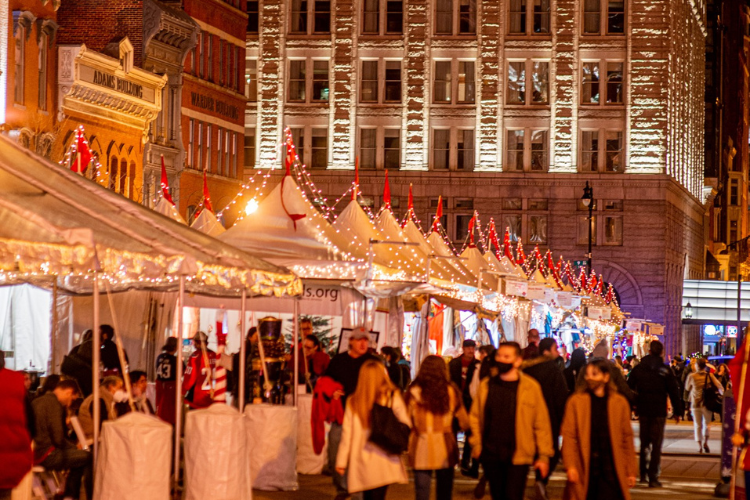 All the Holiday Lights, Markets, & Teas
Photo Credit: Blake Buege
It's hard to believe that the holiday season is upon us - but it is! All the area light shows, skating rinks, holiday markets, teas, and pop-ups are back along with the cinnamon, sugar, and spice of the season specifically here to to tantalize all your senses. Coat optional for the moment:
Let There Be Lights:
Bull Run Festival of Lights: This holiday season, enjoy the Bull Run Festival of Lights, a 2.5 mile drive-through featuring festive light displays, walk-through Christmas Village and Carnival. The show is open through Thursday, January 7th. Tickets available in advance for $30 per vehicle, or $40 per vehicle at the door. To purchase a ticket, click here.
Georgetown GLOW: GLOW, the free, popular holiday celebration in Georgetown featuring public light art installations, returns for its 9th edition, with works lit from 5:00 – 10:00 p.m. nightly through Sunday, January 7th. The works will be in outdoor locations throughout the Georgetown commercial district. The signature winter event is the only light art exhibition of its kind in the region, featuring artists with a diverse range of backgrounds and perspectives. For more information, click here.
11th Annual Winter Walk of Lights at Meadowlark Botanical Gardens: Meadowlark's Winter Walk of Lights is an elegant garden trail decorated with thousands of sparkling lights. The half-mile walk through the enchanting Meadowlark Botanical Gardens features lighted nature themes and animated displays along a paved trail. Stay warm by sipping on a hot beverage (with or without spirits) as you walk and s'mores to finish out the evening. Admission $8 - $16 per person. The Gardens will be open daily from 5:00 - 10:00 p.m. To purchase a ticket, click here.
Christmas Illuminations at Mount Vernon: On Friday, December 15th and Saturday, December 16th, join George Washington's Mount Vernon for a family-friendly celebration of the holiday season with an enchanted evening of Christmas Illuminations. See the lantern-lit Historic Area, the Mansion aglow in beautiful amber light, and the Upper Garden and Greenhouse dazzling in blue and lavender with moving wintry light patterns, while hearing classic holiday music and patriotic inspirational quotes. Tickets start at $50 per person. To purchase a ticket, click here.
Enchant DC at Nationals Park: The world's largest Christmas light maze and village, Enchant, is returning to DC for a 4th year, filling Nationals Park with millions of lights through Sunday, December 31st. The holiday spectacular returns with an all-new maze adventure, Reindeer Games. This year, Enchant will have special themed nights, including Thursday, December 7th (military night), Sunday, December 10th (ugly holiday sweater night), Friday, December 15th & Thursday, December 28th (college student nights). Tickets begin at $32 per adult and $24 per child. To purchase a ticket, click here.
DMV Winter Lantern Festival in Tysons Corner: The Winter Lantern Festival comes to Washington DC for its first immersive DC Winter Lantern Festival. From New York with 150,000 annual guests, 3 years in a row, this is an experience you don't want to miss! Starting from Saturday, December 16th - Monday, February 12th, they'll transform Lerner Town Square into a dazzling world of light with over 1000 Chinese lanterns; all handmade by artisans with decades of experience. To purchase a ticket, click here.
Winter City Lights: A unique and magical holiday experience of over 1 million twinkling lights spread across 18-acres of winter wonderland where it is guaranteed to "snow" every night. The largest light show in the Washington DC, Virginia and Baltimore areas, Winter City Lights is one of the most technologically advanced Christmas light experiences in the country. Complete with 33 bonfires, Winter City Lights includes an enchanted 1.5-mile long trail of Christmas lights and displays through the woods, a 52-foot tall programmable Christmas lights tree with light shows, a 200-foot diameter canopy of Christmas lights, an 8-lane Snow Tubing Ride, tasty concessions, s'mores, hot chocolate, funnel cakes, fried Oreos, BBQ sandwiches, fresh hot pizza, amazing soft pretzels, adult drinks, light up toys & more. The Winter City Lights will be open through Saturday, December 30th. To purchase tickets, click here.
8th Annual Light Yards at The Yards: Yards Park will be merry and bright with the eighth-annual return of Light Yards, an interactive light installation free to the public every night, this year longer than ever before through Sunday, January 7th. Back by popular demand, Swinging Bells returns to The Yards, allowing guests to become a part of the living artwork. The five, 13-foot tall bells play a jingle as you swing and are the perfect stop for friends and family to play and take photos. For more information, click here.
Grab Your Skates:
ICE! at The Gaylord National: ICE!, the annual holiday tradition at Gaylord Hotels, returns to Gaylord National Resort through Sunday, December 31st. Using more than two million pounds of ice, the classic 1964 Christmas animated television special, Rudolph the Red-Nosed Reindeer, will be brought to life by a team of 40 ice artisans to create the nearly 20,000 square-foot frozen attraction. For more information, click here.
Sculpture Garden Ice Rink at The National Gallery of Art: A beloved winter tradition returns! The 2023-2024 Sculpture Garden Ice Rink season runs through March 3rd. During the ice rink season, Pavilion Cafe hours are Sunday - Thursday 10:00 a.m. - 5:00 p.m., and Friday and Saturday, 10:00 a.m. - 6:00 p.m. Registration for group and private lessons as well as season passes is open. For more information, click here.
Ice Skating Rink at The Washington Harbour: Enjoy scenic views of the Potomac River, Kennedy Center, Key Bridge, and historic Georgetown while ice skating at the Washington Harbour. The ice skating rink is even more magical at night with twinkling snowflakes and decorations lighting up the rink. Enjoy a nice meal or drinks at the surrounding restaurants before or after skating. Georgetown ice skating rink offers skate rentals, lessons, and open skating in 90 minute increments. Tickets cost $11 per adult and $9 per child (12 years old and under). The rink is open through Sunday, February 25th. For more information, click here.
Santa Sightings:
*NEW* St. Baldrick's Santa Brunch Fundraiser at All-Purpose Capitol Riverfront: On Saturday, December 16th, All-Purpose will host its 5th annual Santa Brunch, raising funds to combat pediatric cancer through St. Baldrick's Foundation. Tickets are $10 per person and include Santa photos, a complimentary hot chocolate, and holiday crafts for the kids. Fur babies are welcome, too. To make a reservation, click here.
Holiday Extravaganza at The Boro: Here comes Santa Claus, right down Boro Lane! On Saturday, December 9th from 11:00 a.m. - 2:00 p.m., get into the holiday spirit with a festive and fun morning in Boro Park to kick off the holiday season! You are invited to enjoy a fun filled morning of holiday kids crafts, a DJ dance party, specialty hot chocolate bar with lots of fun fixings from Bluestone Lane, a holiday themed bounce house, and calligrapher on site to customize ornaments. And don't forget to stop by Santa's Workshop in Boro Park, where you can take pictures with Santa. It's the perfect way to get into the fun and festive holiday mood! Santa will be in his workshop from 11:30 a.m. - 1:00 p.m. To reserve your spot, click here.
Santa Claus at the Fairmont DC: Sleigh bells will be ringing at Fairmont DC on Saturdays and Sundays, through December 17th. When Santa checks into his residence, he brings comfort and joy to all who believe in the magic of the holiday season. All naughty and nice children who stop by Santa's suite, with their parents, are invited to take photos with Santa, enjoy a gingerbread display created by the hotel's pastry team, and enjoy holiday treats. Santa's Suite is available for 15-minute visits for up to 10 people at $10 per person, with 100% of the proceeds going to Horton's Kids. Families touring his suite can share their Christmas wishes with Santa, and take their own photos with him. To purchase a ticket, click here.
Tea with Santa at Hank's Oyster Bar Old Town: Join Hank's Old Town for magical moments and celebrate the holiday season with enchantment and joy. You're invited to their special "Tea with Santa" event on four festive days in December. Kick off the festivities as parents and children gather for a memorable performance by either the incredible 𝑨𝒃𝒓𝒂𝒄𝒂𝒅𝒂𝒃𝒓𝒂 𝑨𝒍𝒆𝒙 (Sunday, December 10th) or the delightful 𝑮𝒓𝒆𝒂𝒕 𝒁𝒖𝒄𝒄𝒉𝒊𝒏𝒊 (Sunday, December 17th and Saturday, December 23rd). The performances begin at 11:15 a.m. Santa Claus himself will make a grand entrance to greet the little ones and spread holiday cheer. Make sure to have your cameras ready to capture this magical moment with Santa Claus. After the enchanting performances and Santa's visit, indulge in a delightful spread of tea sandwiches and sweets for children and adults alike. Tickets cost $65 per person. To purchase a ticket, click here.
*NEW* Santa Paws at Hook Hall: On Sunday, December 10th from 12:00 - 2:00 p.m. the Hook Hall hounds (and children) can have their photo taken with Santa. Pet parents may enjoy a complimentary hard cider while pups and kiddos get their holiday photos taken. Additional beverages will be available for purchase. Dog families and human families alike are $18 per family. For more information, click here.
*NEW* First Annual SantaPaws at The Morrow: On Tuesday, December 15th, joing The Morrow Hotel for its first annual SantaPaws event from 5:00 - 7:30 p.m., in collaboration
with the Humane Rescue Alliance and Homeward Trails. You are invited to visit the hotel with your furry friends for a special photo session with Santa. You will immediately receive one electronic photo with your pet, and additional photos will be available for purchase. Le Clou, the flagship restaurant at The Morrow, will provide holiday treats such as hot cocoa, warm apple cider, cocktails and spirit-free beverages. The event and photography is free, donations to either partner are highly encouraged.
Breakfast with Santa in Old Town Alexandria: Breakfast with Santa will take place every weekend in December from 8:00 - 10:00 a.m. in three fabulous locations in Alexandria: Joe Theismann's Restaurant, Mia's Italian Kitchen, and Ada's on the River. Tickets range from free to $65 and include a hearty and festive breakfast feast and a special visit from Santa Claus himself. Children will take home treats and adults can indulge in some Prosecco, as well as capture a priceless moment of their child. To purchase a ticket, click here.
Holiday Markets:
2nd Annual Re:Her Holiday Market at Cork Wine Bar & Market: On Monday, December 11th, RE:Her, the organization of DMV women and non-binary owned-restaurants, bars and bakeries, will hold its second annual Holiday Market from 5:00 - 8:00 p.m. RE:Her invites you to stock up on holiday gifts, food, and beverages from local woman-owned food establishments such as Cork Wine Bar, Hank's Oyster Bar, La Patrona Market, Pizzeria Paradiso, Sticky Fingers Bakery, We Are Fishscale and others, while sipping wine and bubbly. You are encouraged to bring packaged menstrual products to donate to I Support the Girls, a charity that collects and distributes bras, underwear, and menstrual products to women in homeless shelters, domestic abuse centers, and newly arrived immigrants. To reserve a spot, click here.
19th Annual Holiday Market in Downtown DC: This year's Downtown Holiday Market, presented by DowntownDC Business Improvement District (BID and Diverse Markets Management, returns for its 19th year. Once again, the market will be taking two entire blocks of F Street NW between 7th and 9th Streets NW. The entrance will be located on the sidewalk outside the National Portrait Gallery and the Smithsonian American Art Museum. This year, visitors can enjoy a new line up of entertainment, over 70 exhibitors, food vendors and festive decor and lights throughout the season. Admission to the Downtown Holiday Market is free and open to the public with daily hours from 12:00 - 8:00 p.m. For more information, click here.
Holiday Market Presented by Urbnmarket at The Mosaic District: On Saturday, December 16th and Sunday, December 17th, join the Mosaic District for two festive weekends. With over 65+ talented makers, their holiday market is the perfect spot to find unique gifts for everyone on your list. And for an extra sprinkle of holiday cheer, don't miss the chance to snap a memorable selfie with Santa himself. Celebrate the season, support local artisans and wrap up your holiday shopping with the Mosaic. For more information, click here.
Holiday Markets at Old Town North: Through Saturday, December 9th shop for local gifts while celebrating the Christmas season with dozens of vendors offering an array of baked goods and produce, specialty food items, seasonal decorations and fresh greenery and gifts in Old Town North. For more information, click here.
Christmas Tree Lot at The Salt Line Navy Yard: The Salt Line's annual Christmas tree lot is now open at its Navy Yard location. 100% of the sales benefit the DC Firefighters Burn Foundation. Open daily until sold out, The Salt Line Christmas tree lot will offer Fraser and Balsman firs ranging in sizes from tabletop to 12 feet tall, as well as tree stands, wreaths, garlands, and ornaments. With a purchase, you will receive a complimentary hot cocktail from The Salt Line's Winter Warmers cocktail menu. For more information, click here.
Holiday Season Pop-Up at Salt & Sundry: Founder Amanda McClements and her team at Salt & Sundry have curated a tasteful mix of fun holiday-centric gifts exclusive to the Holiday Shop, including quirky ornaments, holiday candles + scents, furry blankets, gift wrap, sparkly glassware and more. Salt & Sundry's Holiday Shop will open its doors on Monday, November 25th and will remain open daily throughout the season, with plans to close the first week of January 2024. The pop-up's inventory will feature beloved Salt & Sundry makers, along with new brands like Otherland and Cody Foster. Guests of the holiday pop up can enjoy personalized shopping experiences as well, including custom gift box curation and wrapping. For more information, click here.
Other Holiday Offerings:
Latin Rhythms & Festive Spirits : Colada Shop's holiday bar is officially here. Step into a festive wonderland with an explosion of decorations and a menu of holiday cocktails that will have you grooving to the rhythm of Latin music. Don't miss out on sipping on festive concoctions like The Havana Boulevard, The Pineapple Tamarind Cider, The Coquito Monaco, and Jingle Bells Tiene Tumbao. All cocktails are $14. 1405 T Street; coladashop.com
*NEW* Annual Gingerbread Decorating Party at Cork Wine Bar: Join Cork Wine on Saturday, December 9th at 10:00 a.m. for their Annual Gingerbread Decorating Party. You can decorate with holiday candies, drink hot chocolate and cider, and enjoy sweet holiday treats. Tickets cost $60. An at-home kit is also available for $50 through Friday, December 22nd. To purchase a ticket, click here.
*NEW* Holiday Bubbly Blowout at Cork Wine Bar: On Saturday, December 16th from 12:00 - 3:00 p.m., embark on a sparking journey as Cork's favorite connoisseurs will lead you on this guided walk-around tour of all things bubbly from Champagne to Pet Nat. Tickets are priced at $50 per person. To purchase a ticket, click purchase here.
Gingerbread House Workshop at Davio's Northern Italian Steakhouse: This holiday season, Davio's Northern Italian Steakhouse in Reston is throwing a gingerbread house party on Sunday, December 17th. From 11:30 a.m. - 1:30 p.m., children of all ages are invited to participate in a one-of-a-kind workshop with Davio's own pastry chef Emma Thomas. Chef Thomas will lead the demonstration and workshop, teaching children how to decorate personalized gingerbread houses fit for the North Pole. The event is priced at $55 per child and adult admission is free. Each participating child will receive one gingerbread house to decorate (with delectable decorations included), hot chocolate and lunch. To purchase a ticket, click here.
"Dreamland: The Nut-Cracker Inspired Bar" at Duke's Grocery Navy Yard: Duke's Grocery is celebrating the season in merriment and style with "Dreamland: The Nutcracker-inspired Bar" – a holiday pop-up at its Navy Yard location. Dreamland will provide you with an unforgettable experience filled with over-the-top expressions of holiday joy and a lineup of imaginative libations. The Duke's Grocery Navy Yard team has tapped the "Queen of Christmas Bars", Adriana Salame-Aspiazu, for the project. You will be transported into an ornately-adorned world created by Salame-Aspiazu who decorated the restaurant with decorations inspired by the beloved short story and ballet. The festive décor will be paired with a delightful and spirited cocktail menu featuring classic holiday flavours with nods to The Nutcracker, such as "Clara's Peppermint Mocha" and the "Gingerbread House". "Dreamland: The Nutcracker-inspired Bar" will run through the holidays.
Frozen Festive Afternoon Tea at Fairmont DC: Fairmont DC is offering Frozen Festive Afternoon Tea on Saturday December 9th, 16th, and 23rd, from 1:00 - 3:00 p.m. Tea served in the whimsically decorated Loggia, overlooks the holiday lights in the courtyard. Disney's Frozen, performing at the Kennedy Center (December 20th through January 21st) will provide some festive decor to enhance the ambiance. Children are encouraged to wear Frozen-themed attire. Executive chef Jordi Gallardo, Executive Sous Chef Jason Rowley and Executive Pastry Chef Claus Olsen's savory and Frozen-themed holiday delights will please palates of all ages. Each child will receive a Frozen-themed gift. Tickets $90 per adult, including a glass of champagne, or $39 per child; for reservations, please email the hotel directly at [email protected] or call 202.457.5020.
*NEW* 15th Annual DC Holiday Cocktail Seminar at Last Call Bar: On Monday, December 11th from 6:00 - 8:00 p.m., join Gina Chersevani, Frank Jones, Duane Sylvestre, Todd Thrasher, Mike Saccone, and Phi Greene for an evening of great holiday cocktails at Last Call Bar. Tickets are priced at $65 per person. To purchase a ticket, click here.
Sip N' Build Gingerbread Houses at Marcel's: Marcel's will be hosting their first ever Gingerbread House Building event on Saturday, December 16th from 11:30 a.m. - 2:30 p.m. You can also get excited for an open bar featuring seasonal drinks. All ages are welcome. The event is priced at $90 per person. Kids under 6 are free. To make a reservation, click here.
"Whoville Hideaway" Pop-Up Bar at Tap99: Tap 99 has transformed into the Whoville Hideaway, a one-of-a-kind immersive holiday pop-up bar experience featuring Christmas beers, holiday cocktails and shooters, a Holly Jolly Happy Hour and other weekly events, over-the-top holiday décor, and the occasional Grinch appearance. You can also enjoy their holiday-themed beverages amidst lavish holiday décor – an abundance of wrapped presents and oversized ornaments, festive garland and lights hanging from the ceiling, allowing patrons to enjoy the holiday season just outside the main gates of the Nationals Park.