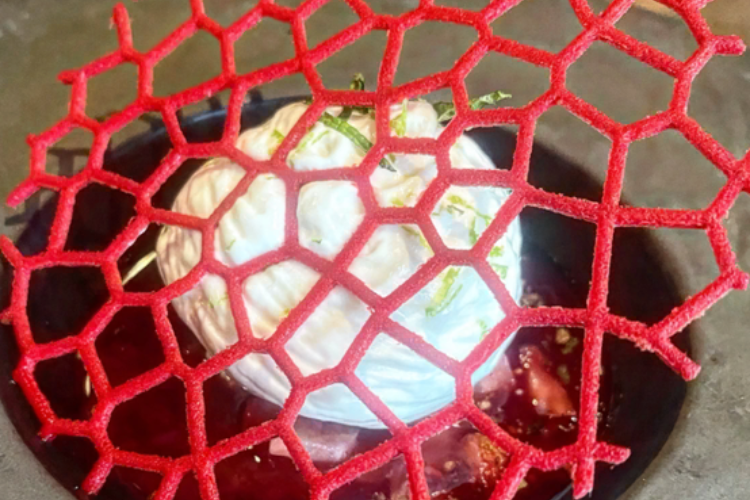 RAMMY Nominees, They're Just Like Us: Pastry Chef or Baker of the Year
You already know that the Restaurant Association Metropolitan Washington (RAMW) has revealed the finalists for their 2023 RAMMY AWARDS. And, as we have been doing for the last month or so TheListAreYouOnIt.com has featured the nominees from an array of categories in our annual section: RAMMY Nominees "They're Just Like Us". And we continue! This week we get all sugar and spice and everything nice with the Pastry Chef or Baker of the Year nominees:

Everyone thinks you have the sweetest job. But many of your creations require exacting science and attention to detail. What's your most complicated offering that you love wowing your guests with, and what's your simplest one that still gets the same "wow"?

Rochelle Cooper
Executive Pastry Chef, The Duck & The Peach, La Collina, The Wells
Pastry is very technical for sure, and, like any science experiment, we are always looking for ways to improve so we keep learning and tweaking along the way to make each dish better and better every day.

The most complicated dessert on our menu now is the S'mores Bar. There are about 10 recipes/steps to prepare it, but it's Instagram-worthy and tastes just as fantastic as it looks! It's a layered mousse cake that requires smoking the cream for the mousse and the dulcey chocolate graham cracker dip to infuse the smoky flavor enough to stand up to the dark chocolate. It's layered with a crunchy graham ganache base and sacher chocolate sponge cake soaked in brown sugar syrup to impart graham flavor and add some sweetness. We freeze and cut them into bars and then carefully dip them in the smoked dulcey laced with toasted salted graham cracker. To top it off, we make a honey meringue marshmallow and pipe it upwards along the bars to look like flames, torch it and finish with gold dust so it glimmers like a flame. Service pickup is much simpler as we serve the bar with a swoosh of warm chocolate sauce. I feel it's important to have balance on the station so there is time for dishes that are more delicate to plate.

Sometimes I'll be working on a dish that comes together really simply and delicious and this was the case with our Caramel Apple Cake. I have the team try it along the way as I build the components and I kept saying "That's it? You all are happy with just that!?!" But they were right…it just needed three things! Gooey caramel apple cake that we were able to prepare vegan, with caramel apple diced (we use the trim pieces in the cake so it is sustainable as well), and honeycrisp sorbet. The juxtaposition of hot cake and cold sorbet, crisp fresh apple taste alongside the caramel cooked jammy apple flavor, a little salt and bright pungent marigold petals is all it needed! This shows the importance of quality ingredients such as the delicious apples we are getting from local farms like Karma farm and Earth n Eats. With great products you shouldn't have to do much to make them shine."

Sam Cooper
Head Baker, Bread Alley, Le Diplomate, St. Anselm
The most complicated is the bread that accompanies Le Diplomate's cheese board that we refer to as "congee" in the bakery; it's made with a large percentage of black rice porridge alongside dried apricots, roasted cashews, and toasted almonds. The answer to our simplest offering is easy- our baguette. About as simple as it gets, but consistently irresistible.

Bridie McCulla
Executive Pastry Chef, The Liberty Tavern Restaurant Group
At Northside Social Coffee and Wine, we make an absolutely addicting item that, while not technically complex, manages to be just about the most complicated blondie you'll probably ever meet. Our Coconut Macaroon Blondie with Chocolate Chunks & Salty Pretzel Crumble is a humble bar on the surface, but it hides layers of flavor and texture that work together to make this treat hard to leave unfinished. We start with a classic coconut macaroon dough that sits and develops flavor in the cooler for at least 24 hours. Premium vanilla beans make friends with Coco Lopez here. We then mix this with a salty pretzel crumble (a worthy snack on its own) until the perfect clumps have formed and bake it on low temp, stirring for hours, until it turns into a golden, sweet and salty crunch. We could stop right here and just happily snack on this, it's that addictive. Anyone walking through our kitchen has to have a taste of what's hanging out in the tub labeled "blondie filling." Then we make our blondie batter, folding in the macaroon/pretzel crunch and plenty of semisweet chocolate chunks. Last, we top the blondies with more of those pretzels that have gotten the salty crumble treatment and bake until golden brown. We love this item so much that it has made its way onto the dessert menu in all five of our restaurant group's establishments. Such a simple treat, but one that takes several days from start to finish to properly make. Only crumbs left behind when this blondie is ordered.

Mary Mendoza
Chef & Pastry Chef of Tonari and Bantam King
Being able to do both savory and pastry dishes is a sweet gig. I get the chance to hone my skills for both branches of cooking everyday. So, there are a lot of dishes that come to my mind. Then, I still get to practice some of the scientific concepts I learned from my previous career as a biochemist.

My most complicated offering that I love wowing my guests with would definitely be my devil made me do it chocolate cake at Bantam King. It's a four layered devil's food cake made with chicken fat, hojicha tea, and Hokkaido flour sandwiched between buttery, chocolate-cream cheese frosting. It's decadent but not overwhelming. It is so time-consuming.

For simpler recipes and pick ups, I get the same wow with my white chocolate rice pudding with caviar for Hole in the wall, uni pasta for Tonari, and chicken and doffle at Bantam King.

The white chocolate rice pudding served with caviar has 5 ingredients; milk, rice, sugar, white chocolate, and salt. The wow comes from the cooking technique and the science behind the flavor combinations. I decided to combine white chocolate and caviar because I read that both have a compound, trimethylamine, which makes them complement each other. The simplicity of the technique and the beauty of natural flavors coming together makes this my favorite dish to make and serve.

Teresa Velazquez
Owner, Founder, and Executive Baker of Baked&Wired and A Baked Joint
Most complicated = pie dough
Pie was the first dessert I learned to make. But as I got older and then went on to open Baked&Wired, I learned how complicated it is for many to make (and also to teach!). I think this is because unlike many desserts which have an exact science, pie dough is all about feel. And a good pie is all about the pie dough - not necessarily the ingredients inside. Given also that it's such a nostalgic homey dessert, I see how much it "wows" people all year around when I make it.

Most simple - The Beesting (And Nycci's favorite!)

The Beesting is simply shortbread with sliced almonds and honey. I created this dessert over 20 years ago with inspiration from a traditional German Bienenstich cake, and to this day it's one of the most popular desserts we sell at Baked&Wired and A Baked Joint. It seems to have a cult following - IYKYK. I always say it's the perfect dessert because it's just the right size and it's the right balance of salt and sweet.