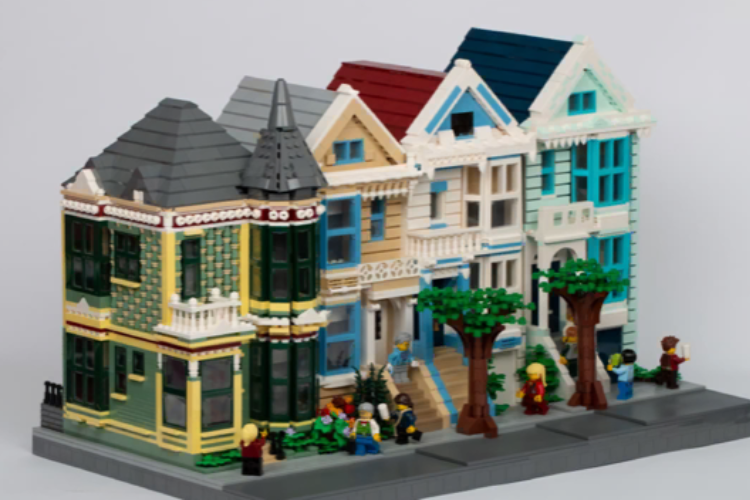 Work Off That Hunger
Your spring has been activated. You really don't want to miss a bite!



NEW: Adam's Morgan Movie Nights
The Adams Morgan Partnership Business Improvement District has welcomed the return of Adams Morgan Movie Nights. Enjoy free movies every Tuesday evening from now through June 27 at the Marie Reed Elementary School Soccer Field at 18th Street NW and California Street NW. Movies will kick-off just after sunset at approximately 9pm. Attendees are encouraged to arrive early to get a prime spot on the field which boasts tiered, amphitheater-style seating. Don't forget to bring your own blanket and pick-up dinner from a neighborhood restaurant to enjoy during the film. More info here.

NEW: Capital Jewish Museum
The Lillian and Albert Small Capital Jewish Museum is the first museum in DC dedicated to the story of Jewish life in the nation's capital region. The Museum will open on June 9, 2023 at the corner of 3rd and F Streets NW, welcoming visitors of all ages and backgrounds to explore and connect with local Jewish history and the intersections between cultural identity and social activism. Featuring interactive tables, film, historic photographs, and artifacts, the Museum dives deep into history while also creating space for current policy discussion with cutting-edge new technology and exhibit design. For more info, visit here.
C&O Canal Boat Tours
Georgetown Heritage's Chesapeake and Ohio (C&O) Canal boat is returning for a second season, with public rides. The new canal boat, the Georgetown Heritage, is the only one of its kind in Washington, D.C. It will be available for public programs and private rentals when the tour season begins. Purchase tickets here.

NEW: City Ridge: Rockin' at the Ridge
City Ridge is launching their upcoming summer music series, Rockin' at the Ridge has begun from 6:30 to 8:30 PM. Families and friends can enjoy live music, beer, wine and summer fun on City Ridge's iconic Great Lawn located at 14 Ridge Square NW Washington, DC 20016. Click here for the full lineup.

Danish GoBoat
Danish company GoBoat, and Float DC a minority-owned boat rental company, have come together to create GoBoat US, a joint venture intended to launch electric boat rental locations all over the US. GoBoat US's mission is to open up the water to anyone and everyone, with a consumer and environmentally-friendly approach to casual boating. It believes that everybody should have the opportunity to enjoy boating and see their cities from the water, without the need to buy an expensive boat or even have considerable boating experience. Each 18' GoBoat fits up to 8 people and features a large central table with cup holders, making it easy to enjoy your own food and drinks onboard as a group or a couple. The boats are powered by an electric engine so you can easily indulge in a conversation with your family and friends while on the water. Find out more information here.

The Dr. Seuss Exerience
The Dr. Seuss Experiece is coming to DC! Venture through the brand new, 1,300 square foot "Stars Upon Thars Sneetches Mirror Maze," swing among Truffula Trees from The Lorax, gaze upon a balloon-filled installation from Oh, the Places You'll Go!, and take a spin on a carousel inspired by If I Ran the Circus and join the Circus McGurkus. Buy tickets here.

NEW: Exposed DC
Exposed DC has partnered with Lost Origins Gallery to present the 17th annual Exposed DC Photography Show in an outdoor installation in Mount Pleasant opening on June 4. The show features 35 images that were taken by local photographers and selected from a contest for their unique perspective of the D.C. metro area. Five of the photographs will receive a Best in Show award along with a $100 cash prize. These awards are selected by independent judges who are acclaimed photographers and creatives in the D.C. community. Find out more info here.
Fairmont Abstract Photography
Fairmont in partnership with Artists Proof is showcasing limited editions of abstract photography works by DC-based artist Dagmara Weinberg, now through June 30, 2023. This exclusive exhibition for guests of the Fairmont consists of limited edition works in her latest Snowy Branch series, Water Series, Tree Bark series and the iconic Cherry Blossom series, which the artist is known for in Washington, D.C. All of the artwork on display through June 30 is available for purchase. Learn more about the artist here.

Kraken Kourts
Kraken Kourts & Skates, a 70,000 square-foot complex, housing 14 pickleball courts, a tavern and the District's only indoor roller-skating rink, has opened in MRP Realty's Bryant Street NE development in Edgewood. The indoor roller-skating rink offers skate rentals, lessons and skating party packages for all ages. Kraken Kourts & Skates will also create corporate team building and special event packages with food and beverage options. 514 Rhode Island Avenue NE; experiencekraken.com

NEW: National Harbor's Concert Series
Get ready to jam all summer long. National Harbor is doubling up on its usual free military concerts by adding another day of music on Wednesdays throughout the summer. Stars & Stripes Military Concerts will feature musicians on Wednesdays at 7 p.m. at National Harbor's newest venue Spirit Park (115 National Plaza) an amphitheater and park located near the entrance of National Harbor. Spirit Park was designed to honor the history of the American flag and all of those who represent it with one of the largest flying flags in the U.S. The Concerts by military bands includes U.S. Navy Band Commodores on May 31. June 14 will also be a celebration of the United States Army's 247th birthday with performances by the U.S. Army Band Country Roads. Find specific dates here.
NEW: Brick City at National Building Museum
The National Building Museum has added new exhibitions that include a tour of global architecture made entirely of LEGO® bricks, an inspiring new Summer Block Party installation, a large-scale outdoor mural display created by D.C. high school students and an exploration of architecture inspired by children's books designed for an intergenerational audience. Brick City will celebrate iconic architecture from cities around the world through carefully recreated constructions made from LEGO® bricks by U.K-based artist Warren Elsmore. Visitors will take a world tour discovering new destinations across all seven continents that include: lively streetscapes from Cartagena, Columbia; Mardi Gras celebrations in New Orleans; intricate temples from India to Mexico; and imaginative castles from medieval Japan to modern Las Vegas. nbm.org

NEW: Smithsonian Folklife Festival
The 2023 Smithsonian Folklife Festival takes place on the National Mall, June 29–July 4 and July 6–9. This year's Festival celebrates the culture of the Ozarks and the "creative encounters" that emerge from religious traditions here in the United States. With 500+ individual events over two weeks, June 29–July 4 and July 6–9, there is something for everyone. Find out more info here.

Tysons Corner Workhouse
Tysons Corner Center announces a new art collaboration with the Workhouse Arts Center, a nonprofit organization that offers visual and performing arts education and events, and a variety of community engagement opportunities. Tysons Corner Center will host artists' works from the Workhouse Arts Center at a public art installation to be displayed through early June. Resident artists from the Workhouse: Marni Maree, Britt Conley, Joan Hutten and Dean McIntyre were all chosen to display selected pieces on Tysons' Art wall. This exhibit features a wide range of visual art by artists of a diverse background. These artists were specially selected to showcase diversity in watercolor, infrared photography, ink, and fiber art. Learn more here.

Washington Hilton (Splash Zone)
Washington Hilton has extended its pool hours which is now open and added new cabana food and beverage packages for all hotel guests. With an unobstructed view of the Washington Monument, the pool is open 7-days a week from 6:00AM to 10:00PM through October 31. The pool, open to hotel guests and seasonal membership holders, features brand new lounge chairs, food and beverage offerings as well as cabana packages. Additionally, poolside dining and beverage options will be offered starting Memorial Day weekend through Labor Day. The food menu features a variety of sandwiches and salads while the bar menu offers a mix of refreshing cocktails, beer, wine, blended drinks and mocktails. hilton.com