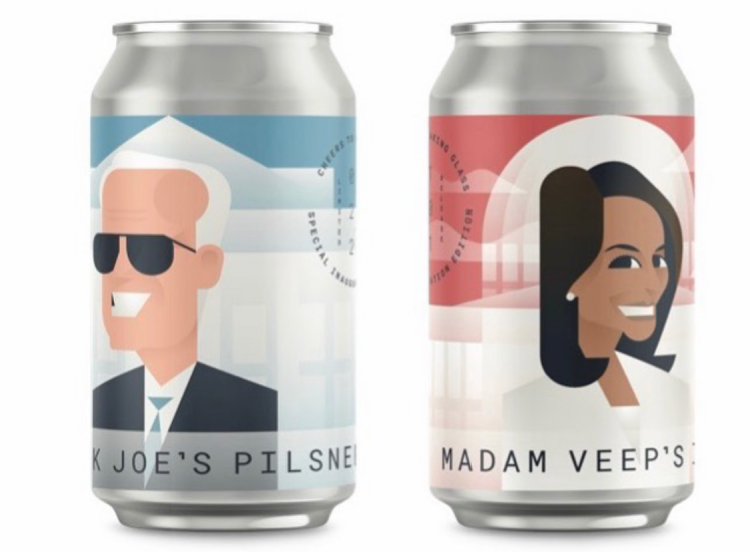 Inaugural Toasts, Roasts, and Spreads
In "normal" times, an Inauguration means an incredible amount of money to those in the DC Area hospitality industry. Hotel rooms should be filled, private dining rooms should be booked, and restaurants all over town should be cooking for revelers who travel from near and far to celebrate. The Biden/Harris Inauguration on Wednesday, January 20th will be different like most everything has been. But, you can bet area restaurants are going to roll out incredible food and drink options for your celebrations. The offers are just rolling in now and will be available for multiple days. You know the drill - as more come in we will post them here:


Inauguration Edition Beer Special From Atlas Brew Works
Cheers to President-elect Joe Biden and Vice President-elect Kamala Harris with Atlas Brew Works' special Inauguration edition releases: Amtrak Joe's Pilsner and Madam Veep's IPA. Brewed with Saaz and Mt. Hood hops, Amtrak Joe's Pilsner is a crisp, light, and refreshing 4.7% ABV craft lager. Brewed with Mosaic and Citra hops, Madam Veep's IPA is a 5.7% ABV juicy pale ale, packed with citrus flavor. These beers have been made in collaboration with OccasionAles. The mixed six pack of beer is $16.99. Orders are available for pickup starting January 16th at Atlas Half Street Brewery (1201 Half Street SE, Suit 120) and Tap Room (2052 West Virginia Avenue NE #102); occasionales.com

The "46" at BOURBON STEAK DC And Other Inauguration Offerings
DMV native Chef Curtis is excited to be back at BOURBON STEAK DC as the recently appointed Executive Chef. Open flame cooking is a passion of Chef Curtis' and his team is fired up to serve dishes worthy of The White House in celebration of this Inauguration Day. Specials include the "46", a monumental, open fire grilled, 46 oz bone-in rib-eye in honor of the 46th President. Perfect for sharing & the culinary team slices the steak tableside. The First Lady is a trio of BOURBON STEAK's signature fries served with a shaken Potomac martini in honor of Dr. Jill Biden's favorite combo. Kamala's Cali Burger is a burger not to be messed with. Two Angus beef patties topped with avocado, cheddar cheese, grilled onions, pickles, and a secret special sauce. Joe's Cone is a classic favorite, with bourbon vanilla ice cream on a sugar cone. And lastly, the Major & Champs, a fun cocktail with a little sparkle to celebrate the return of First Canines to The White House. Major & Champs is made with Russel Reserve, Madeira & champagne, of course. BOURBON STEAK is open for indoor dining (with limited capacity) and extensive outdoor dining during the week of Inauguration, Monday January 18th through Sunday January 24th. Specials sold a la carte. BOURBON STEAK DC is located in Four Seasons Hotel, 2800 Pennsylvania Avenue NW; 202.944.2026; fourseasons.com.

Inauguration Package From Centrolina & Piccolina
Inauguration Day will certainly look different this year, but what we know for certain is that Amy Brandwein, Chef and Owner of Centrolina, has created incredibly comforting and celebratory packages, inspired by the President and Vice President-elect. The Dine with Joe package is inspired by President-Elect Joe's favorite Italian dishes, including menu items like field greens with Caesar vinaigrette, sunny side egg, and parmigiano, spaghetti pomodoro, chicken parmigiana & garlic Bread, and mint stracciatella gelato for dessert. The Dine with Kamala package is inspired by Vice President-Elect Kamala's favorite Centrolina dishes, with menu items like Giardino, with wood roasted vegetables, basil aioli, sunny side egg, Branzino, a whole Mediterranean sea bass, potato confit, tomato, olive (cooking instructions included), and Inverno with winter citrus, honey, lime, and pomegranate. Select one bottle of sparkling, white or red wine with your Joe or Kamala package, from choices Adami Garbel Prosecco NV, Cembra Sauvignon Blanc 2018, or Le Pupille Morellino di scansano Sangiovese 2018. Cooking and reheating instructions are included for each course. Pre-Order ends Sunday, January 17th and pick-up is from 1:00 p.m. to 8:30 pm on Tuesday, January 19th. The Dine with Joe and Dine with Kamala packages are both priced at $125 each and serve two people. 974 Palmer Alley NW; 202.898.2426; centrolinadc.com.

Fight Club's Inauguration Day Sandwiches & Punch Specials
To welcome the newest residents of the White House, Capitol Hill's Fight Club is bringing back The Biden's Bobbie and rolling out a new Inauguration Day sandwich and punch specials that will be available for patio service, carry out, and delivery. The Biden's Bobbie ($15) is loaded with turkey, sausage stuffing, potato mayo and cranberry sauce on a hoagie roll. For dessert, indulge in the PED of JOE ($8), a salted peanut butter and chocolate chip ice cream sandwich. Also offered is The VP Melt ($15), featuring tuna salad, spicy chips, American cheese, and a hard boiled egg on country white bread. Pair the Inauguration Day specials with cocktails like the Fix It Juice ($14), whose name doubles as a plea to the new administration, and the Sad Boys Tea ($14), taking a final swipe at the evicted-occupants of the White House. Specials available January 13th through January 20th. 623 Pennsylvania Avenue SE; 202.733.1384; fightclubdc.com.

Gerrard Street Kitchen Inaugural Cocktail & Mocktail
As DC makes preparations for U.S. Presidential Inauguration, Gerrard Street Kitchen is rolling out the red carpet for its newly introduced We the People and The All-American inaugural cocktail and mocktail libations that pay tribute to President-Elect Joe Biden and his Swearing-In Ceremony on January 20th. The sapphire blue We the People martini and the royal blue The All-American concoctions complement Executive Chef Jaime Velasquez's globally-inspired menu and robust collection of craft signature and seasonal cocktails. The We the People martini cocktail and The All- American mocktail are available as takeout only through the end of January at $14 for the cocktail and $8 for the mocktail. Gerrard Street Kitchen is located in The Darcy hotel at 1515 Rhode Island Avenue NW; 202.521.7171; thedarcyhotel.com.

Inaugural Ice Cream from Ice Cream Jubilee
President-elect Joe Biden famously loves ice cream, so celebrate the new year and new White House with Ice Cream Jubilee. They want to get kids and families excited about elections, Government, and the country as they watch the swearing in from home…with ice cream of course. Some flavors will be Vanilla Chocolate Chip, Cuppa Joe, Cardamom Amaretto, and Rose' Mimosa. Available January 9th-10th, and January 15th-January 24th. 2:00 p.m. to 9:00 p.m. each day. The Tasting Flight and Take-Home Pint start at $22 each. Multiple Locations: Yards Park (201 Water Street SE), T Street (1407 T Street NW), Ballston Quarter (4238 Wilson Boulevard, Arlington, VA); eventbrite.com

"A Boozy New Deal" Inauguration Kit From Jack Rose Dining Saloon
Renowned whiskey and cocktail bar Jack Rose Dining Saloon is cheers-ing to a new beginning for the country with a special Inauguration cocktail kit-for-two. These "progressive" cocktails start with a bubbly, bitter aperitif, and finish with a rich classic. Each cocktail (some of which are Presidential favorites) features American-made spirits. This four-course cocktail tasting is available now through January 20th from 6:30 p.m. to 10:00 p.m. Each kit is $75. Jack Rose Dining Saloon (2007 18th Street NW); exploretock.com/jackrosediningsaloon

Inauguration Day Brunch And Dinner Menus By Relish Catering
Celebrate democracy during next week's Presidential Inauguration. Whether you are craving a parade brunch or a more formal affair, Relish Catering has the food to satisfy your all-American cravings. The Inauguration Brunch ($120) feeds four people and includes quiche, apple cider bread pudding, winter citrus salad with Relish honey and more. The Inauguration Dinner ($200) feeds four people and includes hors d'oeuvres such as beef tenderloin crostini and eggplant parmesan bites, as well as Eastern Shore crab cakes, root vegetable gratin, spinach salad with apples and candied walnuts, and double chocolate mousse pie with bourbon soaked cherries, among other items. Order by January 15th. Delivery scheduled for Tuesday, January 20th. To order contact Alison Bates at

[email protected]

or call 202.294.5327.

RPM Italian Inauguration Dinners
RPM Italian is creating special Inauguration dinners in honor of the incoming President and Vice President, based on food they both enjoy the most. "The Joe" dinner includes a green salad, rigatoni with Sunday gravy, chicken parmesan, and a pint of pistachio & chocolate gelato for dessert. "The Kamala" dinner includes chickpea grilled pizza, whole chicken, whipped mashed potato & broccolini, and RPM chocolate chip & oats cookies for dessert. The dinners are available Friday, January 15th through Wednesday, January 20th. Available through carryout and delivery with delivery partners ChowNow, UberEats, Caviar, DoorDash, and Postmates. $65 per dinner and serves two people. 650 K Street NW; 202.204.4480; rpmrestaurants.com.

Women Entrepreneurs Inaugural Swag Bag
A collection of women-owned food businesses in Washington, D.C., that hosted Women's Food Fest and a Holiday Market in 2020 to help boost small business during COVID-19, is putting together a Women's Entrepreneur Inaugural Swag Bag. This year, the inauguration of the 46th President Biden and Vice President Harris will look very different, in fact 80% of festivities will be virtual. Watch at home with one of these Inauguration baskets to keep things festive. Items include guava BBQ sauce and plantain chips by Daniella Senior, Colada Shop, infused organic olive oil & awaze dip by Yamrot Ezineh, Letena Ethiopian Restaurant, walnut biscotti by Ruth Gresser, Pizzeria Paradiso, red & white & blue fish salts by Fiona Lewis, DC Fishwife, and much more. Order by January 15th. Delivery options or pickup from Cork Wine Bar January 19th & 20th. $140 per bag to support women-owned businesses. Cork Wine Bar & Market 805 14th Street NW; 202.265.2675; exploretock.com/letstalkdc.