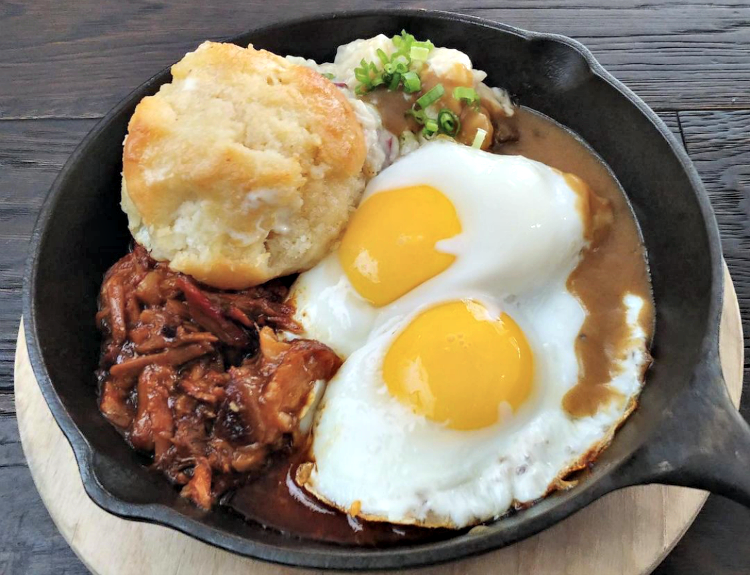 Brunch & Breakfast Get Beaudacious
As restaurants and businesses adjust to this new normal, more varied offerings are appearing for takeout and delivery, including breakfast and weekend brunches:
Albi
Chef Michael Rafidi will begin serving Sunday brunch to-go. Specialties such as lamb belly + kefta shakshuka, croque habibti, and smoked salmon kibbeh naya, as well as orange blossom croissant and smoked cinnamon kouign amann from Yellow the Cafe. 1346 4th Street SE; 202.921.9592; (albidc.com)
Anju
Anju is now offering brunch every Saturday and Sunday on their patio. The menu features creative cocktails and pastries brought to you by O'Bread. Brunch will include savory dishes like our breakfast Juk, kimchi baked eggs, spicy chicken sandwiches, and more. 1805 18th Street NW; 202.845.8935; (anjurestaurant.com)

Best Buns Bread Company + Great American Restaurant Group
Great American Restaurant Group has expanded the Best Buns Bakery & Cafe into its existing restaurant establishments, with a walk-up counter service offering daily baked artisan pastries, sweets, savory breakfast sandwiches like sausage and egg, and drinks like Screwdrivers. 4010 Campbell Avenue, Arlington, VA; 703.578.1500; (bestbunsbreadco.com )
Cafe Riggs
For December, Cafe Riggs is offering brunch with a ham breakfast sandwich made with Honey Baked ham, scrambled eggs, Appalachian and chow chow, as well as eggnog french toast, served with fresh orange marmalade, Eggs Royale, smoked salmon, harsh brown, bearnaise and poached egg. 900 F Street NW; 202.788.2800;(caferiggs.com)

El Techo
El Techo has expanded its limited menu to include a weekend brunch menu. Food offerings include ritos, tacos, nachos, and can be paired with bottomless drinks on Sundays. Drink offerings include unlimited mimosas, Bloody Marys, El Techo Margaritas, or Tecates. 606 Florida Avenue NW; (ritoloco.com)

Espita Mezcaleria
Espita is offering brunch on the weekends, including brunch tacos and tlayudas with tequila-and-grapefruit Palomas ($36, serves six) or bottomless mimosas ($14, includes a bottle of cava and choice of juice). There are also liter margaritas available ($40). Brunch items are available for pickup and delivery via Caviar Saturday and Sunday only. 1250 9th Street NW; 202.621.9695; (espitadc.com)
Fight Club
Fight Club has introduced unlimited mimosas paired with their lineup of breakfast sandwiches on Friday through Sunday from 11:00 a.m. -4:00 p.m. Parties opting for the bottomless beverages, priced at $18 per person, are limited to 1.5 hour seatings. New additions to the menu include the smoked brisket biscuit with smoked beef brisket, pimento cheese, spicy pickles on a scratch-made buttermilk biscuit, and more. 623 Pennsylvania Avenue SE; 202.733.1384; (fightclubdc.com )
NEW: Half Smoke
Half Smoke has launched a new breakfast concept called "Morning After Next". The Morning After Next menu is divided into four categories: breakfast bites, pancakes, hashes, and everything else. Menu offerings include avocado toast, pork and beans hash, and more. 651 Florida Avenue NW; 202.986.2079;(halfsmoke.com)

Jack and Rose Dining Saloon
Jack and Rose Dining Saloon has introduced a brunch service running every Sunday from 11:00 a.m.-4:00 p.m. Hosted on its safely-distanced open-air terrace, guests can enjoy morning cocktails, brunch fares like mornay-smothered Kentucky hot browns, veggie-packed frittatas, and more. 2007 18th Street NW; 202.588.7388; (jackrosediningsaloon.com )
I Egg You
The Fried Rice Collective is hosting an event called "I Egg You" at Chiko Capital Hill every Saturday and Sunday from 8:00 a.m.- 1:00 p.m. The menu features egg sandwiches, open-faced griddles, and more. Local partners include Rako coffee, Logan Sausage, and more. 423 8th Street SE; (ieggyou.com).
La Famosa
La Famosa has recently opened and is open for breakfast, lunch, and dinner while offering an extensive coffee program and a full bar of tropical-inspired drinks. The menu features a wide selection of "picadera", Puerto Rican finger foods, including a variety of savory and sweet fried turnovers called Pastelillos, Bacalaito a salt cod fritter served with salsa verde, and sandwiches such as the Tripleta made with roast pork, beef and ham, and more. 1300 4th Street, SE; 202.921.9882; eatlafamosa.com

La Vie
La Vie is offering a Mediterranean Sunday Brunch (10:00 a.m. to 3:00 p.m.). The extensive menu includes some of La Vie's favorites such as savory appetizers like Greek lamb meatballs, grape leaves, and smoked salmon tartine. Main course dishes include tiramisu French toast, fried chicken and waffles, and merguez muffin. Prices range from $7.00 - $22.00. 88 District Square SW 5th floor; 202.560.5501; (laviedc.xyz)
Lincoln
Lincoln restaurant has Sunday brunch from 11:00 a.m.-3:00 p.m. Offerings on the menu include French toast, fried chicken and waffles, and more. Lincoln offers a bottomless mimosa, bellini, and bloody mary option for $45 a person. In addition to indoor dining, Lincoln has patio seating for 45 guests. 1110 Vermont Avenue NW; 202.386.9200; (lincolnrestaurant-dc.com)
Logan Tavern
Logan Tavern has launched a bottomless daily brunch menu. The brunch has items like flour tortillas, roasted turkey and sunny side eggs breakfast enchilada, and more. 1423 P Street NW; 202.332.3710; (logantavern.com)

Mission Dupont
Mission Dupont has added a bottomless brunch to its menu. Offerings include tinga brunch bowl, apple French toast, jumbo steak and egg tacos, and a chicken breakfast burrito. Available Saturday and Sunday from 11:00 a.m. -4:00 p.m. Mission Dupont's $25.99 bottomless brunch include pitchers of mimosas, margaritas, and Bloody Marys or Shocktop beer. 1606 20th Street NW; (missiondupont.com)
Nada
Nada offers brunch on the weekends starting at 10:00 a.m. Menu offerings include burrata, crispy brussel sprouts, and more. 11886 Grand Park Avenue, North Bethesda, MD; 301.770.4040;(eatdrinknada.com)

Nina May
Nina May's sidewalk and rooftop patios are now open for socially distant outdoor dining, featuring a new, seasonal weekend brunch menu. Dishes include spring herb and cornmeal waffle, cornmeal biscuit with strawberry rhubarb jam, and more. The cocktail menu includes both regular and strawberry mimosas, as well as the mandarin delight, and more. 1337 11th Street NW; 202.518.3609; (feast-dc.com)

Opaline
Opaline Bar & Brasserie is offering breakfast-to-go beginning August 26th. Executive Chef Kevin Lalli is preparing a menu of traditional French and American breakfast fare, Monday through Friday from 7:00 a.m. until 10:00 a.m. and, on Saturday and Sundays from 7:00 a.m. until 11:00 a.m. Menu offerings include smoked salmon bagel, yogurt parfait, and more. 806 15th Street NW; 202.730.8800; (opalinedc.com)
Ottoman Taverna
Ottoman Taverna is offering bottomless brunch. The Turkish restaurant offers bottomless food and mimosas for $39.95. The menu features classics, such as "Patates Köfte," "Muhummara," "Red Lentil Soup," "Cauliflower Stew," and more. 425 I Street NW; 202.847.0389; (ottomantaverna.com)
Rako Pop Up with Oyster Oyster
Oyster Oyster is having a daytime coffee shop pop-up with local RĀKO Coffee Roasters. Oyster Oyster's pop-up with Rako includes espresso carts dispensing made-to-order milk and alt-milk based espresso drinks, baked goods and teas from Chef Rubba, and a retail shop selling brewing essentials and bagged coffee. 1440 8th Street NW; (oysteroysterdc.com)

Sababa
Sababa has introduced a Sunday brunch menu that has features from its modern Israeli concept. Brunch is served exclusively on Sundays, from 11:00 a.m. to 3:00 p.m. Guests can look forward to salads, hummus, mezze and kebabs off the regular menu along with a selection of breakfast sandwiches and benedicts, served on potato latkes or house-made Jerusalem-style bagels. 3311 Connecticut Avenue; 202.244.6750; (sababauptown.com)

Sheesh
Sheesh Grill has introduced a weekend brunch offering at their Mosaic District location. Guests may enjoy Middle Eastern style brunch items which include: Shakshouka ($8), ricotta toast ($7), saffron jam, topped with Zaatar; Borek ($6) [filo dough stuffed with feta], saffron mimosa ($3.90) and chai latte ($2.90). Brunch is Saturday and Sunday from 10:30 a.m.- 4:00 p.m. 8190 Strawberry Lane Ste 4Falls Church, VA; 571.282.3204; (sheeshgrill.com)

Shilling Canning Company
Shilling Canning Company has added a brunch menu online that is available for pre-ordering. Some favorites on the menu include the pastry board, egg mcmaggie, french toast, and to-gosa kits. 360 Water Street SE; 202.554.7474; (shillingcanning.com)

Stellina
Stellina offers a prix fixe weekend brunch menu ($35 per person) that is available for takeout and delivery from 12:00 p.m.-2:00 p.m. on Saturday and Sunday. The meal features a bottle of prosecco with fresh-squeezed orange juice, a choice of one entre like italian toast, and a choice of two dishes such as pizza carbonara and pizza bismark. 399 Morse Street NE; 202.851.3995; (stellinapizzeria.com)
NEW: Succotash
Succotash is offering a classic brunch menu. Offerings include fried chicken & waffles, cheesy grits, fruit salad, and sticky buns. Guests can make their own pitchers of Belle's Punch, Bloody Mary, Milk Punch, at home. 915 F Street NW; 202.849.6933; (kneadhd.com)

Summer House Santa Monica
Grab a Rise & Shine breakfast special of an egg sandwich & coffee at Summer House's Market. Call to place an order in advance or stop by the restaurant. In addition, Summer House offers regular breakfast staples like pancakes, yogurt parfaits and more, available all day. Every day, 8:30 – 10:00 a.m. View the complete menu here. Regular menu is also available for pick up or delivery. Click here to order. 11825 Grand Park Avenue, Bethesda, MD; 301.881.2381; (summerhousesm.com)

Tabla
Tabla is now offering breakfast items on their menu. Offerings include Matsoni: Yogurt & Granola with seasonal fruit ($6), Guruli khachapuri: a breakfast khachapuri with boiled egg, cheese and fresh herbs ($8), and Nazuki: a Georgian spiced bread with dried cherries and currants, served with honey butter ($3). 3227 Georgia Avenue NW; 202.291.3227; (tabladc.com)

Teddy & The Bully Bar
Teddy & The Bully Bar is holding Sunday brunch from 11:00 a.m.-3:00 p.m. Offerings include a brunch burger with egg, buttermilk pancakes, crab benedict, and more. Teddy & The Bully Bar offers a bottomless mimosa, bellini, and bloody Mary option for $40 a person. 1200 19th Street NW; 202.872.8700; (teddyandthebullybar.com)
Thamee
Thamee is bringing back rice rolls this Saturday 9:30 a.m. - 12:30 p.m. The kitchen team has prepared a simple, satisfying Asian breakfast spread consisting of "Toli Roli" egg and rice rolls, curry puffs, coffee and milk tea. Thamee's breakfast menu includes 3 rice rolls and 1 curry puff with the option to add Chinese sausage and coffee to your order. 1320 H Street NE; 202.750.6529; (thamee.com)
NEW: The Grill
The Grill is now offering brunch. The brunch menu includes granola, fresh fruit, yogurt, banana cakes, spinach/sun-dried tomato egg souffle, roasted potatoes ($24 per person). The Grill also offers make your own pitchers of The Grill Martini, Old Fashioned, Champagne selections, and more. 99 Market Square SW; 202.916.5996; (kneadhd.com)
The Imperial
The Imperial has introduced its inaugural brunch service from 12:00 p.m.-4:00 p.m. Offerings include spiced apple crepes, classic Quiche Lorraine, and house mortadella-topped breakfast sandwiches; along with new sandwiches and brunch cocktails like old bay bloody marys ($14) or bottomless mimosas ($22), plus the restaurant's full wine, beer and spirits menu. 2001 18th Street, NW; (imperialdc.com)

TTT
TTT introduces a new $33.99 unlimited brunch menu for summer 2020 with 25 cent cocktails. The unlimited brunch is served on Saturday and Sunday, from 10:00 a.m. until 4:00 p.m. Guests can indulge in a variety of egg dishes, breakfast burritos & quesadillas like chorizo hash taco, breakfast quesadilla, and more. 2900 Wilson Boulevard. Arlington, Virginia; 703.888.1528; (tttrestaurant.com )
Photo Credit: Greg Powers