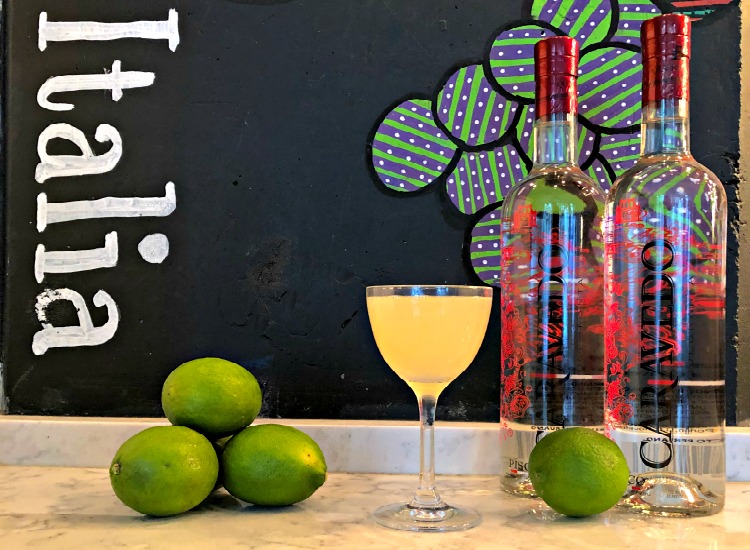 Raid Our Cellar (And Build Your Bar)
No surprise at the unique libations coming out of DC Area distilleries, bars and restaurants
ANXO is now selling fermentation kits ($75) for DC residents to try their hand at making cider at home! Kits are available for all levels and include various tools for fermenting and juicing, as well as fresh Goldrush apples, a sweet apple treat, and two 4-packs of ANXO's Cidre Blanc to enjoy. Kits will be available for DC pickup and delivery from April 24th - April 26th. 300 Florida Avenue NW; 202.986.3795; anxodc.com
Catoctin Creek Distilling Company is excited to release its Infinity Barrel #InThisTogether Rye Whisky on June 1 ($45.09). Aged in leftover casks from the distillery's barrel select program, all profits from this limited 80-proof release will go to charities supporting struggling restaurants and bars. 120 W Main Street, Purcellville, VA 20132; 540.751.8404; catoctincreekstore.com.
Neighborhood Provisions is launching ChurchKey Beer Shop to deliver the very best craft beers to your door, from the latest hop bombs and sours to gems from coveted cult breweries. In the coming weeks there will be a rotating list of growlers. ChurchKey Beer Shop is open 7 days a week and is deliverable within 24 hours. 2000 Mt Vernon Avenue, Alexandria, VA; www.nrgprovisions.com
Cocktail Curations will be teaching virtual cocktail classes. These classes are perfect for date nights, happy hours, team building or connecting up with friends and family. Private classes are $25 per person with an eight-person minimum, and twenty-person maximum. If interested in the classes reach out to Cocktail Curations directly through their website. ([email protected]); cocktailcurations.com
Denizens Brewing Co. is excited to launch a brand new hard seltzer in collaboration with The MoCo Show. MoCo Hard Seltzer is available to order for deliveries and pickup on Friday, and will hit an exclusive set of retailers starting Friday. 1115 East West Highway, Silver Spring, MD; 301.557.9818; denizensbrewingco.com
Emilie's is hosting a cocktail competition with The Lockwood, offering 100 lucky participants to pick up a signature cocktail kit (Free) for a chance to name Emilie's next cocktail for their menu. Guests will mix and taste their cocktail at home and visit The Lockwood website to create the backstory and name for their cocktail inspired by The Lockwood, submitting in the caption of an Instagram or Facebook post using the hashtag #LockwoodOnTheHill. Emilie's will select the winning name, announcing the newest cocktail on their social pages on Friday, June 5. The winner will receive dinner for two from Emilie's (up to $200) delivered to their home and their cocktail's name on the menu for a month starting in June. 1101 Pennsylvania Avenue, SE; 202.544.4368; emiliesdc.com
Espita is introducing a new spring cocktail menu. The menu includes the Zombie with rum, grapefruit, lime, canela, angostura, and absinthe (Serves 5, $40), the Rhubarb Gin Sour with gin, rhubarb, lime, soy, and hibiscus ($10), the Espita Mule with vodka, cucumber, ginger, and lime (16oz can, serves 3, $24), and Sourdough Manhattan with bourbon, cocchi torino, and masa sourdough (Serves 2, $15). 1250 9th Street NW; 202.621.9695; espitadc.com.
Fare Well will be offering cocktails to go featuring strawberry negroni, blood moon, and more in: 8oz ($18) and 20oz ($45) to take & shake. Fare Well also has wine on draft to-go in 34oz carafes and 64oz growlers. Enjoy 20% off happy hour 4:00 p.m.-7:00 p.m. Wednesday-Friday. 406 H Street NE; 202.3679600; eatfarewell.com.
Jack and Rose Dining Saloon
Jack and Rose is offering many liquid refreshments for guests to enjoy. Offerings include bottled cocktails ($11) with frozen margherita, paper plane and more. Full bottle cocktails ($60, serves 10) include mint julep and jack rose old fashioned. 2007 18th Street NW; 202.588.7388; jackrosediningsaloon.com
L'Auberge introduces Wine Fest Chez Vous, which includes their sommelier-selected wines from their award-winning cellar (both red and white) from the world's best producing wine regions including France, Italy, Spain, California, Oregon and Washington State. Available Saturday, May 23, 2020 11:00 a.m.-1:00 p.m. for curbside pick-up. 332 Springvale Road, Great Falls, Virginia; 703.759.3800; laubergechezfrancois.com

Masseria
Masseria is offering batched Sicilian lemonade add-on. It's based on vodka paired with Italicus, a new edition of a centuries-old spirit called rosolio di bergamotto. They finish the drink with a splash of a traditional Italian soda from Lurisia, made from sfusato lemons from the Amalfi Coast and mineral water from the alpine foothills of western Piedmont. 1340 4th Street NE; 202.608.1330; masseria-dc.com
Maxwell Park was created by sommelier Brent Kroll, and was named wine bar of the year for its first location. Maxwell Park is offering free wine classes every Friday night. Starting May 29, the patio will be open to customers with social distancing guidelines. Maxwell Park is also having 30% off togo wines. 1336 9th Street NW; 202.792.9522; maxwellparkdc.com
Warmer weather is on its way and Napoli Pasta Bar has introduced a new cocktail right in time. Their "Spritz o Sole Mio"( $16, serves 2) is a delicious fruity slushy perfect for the summertime. The cocktail comes from a bottle of prosecco mixed with a popsicle of frozen Aperol and fresh-squeezed orange. 2737 Sherman Avenue NW; 202.588.8752; napolipastabar.com.
Spirits Manager Nick Farrell didn't let a pandemic stop the opening of his new bar, Show of Hands. He's bottling upwards of 20 different full-strength, low ABV, and non-alcoholic cocktails and mixers, all available in the pantry section of Neighborhood Provisions. Cocktails include the dirty quarantini, Manhattan, pina margherita, and more. 200 Mount Vernon Avenue, Alexandria; nrgprovisions.com
RAKO Coffee Roasters, a specialty coffee collective focused on sustainably sourced single origin coffees, environmentally friendly roasting practices, and advanced brewing methods has launched a new online store featuring freshly roasted specialty coffee from sumatra, guatemala, burundi, and more. All coffees are available via free shipping in the DMV. Rako will be donating 10% of every sale to Erik Bruner-Yang's Power of 10 crowdfunding initiative, which provides employment to laid off restaurant workers and meals to first responders and community members affected by COVID-19. rakocoffee.com
Seco by Pom Pom is a new curated wine service delivered to your (DC) door. The wines are all selected by professional sommeliers on a mission to make wine more approachable, less stuffy and always fun. All packs of wine come with some fun information about your curated selections as well as a few pairings! Seco Wine also offers common necessities that are currently very hard to find otherwise such as toilet paper, paper towels, all types of flours, cocktail packs, and more. Pick-up and delivery hours are Tuesday, Friday, Saturday (12:00 p.m. – 2:00 p.m.). 828 Upshur Street NW; 202.321.4751; secowine.com
Service Bar, a cocktail bar and fried chicken joint, can be enjoyed at home with free delivery within 1.5 miles. Check out the ever changing cocktail selections including a brand new 'If you missed the cherry blossom's' menu. Try out some chicken sandwiches, including a feature from A Rake's Progress' Chef Opie Crooks. Pick-up or delivery Wednesday - Sunday. Open 5:00 p.m. everyday, and 4:00 p.m. Fridays and Saturdays. 926-928 U Street NW; 202.462.7232; servicebardc.com
Stable is now offering their house made liqueurs, and schnapsicles for carry out and delivery. New spirit selections include Stable's signature r-amaro, limoncello, atlas röteli, strawberry rhubarb cordial, and rhubarbcello. Offerings are available in 250 ml bottles to be enjoyed neat or on the rocks. Schnapsicles are available in apricot, raspberry and pear flavors. Guests may order single schnapsicles ($7) or a schnapsicles spritz combo ($62) featuring 6 schnapsicles and a bottle of sparkling rosé. Stable offers carry out and delivery ($5 delivery fee within a 2 mile delivery radius) on Thursday and Friday from 4:00 p.m. -8:00 p.m. and Saturday from 10:00 a.m.- 2:00 p.m. 1324 H Street NE; 202. 733.4604; stabledc.com.
Tenth Ward Distilling Company is supplying spirits, mixers, mule kits, cocktails, weekly cocktail specials available through pick-up and delivery Wednesday through Sunday 12:00 p.m.-6:00 p.m. (8:00 p.m. Friday and Saturday). 55 E Patrick Street, Frederick, MD 21701; 301.360.5888; tenthwarddistilling.com

The Game Sports Pub is now offering Filipino tiki cocktails for curbside pick-up Wednesday-Sunday from 4:00 p.m. to 8:00 p.m. Cocktail offerings include the blue Hawaii, rye-tai, and more. 2411 18th Street NW; 202.846.1952; thegamedc.com
ThinkFoodGroup introduces summer drinking where TFG restaurants have large format cocktails for pick up including G&Ts and sangria from Jaleo and the 3PM in Istanbul from Zaytinya. 717 D Street NW 6th floor; 202.638.1910; thinkfoodgroup.com
Todd Thrasher, the barman turned distiller has recently released his newest creation, Thrashers Coconut Rum. The rum stands out as one of the only rums made without extract and is made instead with 60 pounds of raw thai coconut. 1130 Maine Avenue SW; thrashersrum.com
3 Stars Brewing Company is starting a CSB program, also known as a beer share, between people and breweries. As a CSB member you become a shareholder on a week to week basis, or enjoy even more offerings if you sign up for four weeks at a time. With your membership you will receive a set number of beers per week on Tuesday. Beers available change on a weekly basis. This week's featured beer is Time Well Spent is a 7.5% abv double IPA that has been dry hopped with Motueka & Simcoe lupulin powder. 3 Stars Brewing is featuring Logan McGear as one of next week's additions, which will include a pasta kit, both a vegetarian and meat option to add to the box for the week. They have also partnered with Qualia Coffee and Number. 6400 Chillum Place NW; 202.847.3755; 3starsbrewing.com