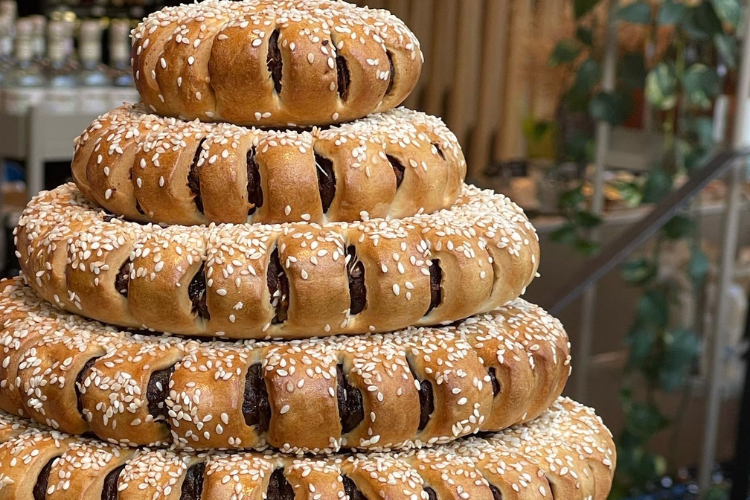 Summer Suppers
Photo: Nycci Nellis @ Via Carota
There is a buzz in the air and that's not the bumble bees reemerging, it's us! People are out and about. City streets are filling up and people are making their way back into the office. There's a vibration and restaurants are so ready. New dishes and spring menus are coming out and with that, innovative and delicious ways to serve you. A firm reminder to still be kind. Staff shortages and supply issues still plague our beloved restaurant industry. Patience isn't just a virtue - it's a necessity:
Albi
Albi is offering the Sofra experience with a special menu in the dining room. The Sofra menu offers guests an always-evolving set of dishes, the vast majority of which will be served family-style: several bites, a choice of spreads, mezze, mashawi, and dessert - all of which will change often to feature peak seasonal Mid-Atlantic ingredients. 1346 4th Street SE; 202.921.9592; albidc.com

Bresca
Chef Ryan Ratino and his culinary team at Michelin-starred Bresca, have introduced a brand new 3-4 course, prix fixe tasting menu, available exclusively on Wednesdays, Thursdays and Sundays during dinner service. Offerings include Coho "Mi Cuit" (made with sorrel, raspberry and chives), Brioche Stuffed Chicken (accompanied with chanterelle mushrooms, cavatelli, and parmesan cheese), and more. 1906 14th Street, NW; brescadc.com
NEW: Chicken + Whisky
Chicken + Whisky has made its way to a different part of town. Chicken + Whiskey, a rotisserie chicken joint with a whiskey bar added just for fun is now open in the Ballpark District. Instead of hiding the whiskey bar behind a secret door, Chicken + Whiskey Ballpark brings all the fun out to the front and create a seamless flow from inside to out. The entire menu was created by critically acclaimed Chef Enrique Limardo (Seven Reasons, Imperfecto, and Immigrant Food), and is ever-evolving with Enrique's seasonal specials. 70 N Street SE; 202.991.8100; chickenandwhiskey.com

Chiko
For the month of August the ChiKo x Anju Supper Club is bringing you a Summer Boil Feast featuring the main event: a Chinese/Korean Inspired Seafood Boil, with shrimp, sausage, mussels, and a savory stock. Accompanying dishes include sesame pineapple coleslaw, cucumber watermelon salad, CHIKO crazy corn, chilled green bean salad, and strawberry shortcake custard. 2029 P Street NW; 202.331.3040; mychiko.com
DC Vegan Chef Challenge
Presented by animal advocacy organization Vegan Outreach, the Inaugural DC Vegan Chef Challenge kicks off on August 1st and runs through August 31st, 2022. The Vegan Chef Challenge (VCC) is a month-long event showcasing new vegan menu items created by chefs at local restaurants. Some of the talented chefs participating are Spacy Cloud, Shafleafa's Kitchen, DC Harvest, and more. Winning dishes will be announced in early September. For Challenge updates, please visit here.
Destino
In an effort to one-up themselves, Destino has officially launched its completely refreshed menu for summer. Innovative new dishes include a corn and hibiscus ice cream sundae, duck breast (w/ prickly pear gastrique, frijoles amarillos, fairytale eggplant, pattypan squash, salsa chipotle), and a beef short ribs braised in chiles which they describe as "Chef Robert Aikens on a plate" because of it's English flair with Mexican technique. With "Caviar Bumps" trending, Destino and Chef Robert Aikens wanted to get in on the caviar fun with their brand new Chips & Caviar dish. An appetizer sized portion of their Chilaquiles Rojos is served with paddlefish caviar, trout roe, jammy egg, dill, and crema. 1280 4th Street NE; 202.866.0933; destinodc.com

NEW: Fairmont
Fairmont is hosting West End Wednesdays in the Courtyard Bar beginning Wednesday, August 10 through Wednesday, August 31. Executive Chef Jordi Gallardo and Executive Sous Chef Jason Rowley are firing up the grill every Wednesday to offer bites like beer-brined roasted suckling pig, grilled Chesapeake oysters, and more. 2401 M Street NW; 202.429.2400; fairmont.com
NEW: Fight club (Brunch Alert)
Fight Club has now added brunch items to its menu. Fan favorites include brisket biscuit (smoked beef brisket, pimento cheese, spicy pickles, and bacon jam on a buttermilk biscuit), bodega egg & cheese (fried egg, cheddar, FC hot sauce, hot sauce butter, and guests' choice of bacon or pork roll on a sesame seed bun), and more. 633 Pennsylvania Avenue SE; 202.885.9714; fightclubdc.com
NEW: Founding Farmers Catering Co.
Founding Farmers Co. Catering & Events is an all new company from Farmers Restaurant Group. The restaurants have been executing catering for years with a steady and growing client list. With this in mind, the owners – the North Dakota Farmers Union, Michael Vucurevich and Dan Simons decided to open a catering company. Founding Farmers Co. Catering & Events offers full-service catering, private chef experiences at home or at a venue of your choice, pick up & drop off catering, event planning from start to finish, and more. Find out more here.

HalfSmoke
HalfSmoke opens its third location in Bethesda at the Montgomery Mall foodcourt. HalfSmoke is a dining destination for gourmet, house-made sausages, wood-grilled entrées, and house-made desserts as well as beer, wine, and signature cocktails. Menu options include Pinky & The Brain (carnival fennel cake topped with buttermilk brined dried chicken), Wood Grilled Wings (served with a choice of mumbo sauce, buffalo, ranch of BBQ sauce), and more. 7101 Democracy Boulevard, Bethesda, Maryland; 240.753.9312; halfsmoke.com
Harbor Social
Harbor Social, a new elevated sports bar experience offers interactive games including duckpin bowling, bocce ball, darts, shuffleboard, cornhole, giant Jenga and more. Guests can enjoy a menu made up almost exclusively of gourmet handheld sliders - selected by executive chef, Jakob Esko. The sliders, many of which have a local tie, come in options such as The Marylander (a crab cake with louis sauce on a brioche bun), The Politician (a DC half-smoke with mustard and spring onions), and more. 201 Waterfront Street; 301.965.4000; marriott.com
Iron Gate
Experience Iron Gate in your home with Chef Anthony preparing a rotating monthly menu inspired by the seasonal ingredients. Locally-grown produce are the focal point of every dish. Members will receive a 3-course meal available for pickup or delivery. Become a member here.
NEW: Las Gemelas
Las Gemelas just launched their "walking tacos", which are tacos made for on-the-go. The "tacos" are served in a bag with a spoon and include chips from Head Tortillera Yesenia Neri-Diaz, cheese, salsa, crema, and a choice of either Frijoles Negros or Chorizo. They are also offering Mexican Pizzas with the option for veggie or Chorizo. 1280 4th Street NE; 202.866.0550; lasgemelasdc.com

Lena's Wood-Fired Pizza & Tap
Take a brewcation! In honor of Virginia Craft Beer month, Lena's in Alexandria is hosting its 3rd Annual Brewcation featuring a variety of beer experiences and offerings to celebrate the month in their dog-friendly and aesthetically pleasing outdoor beer garden. They also have live music in the beer garden on Tuesdays and Thursdays from 6:00 p.m. to 9:00 p.m. as well as on Saturdays from 12:00 p.m. to 3:00 p.m. during the month of August. 401 E. Braddock Road; 703.683.5330; lenaswoodfire.com
Lupo Osteria
Lupo Osteria now serves a 3-course menu as a part of their Monday dinner series. Starter options include the zucca and carota, carciofi, and lupo salad. Mains include a classic Cacio e Pepe, margherita pizza, or Bbanzino. Finish up with the choice of tiramisu or gelato. 814 MacArthur Boulevard NW; 202.506.6683; lupoverdeosteriaalimentari.com
Opaline Bar & Brasserie
Opaline Bar & Brasserie Patio has brought back its popular Café Cinema every Wednesday evening at dusk beginning August 3 with classic French films. In addition to Opaline's French-inspired menu, guests can enjoy buckets of beer for $24, savory-seasoned popcorn for $6 and classic French Poutine for $12 on the pet-friendly patio. 806 15th Street, NW; 202.730.8701; opalinedc.com
NEW: Osteria Costa (Brunch Alert)
Osteria Costa is now hosting bottomless brunch at MGM national harbor. The new menu features a buffet of Italian twists on classic brunch dishes as well as new dishes inspired by Italy's southern region. Menu items include personalized omelets, cinnamon roll pizza, vanilla panna cotta, and more. 101 MGM National Avenue Oxon Hill, MD; 844.646.6847; mgmnationalharbor.mgmresorts.com
NEW: Osteria Morini (Lunch Alert)
Osteria Morini has brought back their lunch menu. Guests can now enjoy appetizers like burrata, handmade pasta like gnocchi, spaghetti Pomodoro, and lunch sandwiches. 301 Water Street Southeast, Suite 109; 202.484.0660; osteriamorini.com

Pink Taco
You might have heard the news about the end of the chocolate taco ice cream, but fear not, Pink Taco has your back. Pink Taco's take on the nostalgic summer dessert features a delicious chocolate waffle, decadent vanilla and chocolate ice cream, caramelized banana, cajeta, salted peanuts, and of course, whipped cream. 100 M Street SE; 202.970.7724; pinktaco.com
Rasa
Rasa is spicing things up in the heart of Mosaic. Created in DC, this Indian restaurant is serving up its build-your-own and chef-inspired bowls, plus classic cocktails and homemade vegan soft serve twisted with Indian flavors now in Virginia. Co-founders Sahil Rahman and Rahul Vinod have a lifelong dream of making Indian food more accessible to all. 2905 District Avenue #160; 571.378.0670; rasa.co

Thirsty Crow
Thirsty Crow, the Malaysian-inspired sports bar from the team behind Makan, have launched a new summer pop-up series called "Eats and Beats". Every Monday, the bar features a dynamic guest chef who will prepare a selection of bites for guests to enjoy. This month will feature Thai noodles from Chef Kitima Boonmala of Toh Roong, cocktails prepared by Al Thompson, the Bar Director at Thip Khao and Hanumanh and Owner of Prosper, birria tacos prepared by Chef Marco Salierna of Churros Taqueria and food from Chef Matthew Gaston's Afro-Portuguese concept 'Frango'. 400 11th Street NW; 202.730.2295; thirstycrowdc.com
NEW: Trummer's
Trummer's is excited to welcome Zachary Ridenhour as Trummer's new executive chef. A veteran of Bluejacket, The Salt Line and most recently Alta Strada, Ridenhour returns to the Trummer's thirteen years after he first stepped into the kitchen as a part of the restaurant's opening team spearheaded by Chef Clay Miller. Under Ridenhour's direction, the restaurant has refocused on its casual, American-bistro concept, with new seasonal menus that highlight Trummer's rotisserie oven and feature nods to both Ridenhour's Southern upbringing and Stefan's Austrian heritage. Guests can now enjoy dishes such as BBQ Bone Marrow with corn cob jam and toasted ciabatta, Spit Roasted Porchetta with tasso collard greens, bacon dashi and cherry chow chow, and more. 7134 Main Street, Clifton, VA; 703.266.1623; trummersrestaurant.com