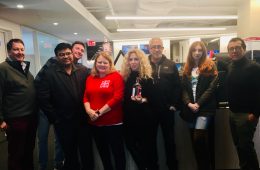 FOODIE & THE BEAST: NOVEMBER 24, 2019
On today's Foodie & the Beast: Butter Chicken Company- 's Asad Sheikh with news of Bombay Street Food Butter Chicken Company, a fast-casual concept recently opened in Farragut West - Javier Arze, founder of Huntsman Specialty Game & More , in with his field to table wild game - Suzy Menard of Via Umbria with the scoop on holiday dining, gifting, and more -
Susan Sadigova, Director of Strategic Development, Foreign Policy magazine on the Food Forever Solutions Summit, Foreign Policy's inaugural food security summit will bring together high-level guests across multiple sectors to address and discuss the most pressing issues facing our global food system, including biodiversity,
agricultural innovation, and sustainable business models for a changing world. Plus, of course, drinks! Dan Ziegler, Founder, Chacho Spirits
- in with his Chacho jalapeno "aguardiente," a sugarcane-based liquor native to Colombia, South America. Listen in for all the fun.