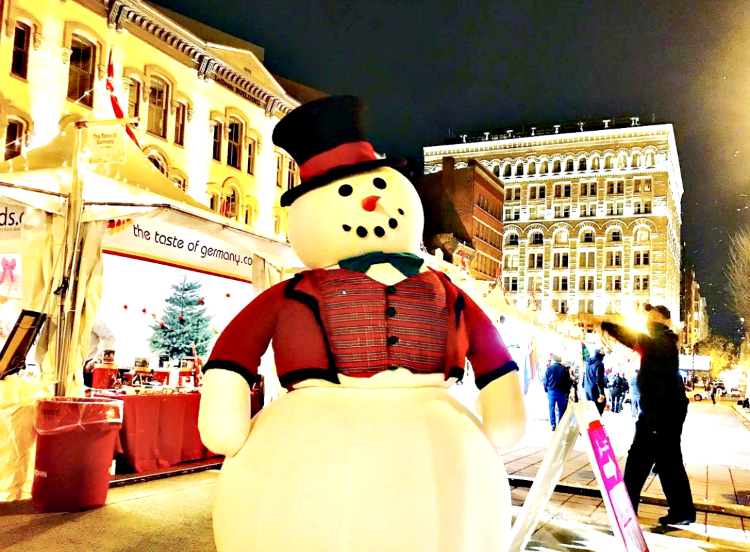 Holiday Markets Give You That HoHoHo Feeling
So many ways to spend your money locally! We love pointing out all the local markets happening around town featuring local craft artisans. Truly unique gifts (for your gift list and maybe for you) await.

Bayou Bakery Candy Corner
Give the gift of something sweet with Bayou Bakery's Candy Corner: it's a Heaux-Heaux-Heaux Holiday Market To-Geaux, popping up for the winter season with goodies galore! Mix and match with over 25 handmade festive, edible treats like Snow-Dusted Crack Cookies, gluten-free gooey Chocolate Cookies with Powdered Sugar [$6 for 3] and the ultimate stocking stuffer, a trio of Pralines [$10], in a custom-box featuring a New Orleans streetcar scene. Pie-lovers will rejoice with unusual southern-inspired flavors like Bacon, Cayenne & Pecan, and Roasted Sweet Potato – among others [$20 - $25.] Grab the shopping bag and fill r' up to-geaux or purchase online and it will be wrapped and ready for you.

Downtown Holiday Market
The Annual Downtown Holiday Market, presented by DowntownDC Business Improvement District, Diverse Markets Management, and Events DC, has returned for its 16th year. Located at F Street NW between 7th and 9th Streets NW, Downtown DC's spacious, open-air village will feature small businesses, local artisans and entrepreneurs from across the region. This year, additions to the market include an exciting mixture of interactive digital experiences, which include an awe-inspiring lumina projection show by artist Zak Forrest titled "Chroma" blanketed on the National Portrait Gallery. ARTECHOUSE presents a first-of-its-kind mixed reality (XR) adventure throughout the market, utilizing smartphone technology and the museum's XR app to unveil Instagrammable surprises at various checkpoints hidden among vendors. Shoppers will encounter an 8'x16' jumbotron screen illuminating the heart of the village, replacing live center stage performances with curated, streaming entertainment including holiday-fun films, Saturday Morning Theater Shorts from The National Theatre, and musical acts. Returning favorites and new food vendors for visitors to savor include the Taste of Germany, Alexa's Empanadas, Old Blue BBQ, The Capital Candy Jar, Bindaas, and Migue's Magnificent Mini Donuts. The market is laid out with a single entryway and streamlined one-way, distanced foot traffic to ensure safe circulation around the market's back-to-back retail vendor tents. All affiliated market workers, exhibitors and shoppers will be required to wear masks or other personal protective equipment (PPE) upon entry and at all times within the market. Hand sanitizing dispensers will be widely available, and easily accessed throughout the market. Market is open daily through December 23rd, and is closed on Thanksgiving Day, November 30th, and December 7th and 14th.

Hoptimist Holiday Market
Like much of 2020, the holidays will be a little different this year, but we're being "hoptimistic!" DC Brau has teamed up with the Heurich House Museum to create a fun way for you to still buy unique gifts for everyone on your list while supporting your favorite local small businesses like you normally would at their annual holiday markets. Plus, now you can do it all from the warmth and comfort of your own home. In lieu of Christkindlmarkt and DC Brau's Holiday Market this winter, shop the first-ever Hoptimist Holiday Market. This festive, two-week virtual holiday store will feature hundreds of curated creations from some of the National Capital Region's best artists and artisans. The Hoptimist Holiday Market can be found here.

MoCo Marketplace
The Montgomery County Economic Development Corporation (MCEDC), along
with Visit Montgomery and the Montgomery County Food Council's MoCo Made, have launched MoCo Marketplace, a website featuring a directory of local business shopping and dining information that highlights deals and safety protocols to encourage customers to support local businesses online or safely in-person. The site also features a unique MoCo Holiday Challenge, offering substantial prizes of up to $1,000 in gift cards to use at participating MoCo merchants. Business owners can participate in a "virtual shopping center" that supports hundreds of local merchants, restaurateurs, artisans and farmers, while consumers can explore a comprehensive list of shops, restaurants and makers located within the county and learn more about their safety protocols around in-store, pick-up and delivery–all in one digital location. Throughout the month of December, consumers who sign up and take the pledge to buy local will have the opportunity to win big in the MoCo Holiday Challenge. Participants will automatically be entered to win weekly prizes by checking in to participating retailers during pick up, take out, or a safe in-person visit. Fifteen consumers who check in five or more times between December 11th and 24th will receive MoCo Marketplace Gift Cards ranging from $500 to $1,000. Find out more at mocomarketplace.com.
Holiday Market in Mount Pleasant
Mola, the Mt. Pleasant-based, Michelin Bib Gourmand recognized eatery, is hosting an outdoor holiday market featuring handmade goods from local artists and festive food and drinks to enjoy while shopping. Mola's Eat + Shop Holiday Market will take place every Saturday through December 19th from 10:00 a.m. to 1:30 p.m. The event will feature a host of items from local makers, including: mugs, planters, plants, plates, bowls, salt cellars, spoon rests, cutting boards, rolling pins, and face masks. The holiday market will set up outside in front of the eatery. Mola will also offer gift packages from its wine shop and pantry, including curated natural wine bundles, cocktail kits featuring local favorites like Republic Restoratives & Capitoline Vermouth, and specialty Spanish food & pantry items. For more information, moladc.com.

NRG Provisions Gift Shop
Beyond provisions and holiday meals, NRG Provisions also has a selection of holiday gifts – perfect for the beer geeks, amateur somms, coffee addicts, and fanatic foodies in your life. All alongside a curated collection from their good friends at Shop Made in DC. Shop it all right here, with new gifts added throughout the season.
Park View Holiday Market at Hook Hall
A holiday market will take place at Hook Hall during December featuring items from local and regional artists and specialty food producers. The Park View Holiday Market will be held December 5th, 12th, and 19th from 10:00 a.m. until 2:00 p.m. Vendors range from candles to ceramics, jewelry to honey and cookies to hot sauce, the exhibitors offer a wide range of locally and regionally made goods. Among the vendors are: DC 's RavenHook Bakehouse; Baltimore's Personal Best Ceramics; Silver Spring, MD's Soul & Ink ; DC's Sauce City USA Mambo Sauce and Chantilly, Virginia's Family of Nuts. The market planners recognize the ongoing nature of COVID-19 and are dedicated to making the market a safe shopping environment for all. Masks must always be worn, strict capacity limits will be in place, and the market layout will be conducive for one-way traffic flow and social distancing between both customers and vendors.

Did Someone Say Shawliday?
Have we mentioned it's more important than ever to support local businesses & safely? Shawlidays, aims to promote Shaw's small businesses and encourage local retail support right in the heart of D.C. Fuel up while shopping at local favorites like Turning Natural Juice Bar, Emmy Squared Pizza or Nicecream or find stocking stuffers at Brightside Boutique, handmade jewelry at Lettie Gooch or skincare essentials at Glo30. And there is an Instagrammable moment here. The creative team from Brightly Ever After has created the holiday-themed "All is Bright" activation. Shop it, See it, Snap it -- in Shaw. (1924 8th Street NW) & (2112 8th Street NW).
Shop Made in DC Holiday Market
Head to The Roost every Sunday in December leading up to Christmas for a very festive holiday market pop up. Shop a curated selection of goods from Shop Made in DC, including District-made gifts for a cozy home and entertaining. Plus, Shelter's Beverage Director Greg Engert has curated a gift selection of beer, wine and spirits perfect for the season. Timed tickets for the holiday market are $10, and gain you entry for this socially-distanced pop up, plus, a Show of Hands signature cocktail or mocktail to-go. Receive discounted shipping/delivery rate on all gifts.
Shop Small Georgetown
Shop Small Georgetown runs through Saturday, December 12th. The Georgetown BID is encouraging everyone to shop small and support local during this time, with participating businesses offering special promotions, gifts with purchase, raffles, curbside pick-up and more. The Georgetown BID is also celebrating the season with several holiday gift guides. Each guide will highlight curated items and experiences from Georgetown's shops, services, and food retailers, featuring categories such as Self-Care, Buying on a Budget, Local Love, and Eat, Drink and Be Merry. View their guides at georgetowndc.com/guides. Retail and experiential specials include a free mini Daylesford candle with a $100 purchase at Pillar and Post, holiday cards at Just Paper & Tea, and an open exhibition, in the company of silence, at Jewelers'Werk Galerie. Food favorites include hard hot cider and mulled wine at Georgetown Social, one 12" pizza and an appetizer for $25 at Pizzeria Paradiso, and a bonus $10 with the purchase of a $50 Brasserie Liberté gift card.
Women's Food Fest Holiday Market
A collection of women-owned food businesses in Washington, DC, Women's Food Fest grew from a James Beard Foundation program and decided to take collective action, and help each other survive the present economic and health crisis. This Holiday season, they are highlighting women entrepreneurs who now need your support by your patronage as they navigate the new "normal" and try to keep their businesses open during this pandemic. Exclusive holiday offerings include these gift baskets: Bubbly and Sweet Gift Basket (Walnut Biscotti from Ruth Gresser, chef/owner Pizzeria Paradiso; Organic Earl Grey Tea and Ginger Scone Mix from Linda Neumann and Michelle Brown, owners Teasim; Vegan Chocolate Chip Cookie Dough from Doron Petersan, chef/owner Sticky Fingers Sweets & Eats; Best Loved Plant Based Recipes in Decorative Box from Ellen Grey, owner Equniox; Cranberry Orange Bread from Ris Lacoste, chef/owner, RIS; Baklava Mini Box from Yamrot Ezineh, chef/owner Letena; Oatmeal Cream Pie from Shannan Troncoso, chef/owner Brooklands Finest; Ice Cream Sundae Toppings from Victoria Lai, owner Ice Cream Jubilee, and Blanquette de Limoux from Diane Gross, owner Cork Wine Bar) or the Savory Snacks with Rich Red Gift Basket (Ben's Original Half Smoke Pack from Sonya Ali, owner Bens Chili Bowl; Marinated Olives from Ruth Gresser, chef/owner Pizzeria Paradiso; Hog Smoker Packet (two BBQ sauces and spice rub) from Mandy Neuman, owner SloppyMamas; Infused Organic Olive Oil Dip from Yamrot Ezineh, chef/owner Letena; Brookland's Finest Pasta Sauce from Shannan Troncoso, chef/owner Brooklands Finest; Pasta from Jamie Leeds, Hanks Oyster Bar; Eye Gift bag from Rose Privite, owner Maydan; and Red Wine from Diane Gross, owner Cork Wine Bar). With more to come, visit exploretock.com/letstalkdc to support fabulous local women in food.