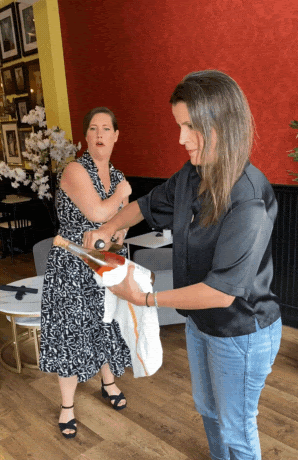 Creative Coolers
.
No surprise at the unique libations coming out of DC Area distilleries, bars, and restaurants:

Artechouse
Artechouse has collaborated with 2 DC mixologists to curate XR Drinks during the run of Ase: Afro Frequencies. The XR Bar program for Aṣẹ: Afro Frequencies is inspired by the African Diaspora and utilizes many ingredients found in Nigeria. By incorporating the ingredients, color and inspiration behind the origins of the art, the XR Bar is a multi-sensory extension of the exhibition. 1238 Maryland Avenue SW; artechouse.com
NEW: Canopy By Hilton Bethesda
Canopy by Hilton's newly launched Green Room allows guests to enjoy the holistic benefits of plant life, even while traveling. While staying in The Green Room, there are aromatic plants, herbs, air plants and preserved moss wall art. The Green Room experience is separated into four vignettes, each designed to reduce stress, boost productivity, improve moods and freshen the air. Find out more here. 940 Rose Avenue, North Bethesda, MD; hilton.com

Casa Kantuta
Sibling duo, Carla (of @SpicyCandyDC) and Juan Sanchez have brought back their extremely popular Bolivian cocktail lounge, Casa Kantuta, a pop-up experience inspired by their upbringing in the Bolivian capital city of La Paz to Ambar. Casa Kantuta's bar director, brings one of their signature cocktails from last summer along for the pop-up, the Angry Llama. The Angry llama marries Blanco Tequila Mijenta, hints of celery, pineapple, and lime, with the Bolivian national spirit, Singani, and llajua, a traditional spicy Bolivian sauce. 2901 Wilson Boulevard, Arlington, Virginia; instagram.com/casakantuta

Catoctin Creek
For six weeks every Friday, John Shope, the Virginia Sales Manager, is leading this summertime series with a host of brand new cocktails honoring the best of regional and seasonal ingredients. Classes will run every Friday night at 7:00 p.m. via Zoom. Ingredients will be easy to obtain, and the lessons will be fun as ever. Classes start July 22, and run through August 26th. You can register here.
Cheesetique
Cheestique is having a new summer series every Sunday from 3:00 p.m.-5:00 p.m. they are hosting a "sabering" of sparkling wines. Guests can choose from three different types of champagne to toast with. Sign up here.
NEW: Churchkey Beer Shop
Churchkey now has Fiden's available on a limited basis at the CPxNP Beer Shop. You can enjoy Fidens Teacher's Pet, Fidens Weka, and more. They also have a fresh drop of beers from De Struise Brouwers, including 3 variants of their flagship Pannepot. 2000 Mount Vernon Avenue; nrgprovisions.com

NEW: Mark T. Wendell Tea Co.
Throughout its 118-year history, this specialty tea brand has been loved by everyday people and celebrities alike. Even the beloved Julia Child was a loyal customer and bought several teas from Mark T. Wendell Tea Company for several decades. She lived close and was a fan of the exotic blends that only this Boston-based tea importer could provide. Teas include Hu-Kwa Tea (Offers a distinct and smokey flavor), Cheericup Ceylon (sparkling liquor with a sweet and distinct taste). Get yours here.

Maxwell Park
Maxwell Park is bringing your natural wines to their Maxwell Park Wine Club. Available for local pickup or delivery, their monthly membership offers an exploratory experience from the comfort of your home. Enjoy a curation of hand-selected wines from Owner and Sommelier Brent Kroll, taking a deep dive into his favorite producers, grapes, and regions. Join the club here.
North Italia
North Italia is launching their new limited-edition cocktail, Summer Sweet, Summer Sour which is a part of North Italia's new, nationwide 'Summer Sips' campaign, which includes 10 cocktails specially curated for each restaurant's region. The refreshing drink is made with Yellowstone bourbon, lemon, raspberry aperitivo, and red wine. The cocktail is available for $14 during normal business hours and $10 during happy hour. 2112 Pennsylvania Avenue NW Suite 102; 202.803.8051; northitalia.com
NEW: Snallygaster
The beast is back! Named after the mythical Mid-Atlantic dragon, this event has been monumental in attracting a curious scope of drinkers, savvy brewers and food vendors from across the Mid-Atlantic. For one day and one day only, they'll simultaneously unleash an unparalleled beer, cider, wine and cocktail selection alongside the best of the best in food trucks, live music on two stages, entertainment and family fun. This year they are brining nearly 350 beers from over 150 breweries. Pennsylvania Avenue NW (between Third and Sixth Streets, NW); snallygasterdc.com

NEW: The Point (Happy Hour Alert)
The Point is hosting one of the happiest hours in the district Monday-Friday. Enjoy freshly shucked oysters, mahi mahi tostadas, and seasonal cocktails plus beer and wine. This month's Riverkeeper special is a raspberry-lime patron Margherita. They are donating $1 for every drink sold to help keep the Anacostia rivers clean and Patron is matching donations. 2100 2nd Street S.W.; 202.948.2522; thepointdc.com
NEW: Tiki Trail DC
Tiki Trail DC, the annual DC-wide tiki treasure hunt that began in 2017, returns for its sixth year with 10 participating bars: McClellan's Retreat,Truxton Inn, Barrel, Archipelago, Service Bar, The Green Zone, Bar Charley, Tiny Tiki, Last Call Bar, and Tiki on 18th. Guests may purchase a Tiki Trail Map (stamp card) from any of the ten bars for $20.00 – with 50% of all map sales going towards Another Round Another Rally, a nonprofit financial and educational resource for the hospitality industry. Map holders are then challenged to collect stamps by visiting and purchasing a Tiki Trail cocktail from each of the participating bars. Guests who collect all 10 stamps will receive an invitation to an end-of-the-trail luau. Find out more here.

Trummer's
Trummer's has transformed its bar and lounge into a pop-up Tiki Bar for the month of August, featuring a seasonal menu of tropical-inspired cocktails and bar snacks from co-owner and beverage director Stefan Trummer. The Tiki Bar's beverage menu includes drinks such as the Venus D'Vinyl, made with a house cherry cordial, Trummer's house-spiced rum, vanilla and lime ($16); Mai Old Ways with Smith & Cross rum, Barbancourt rum, pistachio orgeat, and passion fruit ($14), and more. 7134 Main St, Clifton, VA; 703.266.1623; trummersrestaurant.com

NEW: Wine & Spirit Education Trust
Wine lovers get your accreditation. The Wine & Spirit Education Trust provides globally recognized education and qualifications in wines, spirits, and sake, for professionals and enthusiasts. Join Jay Youmans MW - Owner and Educational Director of the Capital Wine School - on Zoom from 6:30 p.m. - 7:30 p.m. on Tuesday, August 30 to learn more about WSET courses at the Capital Wine School. Register here.