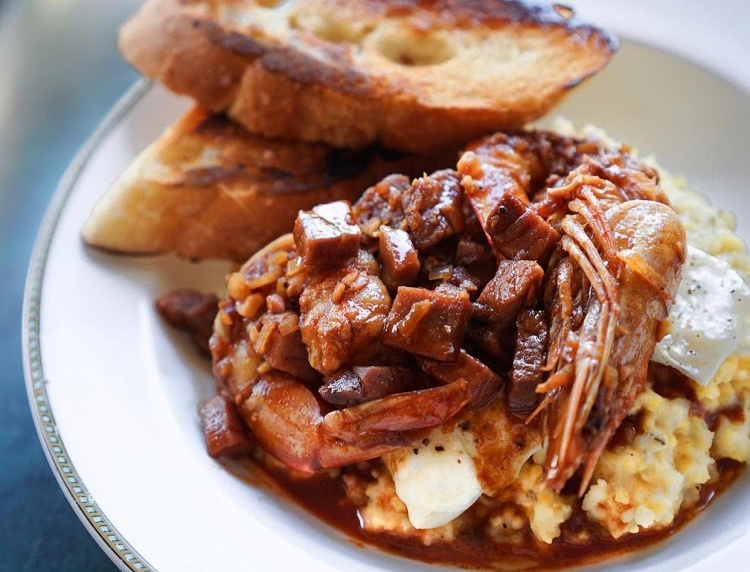 Breakfast & Brunch Expansion
Photo: Maya Fiellin for Fight Club

As restaurants and businesses adjust to this new normal, more varied offerings are appearing for takeout and delivery, including breakfast and weekend brunches:
Albi
Chef Michael Rafidi is offering Sunday brunch to-go. Specialties such as lamb belly + kefta shakshuka, croque habibti, and smoked salmon kibbeh naya, as well as orange blossom croissant and smoked cinnamon kouign amann from Yellow the Cafe. 1346 4th Street SE; 202.921.9592; (albidc.com)
Al Dente
Al Dente is offering bottomless mimosas on Saturday and Sunday from 11:30 p.m. to 3:00 p.m. Guests can enjoy Italian classics such as "Fettuccine Alla Carbonara" with egg yolk, pecorino, pancetta, and black pepper; "Vegetable Omelette" with spinach, mushrooms and fontina cheese & served with breakfast potatoes; "Breakfast Pizza" with tomato sauce, mozzarella, egg, and bacon; and more. 3201 New Mexico Avenue NW; 202.244.2223;(aldentedc.com)

Anju
Anju is offering brunch every Saturday and Sunday on their patio. The menu features creative cocktails and pastries brought to you by O'Bread. Brunch will include savory dishes like our breakfast Juk, kimchi baked eggs, spicy chicken sandwiches, and more. 1805 18th Street NW; 202.845.8935; (anjurestaurant.com)
Bayou Bakery
Bayou Bakery is now offering brunch on a stick. This offering comes with Creole seasoning, a slice of applewood smoked bacon, jumbo gulf shrimp, pickled okra, tomato, olive, and a wedge of lime. This drink comes with vodka, tomato juice, freshly grated horseradish, crystal hot sauce, tomato juice, lime and lemon juice, black pepper, and Worcestershire sauce. 1515 N Courthouse Road, Arlington, VA; 703.243.2410; bayoubakeryva.com

Best Buns Bread Company + Great American Restaurant Group
Great American Restaurant Group has expanded the Best Buns Bakery & Cafe into its existing restaurant establishments, with a walk-up counter service offering daily baked artisan pastries, sweets, savory breakfast sandwiches like sausage and egg, and drinks like Screwdrivers. 4010 Campbell Avenue, Arlington, VA; 703.578.1500; (bestbunsbreadco.com )
NEW: Boundary Stone
Boundary Stone is offering brunch with new offerings like PBELT (pork belly, fried egg, lettuce, and pickled green tomato), steak and eggs, breakfast burger, and more. 116 Rhode Island Avenue NW; 202.621.6635; boundarystonedc.com

Butter Me Up
Butter Me Up is a virtual breakfast pop-up with two locations within the District: HalfSmoke restaurant at 651 Florida Avenue, NW, Washington, DC 20001 and Mess Hall culinary incubator at 703 Edgewood Street, NE, Washington, DC 20017. Dishes are available for carryout and delivery seven days a week, from 8:00 a.m. to 3:00 p.m. Menu offerings include maple pancake sandwich with applewood bacon, farm egg, classic American cheese, and more. 651 Florida Avenue, NW; 202.986.2127; (/buttermeupdc.com)

Cafe Riggs
Cafe Riggs is offering brunch with a ham breakfast sandwich made with Honey Baked ham, scrambled eggs, Appalachian and chow chow, as well as eggnog french toast, served with fresh orange marmalade, Eggs Royale, smoked salmon, harsh brown, bearnaise and poached egg. 900 F Street NW; 202.788.2800;(caferiggs.com)
Call Your Mother
Call Your Mother is offering cinnamon raisin and cheddar bagels, Nacho Jalapeño cream cheese, cacio e pepe cream cheese, Samoa donut, and more. 3301 Georgia Avenue NW; (callyourmotherdeli.com)
Chiko
Chiko is offering dim sum service at both CHIKO Dupont and Bethesda moving forward. Guests will be able to enjoy said dishes via contactless pickup or delivery on weekends from 11:00 a.m.-3:00 p.m., with the option of choosing 3 for $20, 5 for $32, 7 for $45 or order a la carte. Menu offerings include pork & kimchi potstickers, cumin lamb dumplings, chicken spring rolls, and more. 423 8th Street SE; 202.558.9934; (chikodc.com)
Dirty Habit
Brunch is back at Dirty Habit DC- Featuring bottomless mimosas, a Mimosa Flight (4 fruit purees presented with a split bottle of Dirty Habit's Bubble, and new menu items. 555 8th Street NW; 202.449.7095; (dirtyhabitdc.com)

Espita Mezcaleria
Espita is offering brunch on the weekends, including brunch tacos and tlayudas with tequila-and-grapefruit Palomas ($36, serves six) or bottomless mimosas ($14, includes a bottle of cava and choice of juice). There are also liter margaritas available ($40). Brunch items are available for pickup and delivery via Caviar Saturday and Sunday only. 1250 9th Street NW; 202.621.9695; (espitadc.com)
Fairmont
Fairmont Washington, D.C., Georgetown Serves Brunch on Saturday and Sunday from 7:00 a.m. until 1:00 p.m. Served in the Loggia and Courtyard. Menu offerings include avocado toast, blueberry pancakes, eggs benedict. 2401 M Street NW; 202.429.2400; (fairmont.com)

Fight Club
Fight Club has introduced unlimited mimosas paired with their lineup of breakfast sandwiches on Friday through Sunday from 11:00 a.m. -4:00 p.m. Parties opting for the bottomless beverages, priced at $18 per person, are limited to 1.5 hour seatings. New additions to the menu include the smoked brisket biscuit with smoked beef brisket, pimento cheese, spicy pickles on a scratch-made buttermilk biscuit, and more. 623 Pennsylvania Avenue SE; 202.733.1384; (fightclubdc.com )
NEW: Gatsby
Gatsby's brunch runs Saturday's and Sunday's with reimaged brunch classics like chocolate french toast and souffle pancake to traditional Mah-Ze-Dahr favorites like pastry baskets, cinnamon rolls, and stuffed croissants. Cocktails by the pitcher are available of their Gretta's Punch, Bloody Mary, Just Peachy, and Hola Pina. 1201 Half Street SE Suite #205; 202.817.3005; gatsbyrestaurant.com

Glover Park Grill
Glover Park Grill is now featuring brunch from 11:00 a.m. - 3:00 p.m. Chef Michael Schlow and chef Hamilton Johnson have curated a brunch menu featuring sweet and savory dishes. Some menu highlights include brioche french toast with cherry compote and Nutella, the GPG crab cake benedict with lump crab meat and soft poached eggs, plus chef Alex Levin's homemade pastry basket. The brunch menu will also include specials on rosè bottles & new spring cocktails. 2505 Wisconsin Avenue NW; 202.625.5400; (gloverparkgrill.com)
Four Seasons
Four Seasons is offering brunch with menu offerings like his menu of decadent brunch favorites such as bourbon pain perdu with mascarpone and berries drizzled with Egyptian chamomile syrup and the "A5 and Eggs" features a 4 ounce A5 wagyu steak, truffle eggs, crispy pommes Anna and béarnaise. 2800 Pennsylvania Avenue NW; fourseasons.com

Half Smoke
Half Smoke has launched a new breakfast concept called "Morning After Next". The Morning After Next menu is divided into four categories: breakfast bites, pancakes, hashes, and everything else. Menu offerings include avocado toast, pork and beans hash, and more. 651 Florida Avenue NW; 202.986.2079;(halfsmoke.com)
HipCityVeg
Hip City Veg has brought back breakfast with two new plant-based breakfast sandwiches. The new Wake and Bac'n is made with organic Lightlife smoky tempeh bacon, folded JUST Egg, and melted smoked Gouda cheese on a toasted English muffin. The Sunnyside Sausage, Egg, and Cheese layers organic sausage folded JUST Egg, and melted smoked Gouda on a toasted English muffin. HipCityVeg is also bringing back the breakfast maple crispy chik'n, and golden hash browns, along with La Colombe hot coffee and cold brew, and its signature green smoothie, the BFG, now available in three sizes. 712 7th Street NW; 202.621.8057; (hipcityveg.com)

Jack Rose Dining Saloon
Jack Rose Dining Saloon has introduced a brunch service running every Sunday from 11:00 a.m.-4:00 p.m. Hosted on its safely-distanced open-air terrace, guests can enjoy morning cocktails, brunch fares like mornay-smothered Kentucky hot browns, veggie-packed frittatas, and more. 2007 18th Street NW; 202.588.7388; (jackrosediningsaloon.com )
I Egg You
The Fried Rice Collective is hosting an event called "I Egg You" at Chiko Capital Hill every Saturday and Sunday from 8:00 a.m.- 1:00 p.m. The menu features egg sandwiches, open-faced griddles, and more. Local partners include Rako coffee, Logan Sausage, and more. 423 8th Street SE; (ieggyou.com).
La Famosa
La Famosa has recently opened and is open for breakfast, lunch, and dinner while offering an extensive coffee program and a full bar of tropical-inspired drinks. The menu features a wide selection of "picadera", Puerto Rican finger foods, including a variety of savory and sweet fried turnovers called Pastelillos, Bacalaito a salt cod fritter served with salsa verde, and sandwiches such as the Tripleta made with roast pork, beef and ham, and more. 1300 4th Street, SE; 202.921.9882; eatlafamosa.com

La Vie
La Vie is offering a Mediterranean Sunday Brunch (10:00 a.m. to 3:00 p.m.). The extensive menu includes some of La Vie's favorites such as savory appetizers like Greek lamb meatballs, grape leaves, and smoked salmon tartine. Main course dishes include tiramisu French toast, fried chicken and waffles, and merguez muffin. Prices range from $7.00 - $22.00. 88 District Square SW 5th floor; 202.560.5501; (laviedc.xyz)
Las Gemelas
Las Gemelas Cocina Mexicana is now offering brunch. Dishes include a chipotle and grapefruit waffle, Chilaquiles, and drinks like nitro coffee and pineapple juice "Café Piña" or boozy "Pitaya Mojito." 1280 4th Street NE; 202.866.0550; (lasgemelasdc.com)
Liberte
Brasserie Liberté offers brunch on Saturday and Sunday from 9:30 a.m. to 3:45 p.m. At brunch, guests can enjoy "Beef Bourguignon Skillet" with home fries, beef Bourguignon, bacon lardons, fried egg, and mornay; "Steak and Eggs" with marinated hanger steak, piperade, salsa brava, poached egg, petite salad, and home fries (GF); "Lox Benedict" with smoked salmon, arugula, poached eggs, hollandaise, English muffin, home fries, and petite salad; and more. Celebrate the weekend with "Mimosa Kits," which includes a bottle of sparkling wine and seasonal juices. 3251 Prospect Street NW; 202.878.8404; (libertedc.com)

Lincoln
Lincoln restaurant has Sunday brunch from 11:00 a.m.-3:00 p.m. Offerings on the menu include French toast, fried chicken and waffles, and more. Lincoln offers a bottomless mimosa, bellini, and bloody mary option for $45 a person. In addition to indoor dining, Lincoln has patio seating for 45 guests. 1110 Vermont Avenue NW; 202.386.9200; (lincolnrestaurant-dc.com)
Mama Chang
Mama Chang is offering brunch with offerings including pink shrimp dumplings, steamed pork ribs soaked in black bean sauce, and topped off with jalapeno peppers. 3251 Old Lee Highway, Fairfax, VA; 703.268.5556; mamachangva.com

Mi Vida
Roberto Santibañez is bringing everything from naranjas enchiladas and huevos rellenos single plates to family-style menus with enchiladas, guacamole, churros to their Mi Vida's brunch menu. Their menu also offers cocktails like their Café Frappé" and "Ponche de Lola". 98 District Square SW; 202.516.4656; kneadhd.com

Mission Dupont
Mission Dupont has added a bottomless brunch to its menu. Offerings include tinga brunch bowl, apple French toast, jumbo steak and egg tacos, and a chicken breakfast burrito. Available Saturday and Sunday from 11:00 a.m. -4:00 p.m. Mission Dupont's $25.99 bottomless brunch include pitchers of mimosas, margaritas, and Bloody Marys or Shocktop beer. 1606 20th Street NW; (missiondupont.com)

Nina May
Nina May's sidewalk and rooftop patios are now open for socially distant outdoor dining, featuring a new, seasonal weekend brunch menu. Dishes include spring herb and cornmeal waffle, cornmeal biscuit with strawberry rhubarb jam, and more. The cocktail menu includes both regular and strawberry mimosas, as well as the mandarin delight, and more. 1337 11th Street NW; 202.518.3609; (feast-dc.com)

Opaline
Opaline Bar & Brasserie is offering breakfast-to-go. Executive Chef Kevin Lalli is preparing a menu of traditional French and American breakfast fare, Monday through Friday from 7:00 a.m. until 10:00 a.m. and, on Saturday and Sundays from 7:00 a.m. until 11:00 a.m. Menu offerings include smoked salmon bagel, yogurt parfait, and more. 806 15th Street NW; 202.730.8800; (opalinedc.com)

Ottoman Taverna
Ottoman Taverna offers bottomless food and mimosas on Saturdays and Sundays from 11:00 a.m. to 2:45 p.m. Menu items include "Sucuklu Omelette" with beef-lamb sausage and kashkaval cheese; "Patates Köfte" with crumbled feta and yogurt sauce; "Frittata" with spinach, mushrooms, kashkaval cheese and sumac; and more. 425 I Street NW; 202.847.0389; (ottomantaverna.com)
Owen's Ordinary
Owen's Ordinary is offering weekend brunch every Saturday and Sunday from 12:00 p.m. - 3:00 p.m. Menu offerings include avocado toast, shrimp and grits, chicken & waffles, $5 drafts, $6 cocktails, and $7 wines-by-the-glass. 11820 Trade Street North Bethesda, MD; (owensordinarymd.com)
Oyamel
Oyamel serves brunch on weekends from 11:30 a.m. to 3:00 p.m.with highlights including Chilaquiles con chorizo y huevo estrellada, Churros de San Angel con chocolate and conchas by the basket. Oyamel's salt air margaritas are available by the glass or pitcher, along with specialty cocktails, micheladas and beer. 401 7th Street NW; 202.628.1005; (oyamel.com)
NEW: Rebel Taco
Rebel Taco has relaunched their $23 bottomless brunch package. Pair drinks like the "manmosa" and "spicy homemade bloody mary" with dishes like "hangover burrito" and "chilaquiles (breakfast nachos)". 1214 U Street NW; 202.735.5600; rebeltaco.com

Sababa
Sababa has introduced a Sunday brunch menu that has features from its modern Israeli concept. Brunch is served exclusively on Sundays, from 11:00 a.m. to 3:00 p.m. Guests can look forward to salads, hummus, mezze and kebabs off the regular menu along with a selection of breakfast sandwiches and benedicts, served on potato latkes or house-made Jerusalem-style bagels. 3311 Connecticut Avenue; 202.244.6750; (sababauptown.com)

Shilling Canning Company
Shilling Canning Company has added a brunch menu online that is available for pre-ordering. Some favorites on the menu include the pastry board, egg mcmaggie, french toast, and to-gosa kits. 360 Water Street SE; 202.554.7474; (shillingcanning.com)
Sloppy Mama's
Sloppy Mama's has introduced a new breakfast offering. The breakfast bowl includes crispy tater tots topped with breakfast meat, two eggs, cheese and house-made tomato jam. 5731 Lee Highway., Arlington, VA; 703.269.2718; (sloppymamas.com)

Stellina
Stellina offers a prix fixe weekend brunch menu ($35 per person) that is available for takeout and delivery from 12:00 p.m.-2:00 p.m. on Saturday and Sunday. The meal features a bottle of prosecco with fresh-squeezed orange juice, a choice of one entre like italian toast, and a choice of two dishes such as pizza carbonara and pizza bismark. 399 Morse Street NE; 202.851.3995; (stellinapizzeria.com)
Succotash
Succotash is serving typical southern comfort brunch specials like "The Hangover Special" with eggs, pork, potatoes gravy, and a biscuit or classic "Steak 'N Eggs." Drink specials include all the classics w/ a twist, like the "Southern Bloody" and "Belle's Punch." 915 F Street NW; 202.849.6933; (kneadhd.com)

Summer House Santa Monica
Grab a Rise & Shine breakfast special of an egg sandwich & coffee at Summer House's Market. Call to place an order in advance or stop by the restaurant. In addition, Summer House offers regular breakfast staples like pancakes, yogurt parfaits and more, available all day. Every day, 8:30 – 10:00 a.m. View the complete menu here. Regular menu is also available for pick up or delivery. Click here to order. 11825 Grand Park Avenue, Bethesda, MD; 301.881.2381; (summerhousesm.com)

Tabla
Tabla is now offering breakfast items on their menu. Offerings include Matsoni: Yogurt & Granola with seasonal fruit ($6), Guruli khachapuri: a breakfast khachapuri with boiled egg, cheese and fresh herbs ($8), and Nazuki: a Georgian spiced bread with dried cherries and currants, served with honey butter ($3). 3227 Georgia Avenue NW; 202.291.3227; (tabladc.com)

Teddy & The Bully Bar
Teddy & The Bully Bar is holding Sunday brunch from 11:00 a.m.-3:00 p.m. Offerings include a brunch burger with egg, buttermilk pancakes, crab benedict, and more. Teddy & The Bully Bar offers a bottomless mimosa, bellini, and bloody Mary option for $40 a person. 1200 19th Street NW; 202.872.8700; (teddyandthebullybar.com)
Thamee
Thamee is bringing back rice rolls Saturday 9:30 a.m. - 12:30 p.m. The kitchen team has prepared a simple, satisfying Asian breakfast spread consisting of "Toli Roli" egg and rice rolls, curry puffs, coffee and milk tea. Thamee's breakfast menu includes 3 rice rolls and 1 curry puff with the option to add Chinese sausage and coffee to your order. 1320 H Street NE; 202.750.6529; (thamee.com)
NEW: The Eleanor
The Eleanor is now offering brunch with favorites including hangover hash and fried chicken, as well as some new menu items like the everything bagel sandwich. 931 Ellsworth Drive Silver Spring, MD; 202.758.2235; eleanordc.com

The Grill
The Grill is now offering brunch. The brunch menu includes granola, fresh fruit, yogurt, banana cakes, spinach/sun-dried tomato egg souffle, roasted potatoes ($24 per person). The Grill also offers make your own pitchers of The Grill Martini, Old Fashioned, Champagne selections, and more. 99 Market Square SW; 202.916.5996; (kneadhd.com)
The Imperial
The Imperial is offering inaugural brunch service from 12:00 p.m.-4:00 p.m. Offerings include spiced apple crepes, classic Quiche Lorraine, and house mortadella-topped breakfast sandwiches; along with new sandwiches and brunch cocktails like old bay bloody marys ($14) or bottomless mimosas ($22), plus the restaurant's full wine, beer and spirits menu. 2001 18th Street, NW; (imperialdc.com)
NEW: Tiki on 18th
Tiki is now offering brunch with favorites like chicken and Ube mochi waffles, as well as drink deals such as $65 bottles of Ruinart Blancs de Blancs and $75 bottles of Ruinart Rose. 2411 18th Street NW; 202.846.1952;tikion18th.com

Yardbird
Yardbird is offering weekend brunch like the chicken & egg sandwich, and the chicken 'n' watermelon 'n' waffles. The cocktail program features an abundance of seasonality, a highly curated bourbon collection and an opulent wine list. 901 New York Avenue NW; 202.333.2450; (runchickenrun.com)

Zaytinya
Zaytinya's signature RoZAY weekend brunch ($75 for two guests) includes a rosé flight, four courses of mezze and dessert to share. Dishes such as crispy brussels afelia and chicken shakshouka are complemented by Mediterranean and Turkish rosés. Guests may also order a la carte with favorites including brunch fries with crispy potatoes, house mushroom salt, garlic yogurt and a soft egg yolk for dipping. Brunch is served 11:30 a.m. to 3:00 p.m. 701 9th Street NW; 202.638.0800; (zaytinya.com)