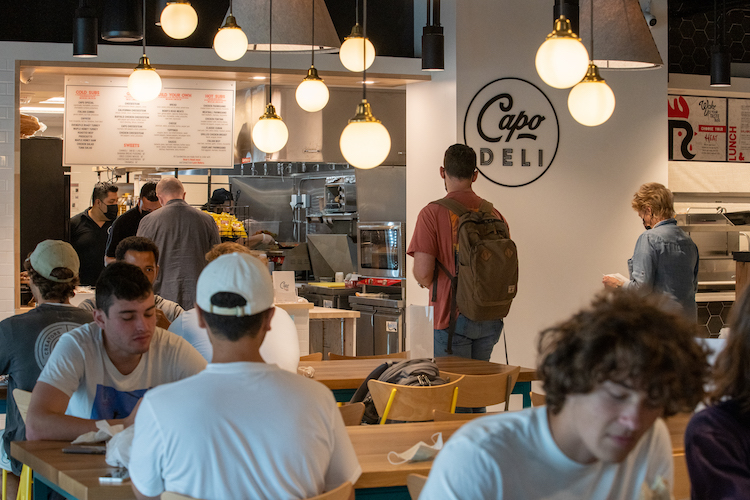 WESTERN MARKET
2000 Pennsylvania Avenue NW

Western Market, a new modern marketplace where Washingtonians can enjoy more than a dozen of the city's food and beverage vendors all in one place has opened in Foggy Bottom. This 12,300 square-foot space is a contemporary space where guests can enjoy meals, happy hours, social gatherings, and more. The space boasts a variety of socially distanced seating, as well as an outdoor patio area. A variety of vendors will be opening on a rolling basis through 2022. Western Market is open Monday from 8:00 a.m. until 9:30 p.m., Tuesday through Friday from 9:00 a.m. until 10:00 p.m., and Saturday and Sunday from 10:00 a.m. until 10:00 p.m.; 202.452.0924; For more information, visit their website here.

Vendors at Western Market Include:

Capo Deli (Now Open)
An Italian Sub Shop that originated in Shaw and speicalizes in deli-style subs and serves specialty cockatils like the "Fauci Pouchy". This new spot will give the feel of an old-school Italian deli found in cities like New York.

Mason's Famous Lobster Rolls (Now Open)
A fast-casual concept serving authentic lobster rolls. Mason's serves sustainable Main Lobster, Crab, Shrimp Rolls, and more. This will be Mason's first D.C. location.

RAWish (Now Open)
From Owners James and Taneea Yarborough, Rawish offers an organic raw menu of salads, sandwiches, bowls, and more. Rawish's focus is to make nutritious food affordable and accessible.

Roaming Rooster (Now Open)
Puts a modern spin on homestyle southern fried chicken by using hormone and antibiotic free range chicken. This will be Roaming Rooster's second brick and mortar location.

Arepa Zone (Now Open)
Known for their arepas, cachapas, and tequenos, this concept serves authentic Venezualan foods.

Falafel Inc. (Now Open)
Offers classic Mediterranean flavors such as vegetarian falafel, hummus, tabouli, and more that can be enjoyed in a fresh baked pita or bowl. Falafel Inc. also has partenerships with "Eat For Good" and the World Food Programme.

Alitiko (Fall 2021)
From Owner Dimitri Piskapas this concept will serve classic Greek street foods such as gyros, sandwiches, and Mediterranean sides.

Bandoola Bowl (Fall 2021)
This Southeast Asian salad shop will bring the flavors from Burma, Vietnam, Thailand, an more to Foggy Bottom. Guests can enjoy customized salads and warm bowls as well as noodles, proteins, and more.

Nim Ali (Fall 2021)
From Owners Rosario Guzman and Karla Alonzo, this Guatemalan street food concept will serve a variety of snacks and full plates such as shukos, antojitos, mixtas, and more.

Sushi Onkei (Now Open)
From owner Ferry Huang, Sushi Onkei offers authentic Japanese cuisine in a sleek and modern sushi bar. Guests can enjoy menu options such as Nigiri, Ura Maki, Hoso Maki, and more.

Tigerella (Fall 2021)
This new concept features a menu that includes breakfast, lunch, and dinner options with items ranging from morning pastries, sandwiches, to a full bar, and more.

ExPat (2022)
From Partners Tim Ma, Jonas Singer, and Ben Sislen, Ex Pat will be a full-social bar and restaurant concept, making it Western Market's largest concept. ExPat will offer a barbecue menu with southern staples and will also feature sports betting components.