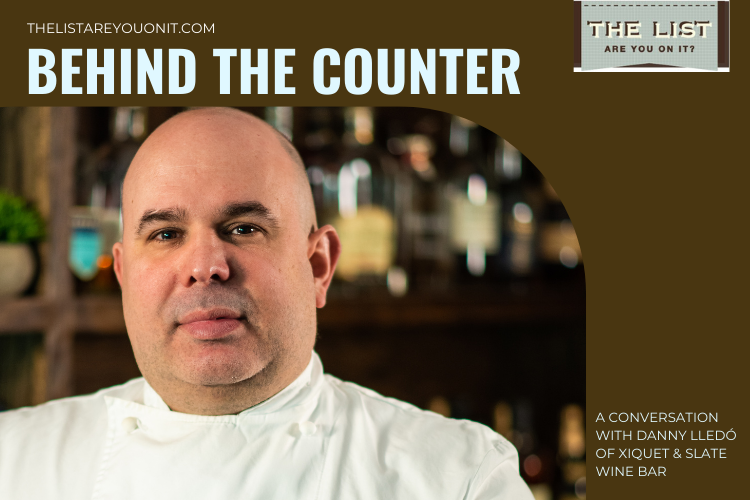 Behind the Counter: Danny Lledó of Xiquet & Slate Wine Bar
You know chef Danny Lledó, the owner of Michelin-starred Xiquet and Slate Wine Bar, for his culinary prowess and creative cooking style. You could say he is on "fire" thanks to the blazing wood-fire in the middle of his kitchen. His cooking is strongly influenced by his Mediterranean heritage and his highly-praised tasting menu experience showcases modern Spanish cuisine and features traditional cuisine of Valencia. Danny continues his family tradition of culinary excellence, following in the footsteps of his father, who is an accomplished chef from Dénia, Spain. Currently the most awarded paella chef in America, Lledó has accumulated eleven (11!!) paella honors, six of which were first place awards.

Graciously, Chef Danny took time out of his busy, award-winning schedule to answer a few questions for us in our latest Behind The Counter:

Two concepts in one location?! One casual and one fine-dining, how do you separate the experiences?

We have distinct offerings are Slate and Xiquet that are meant to offer guests a completely different experience, so we have people join us at each concept for a different reason. Slate is a great neighborhood spot to enjoy a laid-back date night, or meet at the bar for wine flights and snacks after work. Xiquet is a pull-out-the-stops experience that worthy of a special occasion – although we certainly have regulars who join us on just-because nights.
While the concepts are different from each other, there are some common threads – high-quality products, uncommon ingredients, and really outstanding wine selections. Xiquet was awarded MICHELIN's Somm of The Year award for 2022, and Slate is a finalist for the RAMMY for Wine Program of The Year, so you can definitely see there's a passion for wine in the building!

Slate Wine Bar came first, what were you looking to execute initially and how has the concept evolved?

When we redeveloped the building in 2019/2020 in order to create Xiquet upstairs, we wanted to elevate Slate Wine Bar a bit to better complement its new neighbor. We leveled up the quality of products and the creativity of the menu and gave the bar a sleek new look, and now that things are really opening up in the post-pandemic era we are really pleased to be bringing back some of the things patrons of the original Slate loved, like monthly Somm night events.

Let's talk Xiquet! Your Michelin-starred restaurant offers diners a unique culinary journey — take us on it! — what can we expect?

The concept behind the Xiquet experience is to emulate the kind of dinner parties I remember my parents having with friends in Valencia when I was younger. Long evenings full of hospitality and conversation over traditional comfort foods and plenty of drinks. I want our guests at Xiquet to feel like they're being welcomed to our home here for one of those nights.
The experience starts on the first level at our Chef's Counter where my team welcomes you with refreshments and aperitivos while they give an overview of our wine list and any available enhancements. Next, you'll be led up to our cozy third floor dining room where you can see me and my team cooking over woodfire in our open kitchen. After enjoying a menu of 20+ compositions of modern Spanish cuisine, you'll retire to our mezzanine lounge where you can relax and enjoy after dinner drinks, coffee, and some sweet treats. The whole experience is around 2.5 to 3 hours – just as you'd expect for a lovely meal with friends.

Sommelier of the Year was awarded to Nicole Ramée, Alisa Watts, and the team at Xiquet this year. Tell us more about the wine program and how the team was able to elevate it.

We were so proud to receive Michelin's Somm of The Year Award for 2022. It's an incredible recognition of everything our team works to provide for our guests. Unlike a restaurant with a single sommelier who chooses and presents all the wines, we take a very collaborative approach to our wine program at Xiquet (and Slate, too!). There are actually four of us who are somms here, and we all draw on our strengths to provide a really unmatched selection for our guests.
We draw on connections and allocations I've collected over about a decade, and my Director of Operations, George Totari provides training for our team. Alisa and Nicole are incredible at guiding our guests through the list, explaining why we've paired certain wines with specific dishes, and helping them find the perfect wine for their experience. Our entire team contributes the guest perspective and provides valuable feedback to help shape the evolution of our list and pairings.

What does a Michelin star mean to you as a restaurateur? What does it mean to your team? What does it mean to the diner?

We first achieved our Michelin Star at the end of an incredibly long and challenging year in which we opened our doors just a few weeks before the pandemic lockdown here in DC. We initially had to pivot and try a lot of different things just to keep the team employed and keep the lights on. When indoor dining came back and we were finally able to deliver on the original vision for Xiquet, the feedback we heard from guests was incredible. To have the Michelin Guide echo that by awarding us a Star felt like confirmation that everything we went through was worth it and we were doing exactly what we should be doing.
For the regulars who had been supporting us already, the Star served to confirm what they already knew. For the majority of diners though, the Star was really how they heard about us for the first time, since we were so new. Michelin was actually the first official review Xiquet ever received!

We are just into summer — what sunny Valencian treats can we expect at Xiquet and Slate Wine Bar?

Our menu at Xiquet is always changing to reflect the best product of the season, but one dish that comes to mind in particular is our current dessert, which is a beautiful Meyer lemon tart with meringue and a really refreshing lemon sage sorbet. For Slate, keep an eye out for some great wine happenings this summer that we'll be announcing soon!