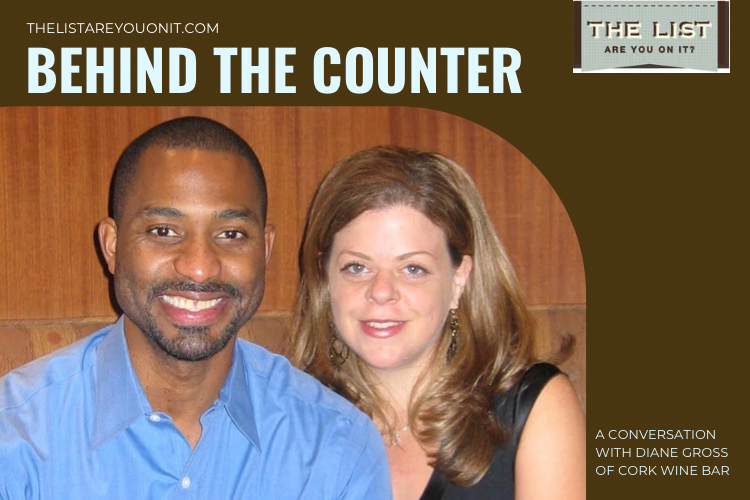 Behind the Counter: Un-Corked with Diane Gross of Cork Wine Bar & Market
Co-owners Diane Gross and Khalid Pitts of Cork Wine Bar & Market have been good friends of TheListAreYouOnIt.com since the day they opened their original location over 12 years ago. Cork Wine Bar and Market joined together under one roof in the former Cork Market space, creating a unique and innovative wine-centric dining, education, and retail experience. Upstairs is the neighborhood fave, Cork Wine Bar, where 50+ wines by the glass and 250 bottles from small producers around the world are served. Downstairs, Cork serves up the Tasting Bar and Cork Market for a casual environment to try and buy wine. Whether sipping on the recently launched patio, supping upstairs or perusing the market for wine and noshes to take home, demystifying the world of wine has always been a goal of Diane & Khalid, and thankfully they agreed to sit down with us and answer our "Must Know" questions:

It's a market. It's a wine bar. It's a restaurant. How did you all start with a little wine bar on 14th street that has now expanded to be so many things?
When we started Cork, we wanted demystify the world of wine be offering real descriptions of what you are drinking and affordable pricing. After we were operational for a while we realized that it was hard to find the wines we were serving so - a wine store, then a market with yummy food and some of our own creations, and now a second wine store featuring our own creations and some wonderful food options from women chefs around the city. We hope to keep going.

What is it about wine? Where did your passion for it come from?
Khalid and I started tasting wine together as a couple when we started dating and the passion grew from that. We were always exploring wineries on trips abroad and hitting all the new and fun restaurants and wine bars in every city we traveled to and so the idea just blossomed out of those experiences together.

You are always hosting wine tastings, bringing in makers and experts - what are some good ones coming up that we should mark our calendar (MYC) for?
Get set for September, we have so many wine makers just starting to travel back to the US so we will be hosting several dinners in the fall, including tastings of Spanish wine in September, Everything but Pinot for Thanksgiving Holidays, and as always, our Sparkling Tasting in December.

What's in the market now? Aside from your massive collection of wines, what are we packing our picnic basket with?
Our famous fried chicken plus delicious house-made biscuits. And always our cheesemonger box to go, 3 different cheeses with house made jam, local honey, and crackers.
To snack on we have Ibizia Salt and Sherry Vinegar Chips, Callie's Hot Little Biscuit Cheese Crisps, Q Nuts Orange and Ginger Almonds and Cashews, and tons of cookies and chocolates to round out the party. Plus our favorite Chapel Hill Toffee is in good stock!

Whether dining upstairs, downstairs or on your recently opened patio, what's happening in the kitchen?
We recently hired a new chef and he is keeping our classics fresh with seasonal ingredients and some fun twists. Our delicious hanger steak is tangy with a miso chimichurri and sautéed garlic scapes, the duck confit is hanging out with a delightful spring pea, pea shoot, and maitake mushroom risotto with pickled endive. He is also using some unusual ingredients – my favorite new combination is the burrata with r

oyal Ttumpet mushrooms, shaved fennel, grapefruit, candied pistachio dukkah.



We still love the avocado toast and the "crack" sauce. What's new on the menu for us to get addicted to?
See above. Plus delicious strawberry crisp with fruit from Earth and Eats Farm, or sauteed globe artichokes, or the grilled chicken thighs with lentils.

Pre-pandemic you traveled far and wide in the name of research. Where's your next region of wine expiration?
I think we are going back to the classics –
France. We have not been back in 6 or 7 years because of the Pandemic and travel to Spain and Italy. We would like to get to Provence, Bordeaux and new places in the Southwest. We would also like to go explore Greece on our next trip overseas, we have been featuring more and more Greek wines and the diversity and excellence of the wines is shining through – would like to explore that more!