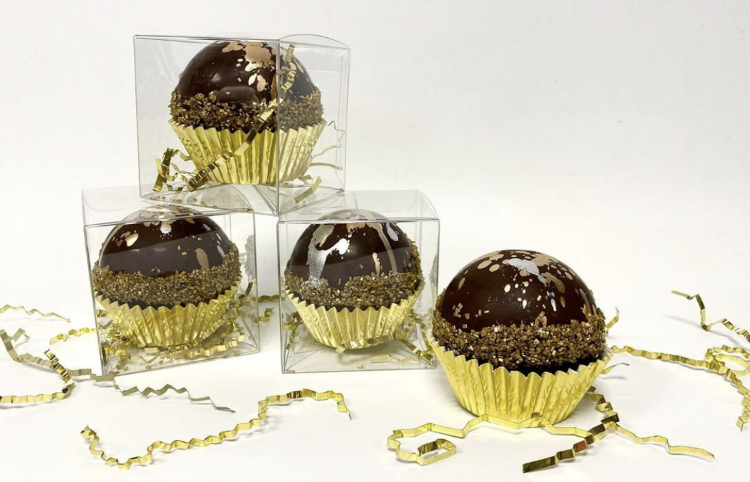 Procrastinators? Our Gift Guide Has You Covered
It is the most wonderful time of the year. Okay, it's usually the most wonderful time of the year and you know what? We are sticking with that notion. So it's time to start thinking how you're going to make those you care about most merry & bright. We started curating a list here. As we gather more interesting things to buy and places to shop, we will share the love with you:

Gifts D'Italia from Amy Riolo
Amy Riolo has 3 private label products - EVOO, sundried tomato pesto, and a white balsamic condiment in addition to an Amy Riolo Selections Italian Primi Gift Box available here. Use discount code "amyriolo" on the ditalia.com site to get 10% off your total order. For more information on the products, click here.

ANXO Cidery Local Cider
This year, District residents can give family, friends and (virtual) holiday party hosts the gift of local cider with a membership to ANXO's Cider Club, bringing the orchard right to their doorstep with a recurring delivery of their four core ciders. With the flexibility of monthly or quarterly delivery, you can give the gift of "InCider" status starting at just $35.99. For those looking for a one-time gift offering, ANXO's Mix Six pack is perfect for giving a variety of dry, apples-only cider. For $38, the Mix Six pack includes two cans each of the flagship Cidre Blanc, tart and fruity Rosé, tannin-filled Transcontinental, crisp and refreshing District Dry, DC-exclusive Imperial Blanc, and naturally funky Hereford Gold. This pack is available for DC delivery and pick-up at ANXO's locations in Truxton Circle and Brightwood Park, as well as in stores across the city that carry ANXO.

Baked by Yael Challah Subscription
Give the gift of fresh baked challah from a local, woman-owned small business. Made from scratch, their kosher challah is the perfect addition to your Shabbat dinner or any special occasion. In the event you don't gobble it all down on the first day, turn it into challah French toast later. For more information, visit bakedbyyael.myshopify.com.

Bethesda Bucks Gift Cards
Don't know what to give that special friend, co-worker, staff or teacher? Give the gift of downtown Bethesda and shop local this holiday season. "Bethesda Bucks" can be used to shop, dine and pamper in downtown Bethesda with the new "Bethesda Bucks" e-gift card. The e-gift cards can be used at any participating retailer in the downtown, including Alatri Bros., Bethesda Florist, Casa Oaxaca, Dog Haus Biergarten, Fancy Cakes Bakery, Gringos & Mariachis, Henry's Sweet Retreat, Lilit Cafe, Momo Chicken and Grill, Olazzo, Passage to India, Raku, Red Bandana Bakery, Silver New American Brasserie, Strosniders Hardware, Tommy Joe's, Yuzu Japanese Dining and many more. To purchase e-gift cards, click here.

Cooler Gifts From the Boss
What do you do when your company has transitioned to a work-from-home model, and there can't be an employee holiday party or white elephant gift exchange in the office this year? One DC based company has an alternative to a run-of-the-mill employee gift this year -- Cooler -- a monthly, subscription-based perk box that shows appreciation, boosts morale, motivates, and delivers shared experiences regardless of how distanced your team. Each month, team members receive a curated box filled with artisanal beverage and craft snacks from small makers throughout the US along with a purposeful, fun object for the home office and supercharged with signature Conversation Cards focusing on staff engagement, resilience-building and personal development. Whether you sign up for monthly subscriptions or just send a one-time Holiday Appreciation box, Cooler brings your team together. For more information about or to order boxes, visit cooler.work.

Cork Wine Bar Virtual Wine Tastings
A great gift to bring people together, even when they are apart. Cork ships or delivers the wines and prepares the tastings, along with tasting notes, a tasting "how to", and a live Zoom tasting event. These tastings start at $50 per person, and are available for groups of 4 to 50 people. For more information, contact [email protected].

Gifts for the Beer Lover from Denizens Brewing
Denizens Brewing Co. is offering a great lineup of holiday gifts including their beer, merch items, and also items from their Craft Collection of locally made goods (spices, coffee, and more). They've put together a number of gift bundles to help you get started—"6 On-The-Go" includes a Denizens Beer Caddy and a six-pack of your choice. Browse gift ideas here.

Events by Danny Lledó
The most awarded paella chef in the US is currently offering paella kits and virtual classes nationwide. Share the gift of teaching your foodie friends how to make the notoriously tricky yet delish Spanish dish by sending them a paella, kit, and tutorial. Kits include everything you need to make award-winning paella in your own home plus a live Zoom link where Chef Lledó will take you step by step through the process. For more information, visit exploretock.com/specialeventsbydannylledo

Founding Farmers Gift Boxes
Founding Farmers & Founding Spirits gift boxes provide the perfect present for almost everyone on your list. Gift boxes can be ordered online for convenient curbside pick up, delivery to many locations, and can ship nationwide. There are four boxes: Cookbook Gift Box: Honey & Spice & Everything Nice, Sweet Treats Gift Box: Eat Dessert First!, Morning Essentials Gift Box: Coffee & Pancakes, and Founding Spirits Tasting Kit: Find Your Spirit. To ensure delivery before Christmas, order by Monday, December 14th.

You Want This Filibuster
Filibuster Distillery has the ultimate gift offerings: For the newbie that deserves an upgrade: Filibuster Dual Cask Bourbon pushes traditional bourbon aging methods to a new level through its dual cask process. Finished in French Oak barrels, the expression enhances the caramel and vanilla nuances that fans come to recognize from bourbon flavor profiles and adds complexity to the overall taste. For the person always up for a challenge: Filibuster Boondoggler Whiskey is far from traditional. Finished in five different barrels, this expression takes unique qualities of the barrels to form a complex yet well-balanced liquid. This expression offers an unparalleled sipping experience and makes for the perfect base to any modern-day twist on a cocktail. For an individual you're looking to impress: Filibuster Single Estate one of the finest whiskeys from Filibuster Distillery released to date. This special, limited-edition release was created from one farm, one distillery and one barrel in order to achieve the ultimate bold yet balanced flavor. For packages and more information, visit filibusterbourbon.com.

Holiday Basket from Immigrant Food
Immigrant Food is now taking orders for Chef Enrique Limardo's Holiday basket, which consists of savory and sweet holiday goodies inspired by immigrant gastronomies from around the world. Plus, with every purchase, Immigrant Food will donate a family meal to the local immigrant community through Immigrant Food's NGO partners. Customers will also have the opportunity to additionally donate meals to the community at checkout. The selection includes chef Limardo's Latin Pan de Jamón, German lebküchen bread, Middle Eastern spreads and crudités, twelve bite-sized tartines, Moroccan Sfenj donuts, and a pitcher of their signature holiday mulled sangria. At $135, the basket feeds 4+ and every item is shareable.

Island Holidays at La Famosa
La Famosa has an island-themed lineup of menu offerings this holiday season. Perfect for gifting, the restaurant has partnered with local rum distiller Cotton & Reed to bottle Puerto Rico's famous holiday cocktail, coquito. Coquito, meaning "little coconut", is made with coconut, spices, milk, and of course, rum, and La Famosa will bottle its coquito mix and also offer a dairy-free vegan variety using coconut milk. Each 750ml bottle of coquito is available at La Famosa for $35. Cotton & Reed will sell La Famosa's coquito at their distillery as individual servings as well as a bottled mix. Chef/owner Joancarlo Parkhurst and team will also offer a "Coquito and Cookies" gift box featuring a bottle of coquito and an assortment of traditional Puerto Rican. The coquito and cookie package is available for $50 and requires 24 hours' notice. For more information, visit eatlafamosa.com.

Mah-Ze-Dahr Sweets & Kits
Nationally acclaimed bakery Mah-Ze-Dahr is offering all sorts of goodies this year. From scone making kits to premade cookie dough, boxed brownies, cookies, and pastries, Mah-Ze-Dahr has something for everyone. Gourmet gingerbread making kits will be available specially for the holidays as well. Check out their packages here for more.

Gift Baskets from Napoli
Looking for the perfect gift for the home chef? Both Napoli Pasta Bar and Napoli Salumeria have created gift baskets full of goodies from their new Italian market available pre-packaged in-store or online, for both pick up or at-home delivery. Gift baskets can be customized to your liking online or pre-made in-store with Italian classics like limoncello, imported olive oil, beautiful ceramics from the Amalfi Coast, and much more.

Join the Club(s) with NRG
This holiday season, give the gift that keeps on giving: membership to one of Neighborhood Restaurant Group's brand-new clubs launching in 2021. Enrollment is open now, and they've got a club for everyone – the budding somm, coffee connoisseur, and beer geek in your life. Each has our very own experts at the helm; gain access to beverage director Greg Engert, coffee director Nazia Khan, spirits director Nick Farrell and the team of NRG sommeliers for all of your questions. Each expert will hand-select products and guide your membership – it's personalization at its finest! Visit the clubs page to decide which one is right for everyone on your list.

Olio2Go Italian Gift Selections
If you can't travel to Italy, this is the next best thing to an Italian holiday. Olio2go features fine Italian gifts for the foodies on your list with selections of extra virgin olive oils and vinegars, as well as fun extras and gift boxes. Shop online or in their Fairfax store's bountiful table of treats, including panettone, panforte, biscotti and amaretti, figs, and Modica chocolates to celebrate the season.

Olive & Loom: Kin & Care Collection
Olive & Loom is a Mediterranean lifestyle brand featuring a curated selection of home and gift items. Its retail and online shopping experience evokes a love of discovery and gift giving as well as creative inspiration for unique home and entertaining décor. Olive & Loom's founder, Ferzan Jaeger, built her business on the belief in a consumer's "power of purchase" by partnering with organizations who benefit from sales proceeds of select items, as well as employing refugees to develop her signature Kin & Care candle collection. Kin & Care is a maker of handcrafted small batch candles, soaps, and scent diffusers located in Silver Spring, MD. They use sustainable, cruelty-free ingredients poured skillfully into reusable containers and have ten fragrance blends that bring warmth to any setting. Each Kin & Care product is made exclusively by refugee women resettled in the Washington DC region. Additional signature items developed by Olive & Loom are their Turkish robes, towels, woven bowls, scented hand sanitizer sprays, perfumes, and more. For more information, visit oliveandloom.com.

Officina Provisions
Give the gift of Provisions. Officina has made holiday gifting easy so your family, friends and loved ones can enjoy their culinary experience right from their own home. Officina Provisions delivers a week's worth of Chef quality dishes including oven-ready prepared meals, premium cuts from our butcher, fresh farm-to-table produce and more for a family of 2 to 4. Select between the Traditional ($250) & Vegetarian ($175) Provisions Box and send your loved ones a truly tasteful gift. To learn more, visit officinadc.com/provisions-gift-card.

Shucking Kits from Oyster Oyster
True to its name, Oyster Oyster will is selling oyster at-home shucking kits ($40) which include a dozen local oysters, a shucking knife, house cocktail sauce (made with local dried tomatoes from the summer + fresh VA horseradish), mignonette, and shucking directions. For more information, visit exploretock.com/oysteroyster.

RĀKO Coffee Gift Sets
Gift sets for the coffee aficionado are now available. They are offering two different curated selections of coffees available in a hand-stamped and wrapped gift box. Customers can choose from either the Classic Gift Set which has the Guatemalan HueHue Waykan, Ethiopian Sidamo Kercha, and Ethiopian Yirgacheffe Gedeb, or the Bold Gift Set which has the Sumatran Harimau Tiger, Ethiopian Luleesa Limu, and Ethiopian Espresso Blend. You can find them here or at the Downtown Holiday Market, Victura Park Holiday Market, and the Shop Made in DC gift market at The Roost.

The Gift of Luxury from RdV
Our celebrations this season may be more intimate than years past, but we can still make them truly spectacular. This year, RdV Vineyards is offering a bit of luxury to add some spark(ling) to your holiday festivities with a curated collection of champagnes, caviar, and oysters from some of their favorite purveyors and producers, including Rappahannock Oysters ($25 for two dozen), Petrossian Caviar, and a collection of Champagnes perfect for pairing with seafood. The deadline for ordering is Sunday, December 13th. Items will be available for pick-up only at RdV Vineyards on Friday, December 18th, Saturday, December 19th, and Sunday, December 20th from 11:00 a.m. to 5:00 p.m.

Relish Catering Gratitude Gifts
As the holidays approach, people are reminded of the many things for which they are thankful. In the spirit of giving thanks, Relish relishcateringdc.com is offering their latest concept in holiday entertaining: Gratitude Gifts. Whether you wish to show appreciation for your employees, members of your book club, the PTA volunteers or simply those really good friends, Gratitude Gifts can help you send that message. Individually wrapped gift boxes featuring sweet treats, date night supplies, regional fare, and more offer options for everyone on your list. For more information, contact [email protected].

Rose's at Home Dinner Club Memberships
Gift a loved one (or yourself!) multiple dinners for two, delivered on any night in 2021. Dinner Club Memberships are available in packages of 1, 2, 4, or 6 dinner deliveries. And this year only, and for a very limited time, when you purchase a Rose's at Home Dinner Club Membership, you will receive a free gift card usable for dining-in at any of the following restaurants: Rose's Luxury, Pineapple and Pearls, or Little Pearl. All dinners serve two people, and the Dinner Club Membership tiers are: One dinner for two for $99, two dinners for two for $199 (+ $100 gift card for you), four dinners for two for $399 (+ $150 gift card for you), six dinners for two for $499 (+ $200 gift card for you).

Rosslyn Holiday Gift Basket Auction
If you're looking for the perfect holiday gift and want to support local businesses, here's your chance to bid on a curated gift basket with items from the Rosslyn Holiday Buying Guide. The Rosslyn BID will have several themed baskets available for the coffee lover, foodie, and fitness fanatic in your life that will be available to bid on throughout the month of December. Proceeds from the winning bids will benefit Arlington Food Assistance Center (AFAC) to help the fight against hunger in Arlington.

Pour One Over with Santa Lucia
Because everyone deserves to treat themselves this holiday season, Santa Lucia Estate Coffee is taking its wholesale coffee program to e-commerce. Guests who have long enjoyed one of Washington DC's original sustainable Coffee companies can now have the option to enjoy the coffee they've loved in so many area restaurants and hotels in the comfort of their home. Perfect gift for your favorite coffee lover, The Santa Lucia Sampler, includes three one lb. bags of Santa Lucia Estate favorite roasts (Classic, Vienna and 2014). Whether it's the Holiday Sampler or the "Classic" medium, "Vienna" bold or "2014" deeper roast all Santa Lucia Coffees are available in three and five pound packages with pre-ground or whole bean options. All include free expedited shipping.

Taste Hungary Hungarian Wine Shop
Give the gift everyone on your list will like - especially those who would have been traveling Europe this year! Taste Hungary, a DC-based importer and retailer of fine Hungarian wine, offers a variety of terroir-driven, small-batch Hungarian wine. Free delivery/shipping available for purchases of 12 or more bottles. For more information, visit tastehungary.us

Tea Drunk Classes & Gifts
Tea Drunk is the producer of some of the world's most prized teas, and they go to the deepest mountains in China to eat, sleep and work alongside the heritage farmers to ensure the highest quality product. Find the perfect gift for your tea aficionado with the options like the Tea Crash Course, Classic Tea Sampler or a variety of other teas and tea-related products. The tea available through Tea Drunk is truly one of a kind. Like nature cannot recreate itself, no two batches of tea are the same. Some tea leaves are picked from ancient tea trees which are 200-600 years old with the actual harvesting season containing only 10-15 days per year. Every tea is prepared with lots of love and hard work by Shunan Teng who heads to the deepest mountains in China in the Spring Season.

Private Cocktail Classes from Toastworthy
Toastworthy is hosting private virtual classes from the Toastworthy kitchen, the perfect gift for your spirit-ed family and friends. Classes are one hour and guests make two cocktails of their choice from the signature cocktail menu with cocktails like a Cider Bourbon Smash and a classic French 75. Learn the fundamentals of cocktail making as well as some of the Toastworthy signature drinks. These classes are perfect for virtual corporate holiday parties or a family celebration. All classes are taught by Sophie Stich, founder of Toastworthy. For more information, visit toast-worthy.com.

Todd Thrasher's Rum-Ron-Rhum Shoppe
It's never been easier to "Have a Blast" as the front bar at Tiki TNT is transformed into the Thrasher's Rum-Ron-Rhum Shoppe. Special holiday gifts include Thrasher's Rum and Thrasher's Rum Custom Cocktail Cases, seasonal cocktails to-go, handcrafted mixers, elixirs, and bitters, hard to find rums, Tiki TNT apparel, and limited edition custom Tiki Mugs and Flasks. For more information, visit tikitnt.com

Wigle Whiskey Spirit Gift Set
Wigle Whiskey's limited edition three-flask "Medicinal" Spirit gift sets offer quarantine relief in a tongue in cheek nod to 2020. A flask of Straight American Whiskey is labeled as Quarantine Solution and promises to "maximize mirth among relations in close quarters", joined by a flask of Straight Rye Whiskey, called Conversation Fluid "to conquer chronic cases of conversation cowardice", which might strike at the Thanksgiving table. Third, a flask of Eye Opener Extract, or Wigle Organic Gin, promises "to elevate excitement and eradicate ennui," which might hit during your 11th Netflix hour. The flask set comes beautifully packaged in a Prohibition themed gift box, harkening back to the last period in America in which whiskey was offered for its "medicinal" values. Only 500 kits are available for shipping throughout Pennsylvania and DC. Visit takeout.wiglewhiskey.com for more information.

Women's Food Fest Holiday Market
A collection of women-owned food businesses in Washington, DC, Women's Food Fest grew from a James Beard Foundation program and decided to take collective action, and help each other survive the present economic and health crisis. This Holiday season, they are highlighting women entrepreneurs who now need your support by your patronage as they navigate the new "normal" and try to keep their businesses open during this pandemic. Exclusive holiday offerings include these gift baskets: Bubbly and Sweet Gift Basket (Walnut Biscotti from Ruth Gresser, chef/owner Pizzeria Paradiso; Organic Earl Grey Tea and Ginger Scone Mix from Linda Neumann and Michelle Brown, owners Teasim; Vegan Chocolate Chip Cookie Dough from Doron Petersan, chef/owner Sticky Fingers Sweets & Eats; Best Loved Plant Based Recipes in Decorative Box from Ellen Grey, owner Equniox; Cranberry Orange Bread from Ris Lacoste, chef/owner, RIS; Baklava Mini Box from Yamrot Ezineh, chef/owner Letena; Oatmeal Cream Pie from Shannan Troncoso, chef/owner Brooklands Finest; Ice Cream Sundae Toppings from Victoria Lai, owner Ice Cream Jubilee, and Blanquette de Limoux from Diane Gross, owner Cork Wine Bar) or the Savory Snacks with Rich Red Gift Basket (Ben's Original Half Smoke Pack from Sonya Ali, owner Bens Chili Bowl; Marinated Olives from Ruth Gresser, chef/owner Pizzeria Paradiso; Hog Smoker Packet (two BBQ sauces and spice rub) from Mandy Neuman, owner SloppyMamas; Infused Organic Olive Oil Dip from Yamrot Ezineh, chef/owner Letena; Brookland's Finest Pasta Sauce from Shannan Troncoso, chef/owner Brooklands Finest; Pasta from Jamie Leeds, Hanks Oyster Bar; Eye Gift bag from Rose Privite, owner Maydan; and Red Wine from Diane Gross, owner Cork Wine Bar). With more to come, visit exploretock.com/letstalkdc to support fabulous local women in food.