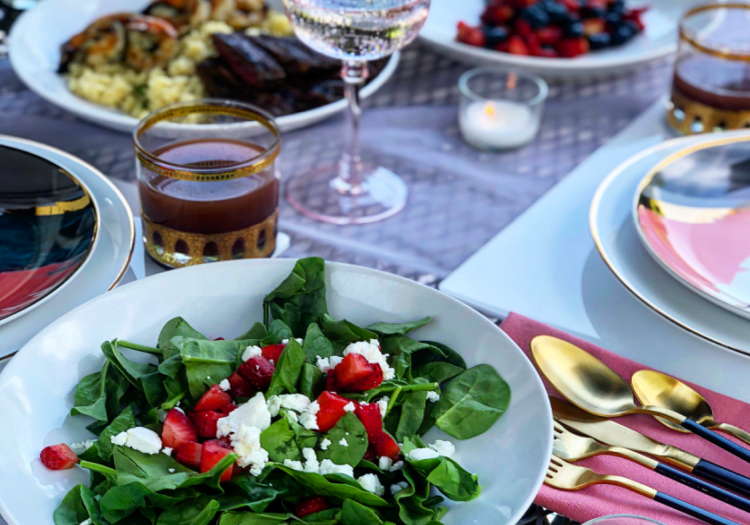 No, Your Mama Is Not a Llama
Make the mothers (and mother figures) in your life feel extra loved this Mother's Day. Whether celebrating together or apart, area restaurants have found plenty of creative ways for you to make sure you make mamma happy:

Ada's On The River For Mother's Day
Treat Mom to a special waterfront meal. In addition to Ada's a la carte menu items, diners can partake in specials for the day. For Brunch, enjoy a steak omelette ($19) and for dinner, Executive Chef Randall Matthews is offering an enticing entrée, saffron and lobster risotto ($32). 3 Pioneer Mill Way, Alexandria VA; adasontheriver.com

Treat Mom To Pizza And Prosecco
Treat your mom to pizza, and All-Purpose Pizzeria will treat her to a glass of prosecco. Make a reservation for Mother's Day brunch or dinner at All-Purpose in Capitol Riverfront. Mom can relax on the riverside patio and enjoy a glass of prosecco. For brunch, start with the Jersey egg bomb, a breaded & flash fried farm egg wrapped in housemade Italian sausage with pecorino and artichoke salsa verde. Or grab starters perfect for sharing like the warm cornbread muffins,, a DIY smoked salmon crostini, and more. For dinner, it's all about spring veggies like spring peas, sugar snaps, and pea shoots in the primavera salad with toasted fregola pasta, pecorino, mint, and herb vinaigrette, and baby artichokes in the artichokes 'maranati' with calabrian chili oil, mint, and toasted breadcrumbs. Then move on to their newest pizza, the Americano with smoked beef brisket, BBQ sauce, pickled onion, & scallions. 79 Potomac Avenue SE; resy.com

Mother's Day Brunch At Alta Strada DC
Enjoy a three-course brunch menu with items like truffled deviled eggs, frittelle di patate (potato pancakes) with smoked salmon, dill creme fraiche and capers, brioche French toast, and a soft shell crab benedict. Desserts feature all of Alta Strada favorites like tiramisu, cannolis, bombolinis with nutella, decadent chocolate cake and gelato. Brunch will be available from 11:00 a.m. to 2:30pm. 456 K St NW; Menu

Alta Strada Mosaic Mother's Day Brunch
Enjoy this brunch menu filled with a selection of all the classic brunch favorites plus some specialty Italian dishes like bucatini carbonara and more. Brunch is available from 11:00 a.m. to 3:00 p.m. 2911 District Avenue #150, Fairfax VA; Menu

Mother's Day By Ambar Clarendon
Ambar Clarendon is offering their fixed price brunch of unlimited small plates this Mother's Day. At Ambar Clarendon locations you can enjoy an all-you-can-eat selection of spreads, soups and salads, traditional dishes, egg dishes, sliders, flatbreads, and sweets along with five distinctive brunch cocktails. Highlights from the brunch menus include blueberry jam or strawberry waffles, salmon benedict, and more. For the perfect pairing, enjoy featured cocktails priced at 25 cents each. Brunch will be served from 9:30 a.m. to 3:30 p.m. If you want to experience Mother's Day at home, Ambar Clarendon will showcase a family-style grab-and-go menu derived from the next-level Balkan dining without limits concept. This dining option is $60. 2901 Wilson Blvd, 22201; 523 8th Street SE; ambarrestaurant.com

Annabelle's Mother's Day Menu
Annabelle is offering a special three-course, prix fixe menu for in-house dining and curbside pickup, showcasing some of Executive Chef Frank Ruta's most notable dishes, with items subject to availability. The three-course menu is priced at $60 per person and features fresh and flavorful, locally inspired cuisine that tells the story of the growers and producers. Standouts include Pennsylvania raised rabbit pât, lightly smoked and pan roasted Ora King salmon, asparagus tart, and more. Annabelle's Mother's Day menu will be available from 11:30 a.m. to 2:30 p.m. on Sunday, May 9 for in-house dining, carryout, and delivery. 202.916.5675. 2132 Florida Avenue NW; annabelledc.com

Baker's Daughter Mother's Day Breakfast In Bed
Chef Matt Baker's carryout café and market is bringing back its popular breakfast in bed package as a Mother's Day special. Menu options include cold pressed juice, hot coffee or tea, a pastry basket, ham and cheese quiche with mixed green salad, breakfast taquitos, shakshuka, avocado toast, brioche French toast, chef's breakfast sandwich, and steak and eggs with whipped polenta. The package serves two for $65. Order online for pick-up on May 8th or 9th. 1402 Okie Street NE; bakersdaughterdc.com

BARCA Pier & Wine Bar Celebrates Mom
Treat Mom to Mother's Day at Barca Pier & Wine Bar on May 9th. Sample various menu items, perfect for sharing and accompanying with a selection of wines and cocktails. Specials for the day include: razor clams ($18), bay scallops ($16), and more. 2 Pioneer Mill Way, Alexandria, VA; barcaalx.com

Bayou Bakery, Coffee Bar & Eatery Mother's Day Breakfast Box
At Bayou Bakery, Coffee Bar & Eatery enjoy oh-so-cute petite bites of flaky, scrumptious, pastries and morning loaves, gently tucked in a custom box. The Mother's Day Bayou Breakfast in Bed Bundle [$18] collection of confections includes: petite croissants, savory scones, a mini-banana loaf, and more. Orders must be placed by end of day on May 6th by calling Bayou Bakery at 703.243.2410. 1515 N. Courthouse Road, Arlington VA; bayoubakeryva.com

Mother's Day Desserts From Best Buns
Best Buns Bread Company and Best Buns Bakery & Cafe are rolling out sweet desserts so mom can eat her heart out. Swoon-worthy selections include Mom's Personalized Heart Cake ($19), Mother's Day Cupcakes ($3.75). Available for curbside pick-up or delivery from May 1st to May 9th. 8051 Leesburg Pike, Vienna, Va and 4010 Campbell Avenue, Arlington, VA; bestbunsbakerycafe.com and bestbunsbreadco.com

Bombay Club's Champagne Brunch
The Bombay Club will be offering its popular Champagne brunch this Mother's Day. Enjoy live piano music and traditional Indian fare prepared by Executive Chef Nilesh Singhvi. The three-course, prix fixe menu begins with a choice of seasonal starters served at the table, followed by unlimited entrée options from the bountiful buffet and then dessert. Menu highlights include bhalla papdi chaat with lentil dumplings, crispy puri, yoghurt and spices; shrimp moilee with coconut, ginger, curry leaves and clove; green chili chicken with dill, tomato, cilantro and chili pepper; chocolate sticky pudding; roasted pistachio gelato; and much more. The Mother's Day brunch is priced at $45 per person, or $50 with bottomless champagne (tax and gratuity not included) and will be served from 11:30 a.m. and 8 p.m. on Sunday, May 9th. 815 Connecticut Avenue, NW; 202.659.3727; bombayclubdc.com

Mother's Day at Brasserie Liberté
In honor of Mother's Day, Brasserie Liberté is offering champagne specials. Specials include Mimosa Kits with a bottle of sparkling wine and seasonal juices. If you adore Veuve, the brasserie offers Veuve Clicquot Yellow Label by the bottle for $75. The brunch menu features lox benedict, avocado toast, fettuccine Bolognese, and more. Celebrate Mother's Day with brunch from 8:00 a.m. to 3:45 p.m. and dinner from 4:00 p.m. to 10:00 p.m. 3251 Prospect Street, NW; libertedc.com

Bresca's Mother's Day Meal
Share a festive Springtime feast with mom at chef Ryan Ratino's Michelin starred Bresca. The special menu consists of a family-style meal priced at $95 per person (exclusive of tax and gratuity). Enjoy this meal from 2:15 p.m. to 7:45 p.m. 1906 4th Street NW; exploretock.com/bresca
Mother's Day Reunion From Bucher and Medium Rare
Roses are red, this is better. After a difficult year of isolation:
Medium Rare
restaurants are bringing families back together for an emotional Mother's Day surprise reunion. The award-winning Washington, D.C.-area steak frite restaurant, in partnership with
The Élite Collection
, is flying in up to ten families to reunite them with mom (or grandma) for the first time since the pandemic hit. French toast brunch, hugs, and tears of joy are all included. As society reopens, Medium Rare plans to provide the ultimate Mother's Day gift. Families looking to be part of this special Mother's Day event are asked to email their stories to
[email protected]
. Medium Rare co-owner Mark Bucher will review the submissions and make ten families' dreams come true. In a tandem effort, Medium Rare will also personally deliver hundreds of brunches to mothers in the D-M-V still dealing with isolation due to COVID. This is a repeat of the approximately 2,500 Mother's Day meals Medium Rare delivered last year. The Élite Collection is teaming with Medium Rare and its
We Care, Inc./Feed the Fridge
free meal program to generously sponsor the reunions and the meal deliveries.
Mother's Day Brunch At Home By Cheesetique
Celebrate Mom by making her a four-course brunch right at home. Simply heat and brunch is served. Each family style meal serves four to six people and features items such as warm lemon buns with cream cheese, smoked salmon deviled eggs, stuffed brioche French toast, and more. This meal $79.99. 2411 Mt. Vernon Avenue, Alexandria VA; cheesetique.square.site

Colada Shop Mother's Day Package
Chef Mario Monte and the team at Colada Shop will be offering a Mother's Day package ($60), available for pre-order via Tock. The package includes a bouquet of six flower-shaped mini guava pastelitos, four empanadas (choose between bacon, egg and cheese or spinach and cheese, four croquetas (choose between ham croqueta or spring onion and zucchini), coconut oat and quinoa pudding with pineapple compote, and make-your-own cocktails with cava and housemade juice. coladashop.com

Commissary Mother's Day
Logan Circle neighborhood favorite, Commissary, will offer in-restaurant Mother's Day specials plus a carry out brunch to feed the whole family. For $35, feeding two to four people or $55, accommodating six to eight people, the carry out brunch includes a baked frittata, orange French toast, fresh fruit, and blue berry breakfast bread. Carry out brunch must be preordered for pickup Friday, May 7th or Saturday, May 8th. Reheating instructions will be provided. A sparkling Rosé or "Mom-Mosa" may be added for $18. Chef Tom Crenshaw will offer in-restaurant Mother's Day brunch specials as well, including the seared cold smoked salmon with grilled asparagus, soft poached eggs, sauce bernaise, and rye crisps ($18); the Croque Madame with ham, Gruyère, creamy bechamel, rustic bread, and topped with fried egg ($15); and the shrimp & cheddar grits with chorizo ($17). Brunch served 8:00 a.m. to 2:30 p.m. 1443 P Street NW; CommissaryDC.com

Mother's Day Brunch from Cork Wine Bar
Treat mom to a delicious brunch at home from Cork complete with French rose. The menu features quiche Lorraine, housemade cinnamon rolls, bibb wedge salad with Taeggio ranch, lemon poppyseed cake, and a bottle of French rose. $100. corkdc.com

Guilt-free Gifts for Mom
As Mother's Day approaches and healthy habits being at the forefront of our minds, finding the perfect Mother's Day gift and staying healthy can be a tricky task. The Cookie Department's guilt-free soft-baked KETO cookies make the perfect gift to satisfy all of your seasonal needs. With near net-zero carbs, fully gluten-free ingredients, and quite possibly the most tantalizing taste of any cookie on market, The Cookie Department's gift packs make for the perfect and healthy Mother's Day treat. Choose from flavors like chocolate chip, birthday cake, chocolate mint, and more. Options include the KETO 3 box bundle with twenty-four cookies ($68.99), KETO 2 box bundle with sixteen cookies ($45.99), the KETO 1 box with one flavor and eight cookies ($23.99), and the KETO cookie sampler with three cookies ($8.99). thecookiedepartment.com

Dirty Habit DC Letters To Mom
On Mother's Day, Dirty Habit DC's courtyard is turning pink by Chateau de Berne "Inspiration and Emotion". The team will have pads of paper for you to write letters to the mothers who have inspired you or have offered emotional support over the years. All guests (not just those who purchase bottles of inspiration) will be welcome to write the letters to their mother, and the Dirty Habit team will mail the letters for their guests in honor of Mother's Day. 555 8th Street NW; 202.449.7095; dirtyhabitdc.com

Custom Engravings From District Made and Painted Palettes
Honor that special Mom in your life with a unique message that's only for them. Choose from either District Made or a limited edition Untitled release and then complete the form for custom engraving. Please keep the characters below 30 (including spaces and punctuation). Engravings start at $32. Order online by April 29th at 10:00 a.m. for pick-up in The Bottle Shop starting May 7th at 3:00 p.m. 1135 Okie Street NE; oneeightdistilling.com

Mother's Day Brunch At Donahue
Chef Antonio Burrell has created a Mother's Day menu of twelve signature dishes to choose from that comprise their carefully curated Mother's Day brunch, with highlights like the fresh ricotta & red fruit toast with kaffir lime curd and burrata with spring peas and pea foam. For all the mothers in attendance, the Donahue team will be offering a free glass of their premium champagne to help celebrate. Reservations recommended. Three dishes for $55. 1338 Wisconsin Avenue NW; donahuedc.com

El Cielo Mother's Day
Celebrated Colombian Chef Juan Manuel Barrientos and his team at Michelin starred El Cielo Washington, will be offering their iconic Experience Menu (twenty-two courses) inspired in ancestral Colombian cuisine using creative Avant Garde techniques. The sequence of dishes not only follows a unique journey through Barrientos's love for his home country but is meant to thrill all five senses: sight, sound, smell, touch, and taste. The menu involves immersive moments like the iconic choco-therapy – a ritual where guests wash their hands with liquid chocolate and then get to taste it straight from their fingers, are magically orchestrated at the hands of the talented team. The menu is priced at $195 per person. Offered Friday, May 7th through Sunday, May 9th from 12:00 p.m. until closing. Reservations can be made via Tock. 1280 4th Street NE; elcielorestaurant.com

Fairmont's Mother's Day Royal Afternoon Tea
This Mother's Day weekend, Fairmont Washington, D.C., Georgetown's Royal Afternoon Team makes all the mothers queens for a day in its royally decorated Queen of Hearts Lounge. The exclusive and private lounge will feature Royal Afternoon Tea favorites such as warm scones, chocolate biscuit cake, and of course a wide range of teas. Tickets are $65 per person and seatings will be available from May 7th to May 8th at 10:30 a.m., 1:00 p.m. and 3:30 p.m. 2401 M Street NW; eventbrite.com
Fare Well And Sticky Fingers Treats For Mom
Enjoy the making of Mother's Day brunch for pick-up at Fare Well on May 8th and May 9th. Pre-order by May 5th. Treats for Mom are available to send nationwide, with free shipping on select items. Gift ideas include: a
three-month cookie subscription
featuring two flavors of freshly baked classic and sandwich cookies (eight cookies per month, $114 with shipping included); a
Mother's Day brunch kit
including spiced pancake mix, and adult-sized apron, a kid-sized apron, baking conversion chart, and two kinds of seasonal shortbread ($60 plus shipping); a
gift pack
offering choice of three chocolate chip, sweet 'n salty, or s'mores cookies and two brownies ($25, shipping included); and a
cookie and brownie combo pack
featuring four chocolate chip cookies, two sweet 'n salty cookies, two peanut butter cookies, two cowvin cookies, and six fudgetastic brownies ($55 plus shipping). 406 H Street NE;
eatfarewell.getbento.com
Mother's Day Weekend Brunch at Home
Farmers Restaurant Group's Mother's Day brunch at home brings the decadence of their restaurant brunch home with easy step-by-step reheating and light cooking instructions while Mom props up her feet with one of their bottled cocktails, mimosas, or freshly squeezed juices. Packaged for four but enough food and drink for more, the menu includes everything from cinnamon rolls to prime rib, french toast to gnocchi, quiche to coconut cake. There are choices for mom and the whole family. All Farmers Restaurant Group locations participating, including Founding Farmers (Tysons, Reston, DC, Potomac), Farmers & Distillers, and Farmers Fishers Bakers. Order by Wednesday, May 5th at 3:00 p.m. for pick up on Friday, May 7th or Saturday, May 8th.

Mother's Day Feast from Feast by Nina May
Feast, the meal delivery kit service from the team at Nina May, will be offering a special themed box for Mother's Day. The menu is designed for two and can be enjoyed all day long. It features northern neck asparagus and mushroom quiche with fontina cheese, pea shoots and cherry belle radishes, shakshuka with fresh baguette with cherry tomatoes, swiss chard and smoked feta, Maryland jumbo lump crab cakes with remoulade, spring bounty salad and apricot vinaigrette and strawberry rhubarb pound cake with sherry glaze and pistachio crumble. The box also includes a choice of a mimosa package or a handcrafted soda trio. The Mother's Day Box is priced at $100 and serves two. Delivery on Friday, May 7th and Saturday, May 8th. feast-dc.com/mothers-day

Fight Club Mother's Day Menu
Capitol Hill's Fight Club is serving a Mother's Day pre-fixe brunch with classics from the Beuchert's The three-course Mother's Day menu ($40) features cinnamon rolls, eggs . benedict, shrimp and grits, chicken and waffles, and more. You can also enjoy bottomless mimosas, along with à la carte brunch beverages, that will be available for $18. The menu will be available on May 9th from 11:00 a.m. to 4:00 p.m. 623 Pennsylvania Avenue SE; fightclubdc.com

Mother's Day Gifts From Foxtrot
Foxtrot is DC's newest one-stop-shop and has an amazing selection of gifts that are sure to bring a smile to Mom's face. Whether you're looking to give a day of indulgence and relaxation (they have candles, face masks, CBD oils), locally picked flowers, or a fantastic bottle of wine that is somm-selected and approved, you can be assured that Foxtrot has exactly what Mom's looking for this Mother's Day. 1267 Wisconsin Avenue NW; foxtrotco.com

Glover Park Grill Mother's Day Brunch
Enjoy a brunch menu filled with a twist of GPG favorites including their spicy deviled eggs, Alex Levin's homemade bagel with smoked salmon, a GPG crab cake benedict, brioche french toast and Hambone's world famous shrimp and grits. Enjoy a special rosé bottle menu only available at brunch. 2505 Wisconsin Avenue NW; Menu

Mother's Day At Goodstone
Just in time for Mother's Day, Middleburg is blooming. There's no better way to celebrate the season than with delicious food and fresh air at the Farm at Goodstone Inn & Restaurant. Give Mom a dining experience like no other this Mother's Day. On May 9th, Goodstone's award winning culinary team will prepare a decadent four-course fine-dining experience with optional wine pairing. Enjoy menu items like the rabbit roulade, pan seared red snapper, pearl barley risotto, rhubarb tartelette, and more. Seating available between 11:30 a.m. and 5:30 p.m. $135 per person and optional wine pairings available for $75 per person. 36205 Snake Hill Road, Middleburg, VA; 540.687.3333;

[email protected]



Hotel Monaco DC's Mama Knows Best Package
The best way to appreciate your mom this Mother's Day? Hotel Monaco DC's Mama Knows Best package. This package includes overnight accommodations, prix fixe brunch menu for you and mom at Dirty Habit (two guests), and a bottle of Dirty Habit bubbly delivered to your guestrooms. Available for stays between May 1st & May 31st, 2021, weekends only (Friday & Saturday night stays). Additional brunch guests +$75 per person. 700 F Street NW; 202.628.7177; monaco-dc.com

Mother's Day Ice Cream Cookie Bouquet Class
Ice Cream Jubilee launches Make-Your-Own Cookie Bouquet ice cream gift kits with an optional class led by Ice Cream Jubilee founder Victoria Lai for Mother's Day. Small ice cream cookie bouquet kit ($32) includes one pint of Sweet Cream & Honey ice cream, cookie decorating supplies for ten to twelve cookies, and live class access. Pick-up April 24th or 27th from Ice Cream Jubilee's Navy Yard, T Street, or Ballston locations. The large ice cream cookie bouquet kit ($95) includes three ice cream pints and supplies for fourteen to sixteen cookies, overnight shipping within the USA, insulated cooler, and dry ice. Order by April 19th for delivery by April 21st, in time for you to bake your cookies ahead of time. Procrastinators can order on April 25th for delivery on April 29th. Each kit comes with sugar cookie dough, colored melting chocolates for decoration, a flower cookie cutter, skewer stems, and rainbow sprinkles. The live class will be held on April 29th at 6:00 p.m. EST. icecreamjubilee.com

Mother's Day For A Good Cause With Immigrant Food
Immigrant Food is partnering with their NGO partner, Asylum Works, to provide reusable cookie tins of alfajores delicious sandwich cookies popular in South America (and filled with dulce de leche and rolled in coconut flakes) as part of the NGO's Mother's Day Gift of Goodness. You can choose to send these goodies to a wonderful mother in your life or to an asylum seeking mother and caregivers in DC. Proceeds will go towards trauma-informed social services, employment assistance, and community support to help asylum seekers in DC ($100). Immigrant Food is also adding a Mother's Day special to its brand new brunch menu on the weekend of May 8th and 9th. The Empowered Croque Madame celebrates the modern Mom by reminding us of the strengths of today's women. Head of Kitchen, Mile Montezuma, gives the Croque Madame sandwich a 2021 makeover by adding pastrami and mushrooms to the traditional Swiss cheese, bechamel, and egg sandwich. Served with Belgian fried with a delicious aioli sauce. 1701 Pennsylvania Avenue NW; immigrantfood.com

Mimosas With Tasting Menus For Mother's Day At Jaleo
This Mother's Day, Jaleo is offering half-priced mimosas or sangria, featuring a selection of fruits from the nearby Penn Quarter Farmer's Market, when ordering a brunch tasting menu. Two options are available including the classic brunch tasting ($45) and a special holiday menu ($55). An a la carte menu will also be available with highlights including Tostada de Salmon con queso de cabra, and Benedicto Ibérico. 480 7th Street NW; exploretock.com/jaleodc

Jont Mother's Day
For the ultimate Mother's Day celebration, check out chef Ryan Ratino's two Michelin starred chef's counter and treat mom to a luxurious fourteen-course meal priced at $295 per person (exclusive of tax and gratuity). The restaurant will open for reservations from 12:00 to 7:00 p.m. on Sunday, May 9th. Reservations can be made via Tock. 1904 14th Street NW; jontdc.com

Mother's Day Puerto Rican Pastry Box From La Famosa
All-day Puerto Rican café La Famosa will offer a special pastry box containing popular breakfast treats and traditional Puerto Rican cookies over Mother's Day weekend. Each box will include 3 Quesitos (flaky pastries stuffed with a sweet cheese filling), 2 Pastelillo de Guayaba(guava filled flaky pastries), 3 Mantecaditos (Puerto Rican shortbread-style cookies) and 2 Besitos de Coco (coconut macaroons). The pastry boxes are $20 and bags of Ceremony Coffee's Mass Appeal whole coffee beans can be added on to each order for an additional $10. Pastry box pre-orders are live and will be available for pick-up from May 7ththrough May 9th. 1300 4th Street SE; exploretock.com/lafamosa

Mother's Day Three-Course Prix Fixe Menu By La Vie
You can celebrate mom with a three-course, prix fixe menu prepared by Chef Juan Rivera. Standout items include yogurt cucumber soup, rock shrimp tartine, whole roasted cornish hen, black truffle mac & cheese, French raspberry tartlet, and more. 88 District Square SW, 4.6th Floor; lavie-dc.com

Lebanese Taverna Mother's Day Bottomless Mezza Brunch
Lebanese Taverna Mother's Day Bottomless Mezza Brunch will be available at all locations for $39, including an unlimited selection of the dining institution's most popular dishes, like fattoush, kibbeh, fatayer, shawarma, and pulled lamb. A carryout Mother's Day mezza feast will also be available for celebrations at home. The package serves four for $99, and includes entrees like salmon harra and mixed grill kabobs along with mezza from the dine-in Mother's Day menu. The package can be scaled up for $20 per additional person. lebanesetaverna.com

Mother's Day at LINCOLN
Mother's Day at LINCOLN features a three course menu with lobster being one of the favorites. Some featured items include Maine lobster bisque, grilled ribeye, eggs butter poached lobster tail benedict, and more. There will also be a Chef's unlimited omelette station and endless sides of hand cut potato hash, applewood smoked bacon, maple chicken sausage and biscuits and jam. The LINCOLN spread is priced at $50 for adults and $24 for kids 12 and under. This course will be available from 10:30 p.m. to 4:00 p.m. on May 9th. 1110 Vermont Avenue, NW; lincolnrestaurant-dc.com

The Majestic For Mom
The iconic Old Town bistro-style concept has takeout as well as dine-in options available for Mother's Day. All-day dine in specials include braised prime short rib ($34) and pan seared salmon ($29). Takeout for two ($79) or four ($139) is also available, with menu items like the local tomato salad, braised prime short rib, Majestic Parker house rolls, grilled asparagus, Angel food cake, and more. 911 King Street, Alexandria VA; toasttab.com/the-majestic-to-go

Mother's Day Specials At The Mandarin Oriental, Washington DC
This year give mom a royal experience with a visit to Mandarin Oriental, Washington DC. Say "thank you" with a relaxing lavender spa treatment or toast to all she does with a special Mother's Day Afternoon Tea. Afternoon tea will feature artful pastries and confections including scones, tea sandwiches, and pastries paired with exotic teas. The Afternoon Tea is $74 per person and is available May 9 at 1:30 p.m. and 3:30 p.m. The Mother's Day Spa Treatment is designed to place mom in a deep state of relaxation. To help her unwind the massage includes an herbal infused heat pack, scalp massage, lavender infused cocktail, and a lavender filled sachet gift, perfect for enhancing one's bedtime ritual. The 1 hour and 20-minute treatment is priced at $245 (Monday – Thursday) and $265 (Friday – Sunday). 1330 Maryland Avenue SW; Menu 1; mandarinoriental.com/spa

Masseria & Mom
Let Masseria spoil and surprise the special women you call Mom this Mother's Day through an exclusive tasting menu designed to delight her. For those looking to celebrate in the comfort of their own home, Chef Nicholas Stefanelli has prepared a special Masseria A Casa Menu for two with an optional wine pairing hand selected by Masseria's Sommelier. Reservations for the dine-in tasting menu available between 12:00 and 7:00 p.m., at $110 per person. Masseria A Casa pickup for two $75 per person. Reservations for Masseria & Masseria A Casa are available online. 1340 4th Street NE; exploretock.com/masseria

Mother's Day Options At Mia's Italian Kitchen
The Old Town Italian favorite has takeout and dine-in options for Mother's Day. All day specials include pan seared Chilean sea bass ($31) and shrimp pesto ($24). Take & Bake! meals are available for pre-order (two people $69; four people $99; *served cold with baking instructions provided) including menu items like the Sunday salad, al formaggio, prime short rib, Ladyfingers, and more. 100 King Street, Alexandria VA; toasttab.com/mias-italian-kitchen

Mother's Day With Modena
Modena will be offering a selection of prix fixe menus available for in-house and carryout dining on Mother's Day. Both creative menus offer Italian fare created by Executive Chef John Melfi. Enjoy menu items like grilled calamari with Italian sausage, tortellini in brodo, jumbo lump crab omelette, sheep's milk ricotta ravioli, tiramisu with ladyfingers, dark chocolate mousse, and much more. Families who dine at the restaurant will enjoy a four-course, prix fixe menu priced at $75 per person (excluding tax and gratuity). Those who wish to dine at home will have a choice of a three-course, prix fixe menu priced at $55 per person or a four-course, prix fixe menu priced at $75 per person (tax and gratuity not included). Modena's Mother's Day menu will be available for in-house dining, carryout, and delivery, from 11:30 a.m. to 8:00 p.m. on Sunday, May 9th. A limited number of carryout orders will also be available and require twenty-four hour advanced notice. Delivery options are priced ala carte and may not include all menu options for carry-out or dine-in from the restaurant. 1100 New York Avenue NW; 202.216.9550; modenadc.com

Mother's Day With Money Muscle BBQ
For a taste of southern hospitality this Mother's Day, place an order with Money Muscle BBQ. The Silver Spring based food truck will offer an extensive barbeque meal for two featuring the truck's best-selling Texas-style brisket, Carolina pulled pork, smoked BBQ chicken, plus sides, dipping sauces, and dessert. The $70 meal is available for pre-order until Wednesday, May 5th and all orders must be picked up on Saturday, May 8th before 5:00 p.m. Limited local delivery will be available for an additional fee. 301.646.7006; moneymusclebbq.com

Napoli Pasta Bar For Mom
Enjoy Napoli Pasta Bar's curated four-course Mother's Day menu for pick up, delivery, and dine in at Napoli Salumeria in Arlington. The pre-fixe menu includes arugula and fennel salad, ravioli with burrata, your choice of a rack of lamb or branzino, and for dessert, a pint of gelato or sorbet. This special menu feeds two and is $98. For an additional $28.99, add two bottles of wine (one sparkling and one rose). This special is also available for four or six people. 1301 South Joyce Street, Arlington, VA; napolisalumeria.com

Nara Ya's Mother's Day Five-Course Prix Fixe Menu and Brunch
The newly opened Nara Ya is offering a special Mother's Day five-course prix fixe menu priced at $95 per person (exclusive of tax and gratuity) with original Japanese dishes and complementary toast of champagne. You can anticipate a collection of dishes such as Maui tuna stack, miso brown butter lobster tail, green tea matcha-misu, and more. In addition, a Mother's Day brunch will also be available with an array of Japanese classic and original dishes like omurice crepe, taiyaki pancake with matcha whipped cream, and more. Brunch is priced at $55 per person (exclusive of tax and gratuity). 88 District Square SW, Floor 3.1; nara-ya.com

One Of A Kind Mother's Day Gifts And Specials By Neighborhood Provisions
Neighborhood Provisions is offering one of a kind Mother's Day

Bouquet of Rosé

($90). They have bundled some of their finest rosé wines that will delight Mom. Each "bouquet" includes six of their favorite rosés tied with a bow and presented as a superior floral gift. You can surprise Mom by getting a

Custom Mother's Day Cocktail

($45). Bittersweet, tropical, boozy, no matter what Mom's preferences are, the spirits director is here to whip up something special for the occasion. Add on a bouquet of tulips or custom name and inscription to really earn those brownie points. Give your mom the

Mom's A Chef Gift Box

($55). A wonderful gift for any Mom who now qualifies as a bonafide Chef thanks to the pandemic, this box contains three packs of seasoning mix, a bottle of high quality Spartan Olive Oil, Maldon Sea Salt Flakes, and a bottle of locally produced Lindera Farms Cherry Blossom Vinegar. You can also get your mom the

Pandemic Pamper Gift Box #2

($50). Show your appreciation for Mom and everything she does with a makeshift spa night in a box. Each box includes 1 District Made Mud Mask, 1 Witchie Wicks Oak & Sandalwood Candle, 1 Wellness Apothecary Cherry Blossom Sugar Scrub and a Mother's Day card. Celebrate Mom with the

Ultimate Mother's Day Gift Box

($85). This box includes a mini charcuterie board with four different Red Apron selections, a mini cheese board with four cheeses, housemade za'atar crackers, a bottle of Louis de Grenelle "Si Irrésistible" Rosé Brut Sparkling, and a special Mother's Day cocktail. So many other options to celebrate mom on the NRG Provisions website

. Place your orders on May 4th for delivery or pick up on May 6th; place by May 5th for delivery on May 7th; and by May 6th for delivery on May 8th. Multiple locations; nrgprovisions.com

Mother's Day Brunch And Dinner From Nobu
Mother's Day marks Nobu DC's annual tradition of setting out memorable meals – brunch and dinner – sure to please your mom and everyone present to salute the wonderful woman or women who've made a difference in your life. For brunch, enjoy a "mix your own mimosa" set up including one bottle of prosecco and three fresh juices ($40 per set), and the whole family can select from an outstanding menu for just $55 per person. Dinner at Nobu will feature a selection of their freshest and finest dishes for $85 per person. These meal options will be available May 9th. 2525 M Street, NW; noburestaurants.com

Mother's Day Menu From NiHao
For this Mother's Day, NiHao has a fantastic menu in store. Featuring five dim sum items, three entrées, and one dessert to share, NiHao's Mother's Day special is available for one day only on May 9th from 12:00 p.m. to 9:00 p.m. Dine-in reservations will be necessary, and carry-out pre-orders are highly recommended, both through Tock or by phone (443) 835-2036. 2322 Boston Street, Baltimore MD; exploretock.com/nihao

Officina Mother's Day
Make it a memorable Mother's Day and join Officina at The Wharf to celebrate Mom. Enjoy an afternoon overlooking the waterfront with a three-course family style spread featuring a few favorite dishes from Officina's new spring menu. Limited reservations are available online for seatings inside the dining room or outside on the terrace. Reservations for parties up to six people. $15 deposit per person. 1120 Maine Avenue SW; exploretock.com/officinadc

Mother's Day Brunch Est Magnifique At Opaline Bar & Brasserie
Enjoy Mother's Day Brunch in French Style at Opaline Bar & Brasserie on Sunday, May 9th. Executive Chef Kevin Lalli and his team are preparing a magnifique a la carte menu for all mothers to enjoy with their friends and families on her special day. Enjoy menu items like eggs benedict ($16), crab cake benedict ($24), pork belly skillet ($18), smoked salmon avocado toast ($19), and much more. 11:00 a.m. to 3:00 p.m. 806 15th Street, NW; 202.730.8701; opalinedc.com

Ottoman Taverna Mother's Day Specials
Looking for bottomless food and mimosas to spoil Mom on Mother's Day? Ottoman Taverna offers bottomless food and beverages for $39.50. Enjoy Turkish delights such as, hummus, potato cakes, lamb chops, and more. Brunch is available from 11:00 a.m. to 2:45 p.m. and dinner is available from 3:00 p.m. to 8:30 p.m. 425 I Street NW (between 4th and K Streets); ottomantaverna.com

Feast on Tacos From Oyamel At Home This Mother's Day
Celebrate taco loving moms at home with a feast from José Andrés' Oyamel. The Sunday brunch will feature Mother's Day specials a la carte including breakfast tacos, blood orange peguin margaritas and aguas frescas. The Penn Quarter ode to Mexico City offers feasts to feed four for $85 for pickup or delivery. Complete the treat with cocktail or cervezas including Oyamel's celebrated margaritas. oyamel.com

Palette 22 Mom's Day Specials
The globally inspired menu at this tapas-style restaurant is perfect for Mom's day. In addition to the menu, specials include three dishes available Friday through Sunday from 4:00 p.m. to close. Some stand-outs include tempura oysters ($15), grilled scallops ($18), sticky pork ribs ($15), and more. 4053 Campbell Avenue, Arlington VA; palette22.com

Mother's Day Brunch Special From Pennyroyal Station
Mount Rainier neighborhood gathering place, Pennyroyal Station, is serving a special holiday brunch for Mother's Day. The menu will be available on May 9th from 10:30 a.m. to 3:30 p.m. for indoor dining as well as outdoor seating on Pennyroyal's sunny, mural-adorned patio. 3310 Rhode Island Avenue, Mount Rainier, MD; pennyroyalstation.com

Mother's Day At Pisco y Nazca D.C.
Treat mom to indulge in authentic Peruvian cuisine by bringing her to Pisco Y Nazca D.C. This year for Mother's Day, Pisco y Nazca will be open for brunch (starting at 10:00 a.m.), lunch, and dinner and will be serving customer favorites such as aji amarillo ceviche, papas a la huancaína, and lomo saltado. Mom's who decide to dine at Pisco y Nazca on their special day will receive special alfajores and a $20 gift card to be used on their next visit. 1823 L Street NW; piscoynazca.com
Mother's Day Plants and Pizzas
Love your mom with a delicious and delightful gift package from Pizzeria Paradiso and Grounded Plants. The Mother's Day package includes your Mom's favorite pizza and salad (or $25 Pizzeria Paradiso gift certificate) and a choice of houseplant from Grounded Plants. Pick up your Mother's Day gift pack at Pizzeria Paradiso Spring Valley or Hyattsville on May 8th or 9th and surprise Mom with a gift of nature and nourishment. Spring Valley: 4850 Massachusetts Avenue NW; 4800 Rhode Island Avenue, Hyattsville, MD; giftrocker.com

Prix Fixe Mother's Day Menu At Rasika Sister Restaurants
Rasika West End will exclusively offer a three-course, prix fixe menu this Mother's Day. Prepared by Group Executive Chef Vikram Sunderam, guests will enjoy flavorful Indian dishes such as scallop chili garlic, parsi lamb patties, homestyle chicken curry, lamb do pyaza, and much more. Rasika West End's Mother's Day brunch will be served from 11:00 a.m. to 2:30 p.m. on Sunday, May 9th and is priced at $55 per person. At sister four-star restaurant, Rasika Penn Quarter, Moms can enjoy Group Executive Chef Vikram Sunderam's three-course, prix fixe menu, with standout dishes including chicken wings bezule, halibut goan curry saag gosht with lamb, and much more. For a sweet ending at both restaurants, Moms can enjoy a dessert sampler featuring masala chai cheesecake, strawberry rasmalai, and saffron bread butter pudding. Priced at $55 per person, available exclusively from 11:00 a.m. to 2:30 p.m. on Sunday, May 9th. Both restaurant's regular a la carte menu will be available for dinner service from 4:00 to 9:30 p.m. Valet parking is available for $10.1190 New Hampshire Avenue NW; 202.466.2500; rasikarestaurant.com/westend; 633 D Street NW; 202.637.1222; rasikarestaurant.com/pennquarter

Mother's Day Tea And Lunch At The Ritz-Carlton, Pentagon City
Celebrate mom (and you) with a special elevated afternoon tea experience. Enjoy views of D.C. from the 18th floor of The Ritz-Carlton, Pentagon City while you indulge in a glass of G.H. Mumm Champagne and exquisite spring sweets and savories. Let your cares melt away with every bite of warm scones and delight in each sip of luxury loose-leaf teas. Children can enjoy a special Panda Bear Tea with D.C.'s favorite bear to take home. $79 per adult, Panda Bear Tea $35 per child (twelve & under). Prices exclude tax & gratuity, and there is a two hour limit. First seating 12:00 to 12:30 p.m., second seating 2:30 to 3:00 p.m., both Saturday & Sunday. You can also toast to Mom with a family-style lunch at the Ritz-Carlton, including an array of selections to please every palate. Enjoy a carving station with surf & turf favorites, seasonal spring sides for the table, and decadent desserts to end on a sweet note. Seating from 11:00 a.m. to 3:00 p.m. $99 per person, $49 for children ages twelve and under. Price not inclusive of tax and gratuity. 1250 South Hayes Street, Arlington, VA; ritzcarlton.com

Mother's Day Brunch With Rose's At Home
Celebrate the Mom in your life with brunch from Rose's at Home. This brunch serves two but you can add more items as you please. Some featured items include crème fraiche and poppy seed muffins, smoked salmon salad, a New York style cheesecake with mixed berries, and more. The meal for two is $150. You can pick-up your meal or have it delivered on May 7th or May 8th at 3:30 p.m. Pick-up is also available on May 9th from 8:30 a.m. to 10:00 a.m. 715 8th Street SE; exploretock.com/rosesathome

Mother's Day At RPM Italian
Celebrate Mother's Day at RPM Italian or at home with RPM Italian. The restaurant is offering a special Mother's Day feast for four available for carryout and delivery, all cooked and ready to enjoy. The menu includes Giuliana's Italian salad, parmesan crusted chicken piccata, spicy Broccoliniand tiramisu, and more. The Mother's Day Dinner package is $175, plus tax and is available for prepaid pickup or delivery. The deadline to order is May 7th. You can also make a reservation to dine-in from 12:00 p.m. to 8:00 p.m. on May 9th. 650 K Street NW; exploretock.com/rpmitalian-dc

Sababa's Mother's Day Brunch And Dinner Specials
SABABA is offering their seasonal a la carte brunch and dinner menus for Mother's Day. You can look forward to menu specials showcasing "modern Israeli" cuisine such as strawberry almond muhammara, candied salmon omelette, green tomato shakshuka, spiced lamb loin, and more. SABABA's Mother's Day specials will be available in addition to the a la carte menu exclusively on Sunday, May 9 for in-house dining, carryout, and delivery. Brunch will be served from 11:00 a.m. to 4:00 p.m. and dinner will be served from 5:00 p.m. to 9:00 p.m. 202. 244.6750 3311. Connecticut Avenue, NW; sababauptown.com

Mother's Day Plans With Shilling Canning Company
Join Shilling Canning Company for a large format-style multi-course dining experience for the whole family & explore special gift sets for Mother's Day from The Wine Shop, curated by Shilling Canning Company co-owner, mother, & director of business development, Sara Quinteros-Shilling. From flowers & wine (choose mom's favorite) to a book & bottle of bubbles. If dining in, include a note in your reservation and they'll have the gift set ready for you after your service. All orders will be accompanied by house-baked shortbread cookies. Advance ordering required. Prepaid pick-up on Saturday, May 8th between 2:00 and 5:00 p.m. and Sunday, May 9th between 11:00 a.m. and 2:00 p.m. Dining in? Begin with dishes like the catfish toast or ham & cheese quiche prepared for the table. For the main course, wood roasted chateaubriand and Maryland crab imperial are served family-style for the whole table. For dessert, individual strawberry shortcakes and an assortment of petits fours. $65 per person, seatings begin at 11:00 a.m. Reservations via Resy. 360 Water Street SE; exploretock.com/shillingcanning

Mother's Day With A Swiss Twist
Stable is putting a Swiss twist on Mother's Day brunch at home, offering a brunch package ($85) that has all you need for a celebratory meal. The Mother's Day brunch package boasts plenty of scratch-made breads and pastries from Chef David Fritsche including two buttery croissants, a loaf of traditional Swiss Wurzel bread, Tếte de Moine cheese spun into the shape of flowers and served with pear bread, and two Berliners, Swiss-style doughnuts filled with jam or mousse. The package also comes with house-smoked salmon served with traditional condiments, chicken liver pâté with rhubarb chutney, a bottle of sparkling wine and orange juice for making mimosas at home, and an eight-piece box of truffles from Swiss chocolatier, Läderach, which took up residence in Union Station earlier this year. On May 9th, Stable's in-person brunch offerings will include cocktail and dessert specials for celebrating the holiday. In-person brunch on Mother's Day is available in the private, indoor chalets and H Street parklet from 10:00 a.m. to 2:00 p.m. 1324 H Street NE; 202.733.4604; stabledc.com

Special Mother's Day With Susan Gage Caterers
Mother's Day is very special to Susan Gage Caterers, as the mother-son team began with mom, Susan Gage, who started the business over 30 years ago. Continue to keep safe, and let SGC handle the home-cooked meal. Indulge in delicious items like the spring garden salad (serves four, $45), rosemary grilled beef tenderloin (serves eight, $225), shortcake kit (serves four, $35), and more. Cocktails, wine, and floral designs are also available to add on the checklist to make Mom swoon on her special day. All orders must be acknowledged by May 4th at 12:00 p.m. for delivery on May 7th, & by May 5th at 12:00 p.m. for delivery on May 8th. Minimum $200 food order. 301.839.6900;

[email protected]



Mother's Day Brunch At Teddy & The Bully Bar
Teddy & The Bully Bar is offering an extensive brunch menu on Mother's Day. Start with Teddy sticky buns, Maryland crab roll, and more along with a 4-course brunch which also includes an endless waffle and omelette station. Adults are priced at $58 per person and kids 12 and under are $24 each. Enjoy this brunch from 10:30 a.m. until 4:00 p.m. on May 9th. 1200 19th Street NW; teddyandthebullybar.com

A La Carte Options For Mom At Theismann's Restaurant and Bar
The neighborhood restaurant is offering their a la carte menu and specials available for Mother's Day. Menu items include steamed pei mussels ($19), grilled bone-in pork chop ($29), and more. 1800A Diagonal Road, Alexandria VA; theismanns.com

The Tide's Inn Mother's Day Specials
Reaching out to see what your Mother's Day content looks like? The Tides Inn, is hosting a handful of fun events for mom to enjoy this year. Mother's Day programming includes: sip springtime spirits where you enjoy a new floral-inspired cocktails as mom lounges on the new resort beach, part of the Tides Inn waterfront restoration project; restorative creekside yoga where you awaken and center yourself for the day during a peaceful waterfront yoga session ($45 per person); oyster bangle jewelry making where you will join the Northern Neck's leading oyster jewelry artist as they guide you through the design process to create your own beautiful piece of original oyster jewelry to take home ($99 per person); a Mother's Day brunch; a Mother's Day spa package; Mother's Day wine tasting; and Mercy Creek live music to help you wrap up the evening from 5:30-8:30 p.m. 480 King Carter Drive, Irvington, VA; cdn.enchantmentnetwork.com

Mother's Day Menu Offerings From Trummer's on Main
Trummer's is offering special Mother's Day dine-in and take-out menus on Sunday, May 9th. The dine-in menu at the restaurant on Mother's Day will feature chilled strawberry gazpacho, delta queen asparagus salad, tempura soft shell crab, autumn olive pork loin, Basque style cheesecake, and more. The three-course meal will be offered in the dining room and on the patio from 11:00 a.m. to 5:00 p.m., and is priced at $68 per person, $25 per child. If you are looking to celebrate Mom at home, Trummer's will offer a condensed version of their dine-in menu for take-out. The three-course menu is priced at $120 for two people or $240 for four people and all orders must be placed by Wednesday, May 5th for pick-up at the restaurant between 2:00 p.m. and 4:00 p.m. on May 8th. 7134 Main Street, Clifton VA; opentable.com

TTT Mom's Day Lunch & Dinner (Dine In or To Go)
Both TTT locations are offering their signature a la carte Mexican-inspired street food menu for lunch and dinner this Mother's Day. Families can opt for one of the restaurant's signature starters, mains, fiesta platters, sandwiches, enchiladas, sides, and dessert. TTT Silver Spring's Mother's Day menu will be served from 11:00 a.m. to 9:00 p.m., and TTT Clarendon's Mother's Day hours are from 10:00 a.m. to 3:00 p.m. and 4:00 to 10:00 p.m. Additionally, both locations will each be offering a large, value-driven, family-style Mother's Day takeout menus showcasing Mexican-inspired street food, served in a catering format for families looking to celebrate at home. The to-go menu is fully customizable and derived from its next-level Mexican-inspired street fare. The Mother's Day Takeout menu is priced at $60 per couple and allows guests to enjoy one pound of protein from the pre-selected list followed by four 8oz sides, dessert, two to-go cocktails (choice of margarita or sangria, serves two), or a pre-selected bottle of wine, with a choice of eight organic corn tortillas or pita bread so guests can create their own tacos at home. Clarendon: 2900 Wilson Boulevard, 22201; Silver Spring: 8407 Ramsey Avenue, 20910; tttrestaurant.com

Vola's Dockside Grill Mother's Day Specials
The waterside eatery will be offering their a la carte menu, as well two Mother's day specials this Mother's Day. Specials include Maine lobster quiche ($18) with cheddar cheese, herbs, and mixed green salad; and pan seared scallops ($29) with creole sauce, toasted pearl pasta, cherry tomatoes, broccolini, corn, and bacon. 101 N. Union Street, Alexandria VA; volasdockside.com

Mother's Day Flowers Pre-Order From Wildflower Hill
Mother's Day just got a whole lot easier. Don't wait 'til the last minute, pre-order today and support a small business. Send a beautiful, luxury arrangement to your mom, yourself, or that special someone or fur mama in your life. For the first time ever, this Mother's Day Wildflower Hill will be offering 3 different designs/styles. Mother's Day pre-order cutoff is April 30th. Delivery will be from May 7th and May 8th. alwayscreatingstudio.com/flower-shop

Xiquet DL Mother's Day Takeout or Dine-in
This year, leave the cooking to international award-winning chef, Danny Lledo of Xiquet DL, and enjoy a curated four-course tasting menu at home in honor of Mother's Day ($80 per person). The Mother's Day special will include a range of Valencian specialties cooked over Chef Lledo's famous open wood fire kitchen. If you choose to dine-in, Chef Danny Lledo has also created a special five-course Mother's Day tasting menu available for in-person dining ($150 per person). Watch Chef Lledo prepare your meal over his open wood fire. Dine-in reservations also have the option to add a wine pairing. Each Mother's Day guest will be greeted with a complimentary glass of cava to start the celebration. 2404 Wisconsin Avenue NW; 202.913.4671; xiquetdl.com

Mother's Day Brunch At Zaytinya
Zaytinya's offering a three-course Mother's Day brunch for Mom. Highlights include spring pea tzatziki, Garides me Anitho, a dish of sautéed shrimp, dill shallots, mustard and lemon juice, and lamb shoulder horta, a roasted lamb shoulder with lemony potatoes and greens topped with a poached egg. $39 per person. 701 9th Street NW; exploretock.com/zaytinya