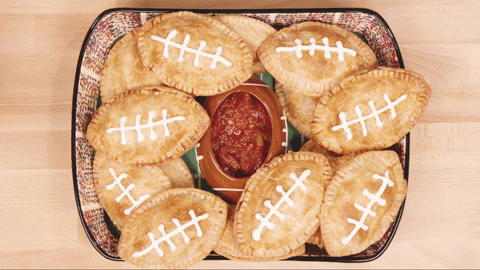 Are You Ready for Some Football? We Are!
According to Webster, tailgating is

a social gathering in which food and drinks are served at or near the back end of a parked vehicle

that occurs in a parking lot before a football game (or concert). Or you could pretend, and "tailgate" anywhere you want:





Your Who Dat Fridge with Bayou Bakery


Stock up on all things New Orleans made by a New Orleanian to bring on the win - Tru Dat! Chicken & smoked sausage gumbo, cheesy mac, muff-a-lotta, shrimp jambalaya, bayou taters, not your mom's deviled eggs, blackened turkey meatballs, pralines and more. Pre-game it with Abita Beer, frozen Daiquiris, cans of White Claw, custom cocktails, and wine to go. Doors close at 4:00 p.m. on Sundays, so call ahead and pre-order for easy game day pick up. 1515 N Courthouse Road, Arlington, VA; bayoubakeryva.com
E-a-g-l-e-s at Boundary Stone
The Philadelphia Eagles return to the big screen in Boundary Stone's newly redecorated pub. The Sunday menu will include $13 Cheesesteaks on Sarcone's rolls and beer specials for each Philadelphia Eagles game. 116 Rhode Island Avenue NW; boundarystonedc.com

Game Day Drinks from NRG Provisions
Football is back, baby! Neighborhood Provision's got a winning selection of snacks, meats, and those crucial drinks to help you tailgate in style – whether in the parking lot or the comfort of your own home. Take a peek at what they're sipping on game day, like 25 oz bloody marys & margaritas, the tailgating party bucket (including beer, wine, and bottled cocktails), Elijah Craig 12 Year bourbon, and more. Take your pick here.
A Slice of Joy at Nick's Riverside Grill
Lions fan or not, your new favorite dish is sizzling hot and ready for any upcoming football game nights from Nick's - their infamous Detroit-style pizza. The thick-crust pies are baked to perfection in blue-steel pans and served in four delectable flavors including margherita, classic pepperoni, a unique take on shrimp scampi, and pork & fennel sausage drizzled with parmesan and provolone cheese. 3050 K Street NW; nicksriversidegrill.com

NEW: Sloppy Mama's Winning Tailgate Package
Order the perfect BBQ package for the football season. Each package includes one dozen chicken wings, an order of pig wings, two orders of hushpuppies, one rack of ribs, two sausage links, and two medium side orders. The package feeds four to six people. 5731 Lee Hwy, Arlington, VA;
To order, click here.

Tailgate Party Package from Summer House Santa Monica
Grab this party pack and be the MVP of your game day crew. The package feeds four people and includes your choice of two pizzas, four meatballs, and a Caesar salad. Get it Mondays, Thursdays and Sundays through January 9th for $49.95, plus tax (gratuity not included). Orders must be placed by 4:00 p.m. two days prior to your pick-up date. Available for carryout only. Preorder on Tock, or call 301.881.2381 for more information. 11825 Grand Park Avenue, Bethesda, MD; leye.com

Football Sundays at WHINO
Cheer on your favorite NFL team every Sunday from noon to 10:00 p.m. with game day specials. Savor executive chef Natas' twist on tailgate favorites that combine American and international flavors. For the perfect pairing, a selection of seasonal craft cocktails, 30-ounce shareable libations, as well as draft & canned beer and hard seltzer drinks will also be available for toasting first downs. Menu offerings include cheesy polenta temper tots, nachos, popcorn shrimp, grilled wings, and salads, as well as sticky ribs, porchetta sandwich, and skate wing po' boy. An assortment of sides will also be available, such as biscuits & hot honey and "boardwalk" fries. Don't miss the new fall cocktails, perfect for the cooling weather, as well as the 30-ounce shareable cocktails, including the Margartia, Whino Punch, and smoked Old Fashioned. Watch the game as you sip at the 51-foot craft cocktail bar, featuring 55-inch falt screen TVs. 4238 Wilson Boulevard, Arlington, VA; whinova.com