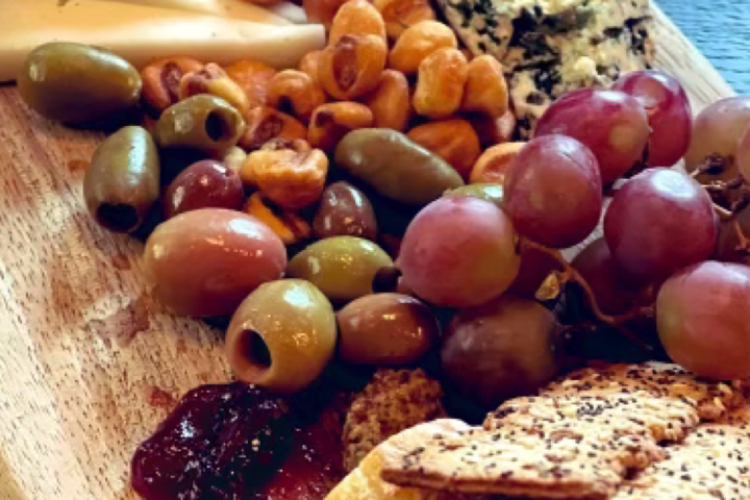 Feed When It's Cold
There is a buzz in the air and that's not the bumble bees reemerging, it's us! People are out and about. City streets are filling up and people are making their way back into the office. There's a vibration and restaurants are so ready. New dishes and spring menus are coming out and with that, innovative and delicious ways to serve you. A firm reminder to still be kind. Staff shortages and supply issues still plague our beloved restaurant industry. Patience isn't just a virtue - it's a necessity:
Boundry Stone
Boundry Stone is showing its Philly roots with the return of its popular Cheesesteak, available only during NFL games and remaining Phillies games. Chef David Bacot sources the bread from Grazie Grazie, while every other element of the hoagie remains traditional to what you'd find in Philly - including housemade cheese wiz, slowly-caramelized onions, and a hollowed-out roll. 116 Rhode Island Avenue NW; boundarystonedc.com

Davio's
Davio's Northern Italian Steakhouse has landed in the DC area with its Reston location. Davio's serves seasonally inspired Northern Italian cuisine featuring handmade pasta like the Tagliatelle Bolognese, fresh seafood, and salads as well as prime steaks. 1902 Reston Metro Plaza; 888.955.4810; davios.com

Dolcezza
Dolcezza has rolled out Thanksgiving flavors that are their takes on nostalgic holiday favorites spun into gelato. Dolcezza's Thanksgiving flavors will be offered until December 1st by the scoop and pint. Flavors include spice cake batter (spice cake batter gelato with tangy cream cheese icing swirls covered in ginger snaps), maple syrup and cinnamon walnut pesto (maple syrup gelato made with Maryland-sourced maple syrup rolled in a cinnamon-spiced maple walnut crumble), and more. 1704 Connecticut Avenue NW; 202.299.9116; dolcezzagelato.com
Ellington Park Bistro
Ellington Park Bistro, the new dining destination within The St. Gregory Hotel, has just opened. Inspired by European neighborhood bistros, Chef Frank Morales creates a menu that dives into French classics like scallop crudo, french onion soup, beef tartare, and more. 2033 M Street NW; 202.530.3600; ellingtonparkbistro.com

Food & Friends' (Charity)
A proud Washington D.C. tradition continues this Thanksgiving, as Food & Friends' staff and volunteers prepare and deliver 4,030 complete holiday meals to adults and children in the Washington D.C. region facing HIV/AIDS, cancer, and other life-challenging illnesses. Food & Friends depends on the support of the entire community to make Thanksgiving a reality for its clients and will deliver 1.65 million medically tailored meals this coming year. To get involved in efforts and join the movement to bring food that heals neighbors in need visit here.
Magpie and The Tiger (Pop-Up)
Magpie and the Tiger, a Korean-American concept by husband and wife Chef team Caleb Jang and Roren Choi, have collaborated with Please Bring Chips to create their Gachi Gachi dinner series. The ticketed experience includes a set menu that consists of four courses, including 3 banchans, small plate, an entree, and dessert. The menu features a compilation of dishes such as seasonal kabocha squash and kale banchan, tteokgalbi (a Joseon dynasty royal beef dish), and hodugwaja (a famed walnut pastry from the streets of Korea). Tickets are available for purchase here.
NEW: RASA
RASA is celebrating its birthday this December (6th) with $5 bowls from their "We Got You" chef-inspired menu - available at the original location in-person or online, pickup or delivery available (code: 5YEARSOFRASA). They also are offering a 5th birthday limited edition bag designed by local South Asian and Muslim artist Senna Ahmed with 20% of proceeds will be donated to DC Central Kitchen. 1247 First Street SE; 202.804.5678; rasa.co

Shilling Canning Company
In a celebration of all things fall, the pastry team at Shilling Canning Company has created pastries for the season. Indulge in a Harvest Crème Brûlée (with Path Valley red kuri squash, pumpkin spiced cream cheese, and bourbon-packed Neptune raisins), apple tatin, and a Chocolate Bombe. 360 Water Street SE; 202.554.7474; shillingcanning.com

St. James
St. James is now offering a new Sunday menu on Sundays from 3-9 PM. This exclusive menu features floats (Fried bread served with a trio of toppings: smoked herring, pimento cheese, and pumpkin choka), Dhalpuri Rotis (Trinidadian flatbreads made from split peas and filled with curried potatoes and the choice of beef, goat, pumpkin or curried long bean), Fried Snapper, and more. 2017 14th Street NW; 202.627.2981; stjames-dc.com

Taco Bamba
This November, Taco Bamba is celebrating teachers by giving teachers a complimentary spicy 'shroom taco every Wednesday this month at all locations with a valid school ID. Taco Bamba is also featuring a special called The Montalban Mondays meal. The meal includes three Del Maguay mezcals and a mixed grill meal of stacked warm tortillas, carne asada, chorizo, mushrooms, grilled onion, jalapeño, cotija cheese, arbol peanut salsa and chipotle charred eggplant salsa. Montalbán Mondays is currently available in Taco Bamba Ballston, and will be expanding to other locations later this fall. 4000 Wilson Boulevard Suite C; 571.777.1477; tacobamba.com

NEW: Trummer's
Trummer's is now serving all-day lunch with new menu items for you to enjoy. The new lunch menu includes a lineup of shareable plates, salads, sandwiches, and heartier entrée options such as crispy skin rockfish (with sauerkraut & fennel slaw) and pork schnitzel (with dill potato salad and lingonberry). 7134 Main Street, Clifton, VA; 703.266.1623; trummersrestaurant.com