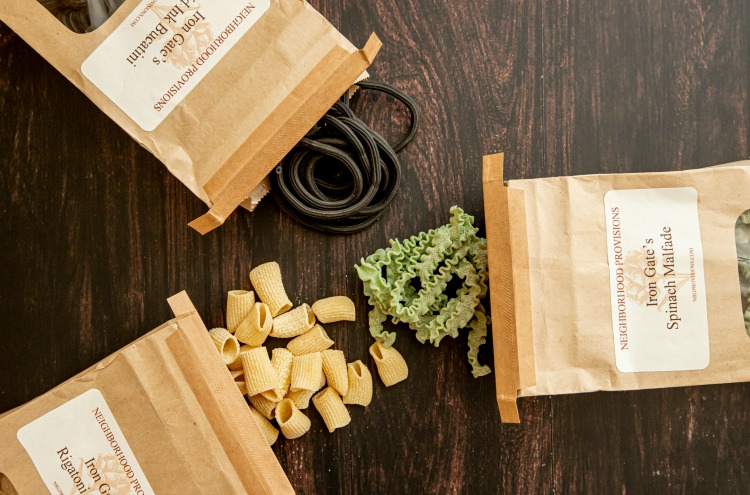 Delicious Dishes You Don't Want to Miss
As we "settle" in to these shelter in place times, area restaurants are upping the delivery and to go offerings.
Bobby Vans
Bobby Van's is offering take-out for your weekend feasts, Wednesday through Saturday, May 20th through 23rd. Menu items include appetizers such as buffalo wings and calamari, along with steaks (both cooked and raw for you to cook at home), pasta, and sea bass. Wine specials and cocktails to-go are also available. 809 15th Street NW; bobbyvans.com

Bresca
Bresca launches "steakhouse classics", a limited time promo additional to its #Beehome takeout dinner menu. The package includes a 32 oz prime 45 day dry age ribeye, triple seared over charcoal, with sides including brioche, shrimp cocktail, wedge salad, and more (serves 2-3, $195). 1906 14th Street NW; 202.518.7926; brescadc.com

Buzz Bake Shop
Buzz Bakeshop is back at it with a brand-new baking project for your weekend. Pastry Chef Allie Cheppa is packaging up everything you need to make your own oreo cookies. All ingredients are pre-scaled and ready to go, plus, the kit will come with parchment paper, 1 round cookie cutter and 1 disposable piping bag. 2000 Mt Vernon Avenue, Alexandria; 703. 549.5051; neighborhoodrestaurantgroup.com
Colada Shop
Colada Shop is launching a weekly dinner for two specially curated by Chef Mario. Each dinner is priced at $48 and includes appetizer, main course, sides and dessert. Cocktails, beer and wine can also be added for an additional price. The dinners will be available Friday and Saturdays for pick up between 5:00 p.m.- 7:00 p.m. This week's menu includes dishes like gazpacho, pork belly, cafe con leche tiramisu, and more.Want to keep the kids entertained while learning something new? Colada Shop is pleased to announce a new kid-friendly empanada-making kit ($45) perfect for making a delicious meal and creating fun family memories. Each kit includes chicken, beef, cheese, corn, brownie bites, cooking instructions + video, and more. Delivery or pickup is available. 1405 T Street NW; 202.332.8800; coladashop.com
District Doughnut
District Doughnut is rolling out something special to sweeten up your quarantine life: bake-at-home cinnamon rolls. Each package comes with four cinnamon rolls, vanilla bean glaze, and baking instructions by Chef Christine. Available for delivery on our online order forms. 202.333.2594; districtdoughnut.com
Duke's Grocery
Duke's Grocery is now featuring two Ramadan Menus. Enjoy either pan roasted halal lamb or vindaloo halal goat curry as the main dish along with five side dishes for a complete feast. Halal-observant guests can also enjoy the proper burger every day of the year; the premium angus burger patties are Halal-certified from Creekstone Farms. The meals can be picked up April 23- April 26 at the Duke's location in Foggy Bottom. 2000 Pennsylvania Avenue NW; 202.733.3967; dukesgrocery.com
Four Seasons Hotel
Four Seasons Hotel Washington, DC announces a new culinary experience to be enjoyed in the comfort of one's own home. Four Seasons Hotel is offering a daily chef menu for takeout that will benefit Medstar Washington Hospital Center. Chef Giannini's daily menu includes an entree, main course, and dessert ($39). Dishes such as poulet roti (roasted cornish hen), rockfish, eggplant caviar, and more are available on the menu. 2800 Pennsylvania Avenue NW;202.342.0444; fourseasons.com
Geppetto Catering
Geppetto catering is offering new specials including italiano night ($13 per person), Shabbos dinner in a box ($16 per person), and farm to fridge grocery delivery service. Each special can come with a bottle of wine for an additional $10. 4505 Queensbury Road, Riverdale Park; 301.927.8800; geppettocatering.com
Good Stuff Eatery
Good Stuff Eatery has added a DIY pizza making kit ($15) and beer to their menu. The pizza kit includes their secret dough recipe, homemade tomato sauce, fresh grande cheese, and a topping of your choice (extra toppings $1). 329 M Street NW; 202.337.4663; goodstuffeatery.com
Ice Cream Jubilee
Ice Cream Jubilee, known for their carry-out ice cream pints, bake-at-home cookie dough, and sundae packages is reopening their locations at The Yards Park and T Street from Thursday through Sunday for pick-up and home delivery. In support of first responders and healthcare workers, Ice Cream Jubilee has created care package options to show appreciation for those on the front lines. Additionally, for every $100 spent on those items, Ice Cream Jubilee will donate 10 meals to the Capital Area Food Bank. 301 Water Street SE; 202.863.0727; 1407 T Street NW; 202.299.2042 icecreamjubilee.com

Immigrant Food
Immigrant Food and non-profit, Tables Without Borders, have partnered to create a powerful new 'recipe' to help immigrant chefs bring their home gastronomies to market. A portion of each sale will benefit the nonprofit's mission to support refugee and asylum-seeking chefs. The first Tables Without Borders chef to be featured on Immigrant Food's menu is Chef Taraneh Salehi from Iran. The Persian plants & peas bowl, available for delivery in the DMV ($14.95), is a collaboration between Chef Salehi and Immigrant Food's chef Enrique Limardo to create a fusion play on traditional Iranian recipes. 1701 Pennsylvania Avenue NW; 202.681.3848; immigrantfood.com
Iron Gate
Iron Gate's Tony Chittum is in the kitchen for this week's Date Night feast. Inspired by his travels to Santorini, Chef Chittum's menu features vegetarian, gluten-free and nut-free options should you so choose. One can indulge in roasted lamb keftedes, cherry tomato pomodoro, chili, feta, orzo pasta, and more. 1734 N Street NW; 202.524.5202; irongaterestaurantdc.com
Ivy City Smokehouse
With the Wharf closed, the DC area needs to be able to get their seafood from other markets. Ivy City Seafood has crabs available with free delivery, as well as contactless pickup. They are open daily from 12:00 to 8:00 p.m. Call or visit their website to order. 1356 Okie Street NE; 202.529.3300; ivycitysmokehouse.com
JL Seafood Group
Hank's Oyster Bar and War Shore Oyster Company have joined forces to deliver the freshest, responsibly sourced domestic seafood alongside chef crafted sauces, allowing you to cook up restaurant quality seafood meals in your home. Choose from four seafoods and three sauces. Order before Sundays at 12:00 p.m. and your food will be delivered by Thursday the same week. 1624 Q Street NW; 202.733.1971; hanksoysterbar.com

Kinship
In this week's In the Spirit of Kinship to-go menu, some highlights include chilled Vichyssoise; grilled asparagus salad with arugula, Roquefort and strawberries; and halibut with orzo, clams, artichokes, and peas. The "Date Night" menu will again feature spring short rib pot au feu. New this week is the "EZ at Home" provisions box. This ingredient driven box with suggested recipes was borne out of necessity. Offerings will change weekly as the marketplace dictates availability of farm-fresh items 1015 7th Street NW; 202.737.7700; kinshipdc.com
La Vie
La vie is offering a Latin fusion pop-up, Comal. The concept kicked off this week and features delicious Latin American small bites and dishes from guacamole and beef empanadas to an array of delicious tacos, chicken alambres and the Cuban iconic Vaca Frita (fried beef, rice and beans). Prices range from $4.00 - $22.00. 88 District Square SW 5th floor; 202.560.5501; laviedc.xyz
Le Diplomate
Le Diplomate will be offering a limited menu of classics and favorites such as the burger americain, and the warm shrimp salad. Le Diplomate will be open from 11:00 a.m.-1:00 p.m. for grab-n-go orders of wine (only available for pick-up), cheese, and pastries at their 14th Street window. 202. 332.3333; 1601 14th Street NW; lediplomatedc.com
Masseria
Chef Nicholas Stefanelli's 40th birthday is Sunday, May 24th, and Masseria is celebrating with a day of giving to the D.C. community. Chef is crafting unique, one-day-only tasting menus—five courses fit for the occasion—with some of his most prized ingredients and pairing them with sparkling wine. In addition, wines from Chef's favorite regions will be available to add to your order. 40% of proceeds go to feeding front line workers and underserved families. 1340 4th Street NE; 202.608.1330; masseria-dc.com
Nicoletta Italian Kitchen
Nicoletta Italian Kitchen is offering BYO Pizza Kits that can be ordered through delivery services ($35) and curbside pick-up ($30). The BYO Pizza Kit will include two Caesar salads, 14 ounces of Nicoletta Italian Kitchen's signature three-day pizza dough, tomato sauce, shredded mozzarella, and basil, as well as instructions on "how to stretch and bake" your pizza. Toppings can be added for an extra cost like: pepperoni, sausage, mushrooms, red onion, spinach, and fonduta. 901 4th Street NW; 202.697.6888; nicolettakitchen.com.
Nina May
For every Tuesday during the month of May, Nina May will turn into a Mexican restaurant, "Nina Mayo," providing a regional and seasonal approach to classic Mexican dishes. An assortment of tostadas, tacos, and burritos will be offered with a variety of fillings like barbacoa and chipotle roasted sweet potato. Co-owner and beverage director Danilo Simic will offer a full menu of Mexican inspired cocktails, including an array of margarita flavors ranging from classic to spicy to strawberry rhubarb. All menu items are available a la carte. Guests may also choose to sample a variety of the menu with the Chef's Mexican Menu ($60). 1337 11th Street NW; 202.518.3609; ninamaydc.com
Occasions Catering
Occasions Catering is introducing a home delivery menu available to the DMV area Mondays through Wednesdays.. New additions include pre-batched cocktails, local vegetable and dairy bundles, and flowers -- flowers do make everything better -- brighten up your day with a lush spring bundle of grower's choice stems for at-home arranging. Available for Friday home deliveries only. Deliveries must be ordered 48 hours in advance. 655 Taylor Street NE; 202.546.7400; occasionscaterers.com
Prescription Chicken
Prescription Chicken just launched diy challah kits with everything you need to make delicious Rx chicken challah. $12 gets you flour, yeast, eggs, olive oil, salt and sugar, the recipe...and $5 goes to #SoupSupport fund. In addition to delivering meals to hospitals in the DC area, Rx Chicken has partnered with the amazing Food on the Stove, an organization dedicated to helping Firefighters/EMS workers eat healthy - even harder in these COVID-19 times. 440 L Street Nw; prescriptionchicken.com
Ramen by Uzu
Ramen by Uzu is introducing traditional savory Japanese pancakes – filled with kimchi, fried on a griddle, topped with cheese and loaded with spicy mayo. Hiro is offering all of his authentic ingredients + recipes for Washingtonians to make at home. The kits make about three servings and can be purchased for delivery. 1309 5th St NE; uzu9dc.com
Red Apron Butcher
Introducing the Red Apron Grill Menu, your be-all-and-end-all barbeque resource. Each week introduces new menu items. This week Chef Nate Anda is introducing carne asada grill packs ($36), with his marinated skirt steak, handmade tortillas, pickled onions, lime crema, and fresh cilantro. The burger night grill pack ($36) includes four 6oz patties, cheese, pickles, and more. The day drinking pack ($55) includes 4 wines. 2000 Mt. Vernon Avenue; nrgprovisions.com
Shilling Canning Company
Shilling Canning Company is introducing a new menu complimented by Spring harvests. The menu includes crab cakes, steak frites, kale salad, and more. 360 Water Street SE; 202.554.7474; shillingcanning.com
Shouk
Shouk now offers "Hood Drops", bringing their plant-based, modern Israeli street food to residents in areas outside of their usual delivery range. Diners can order through the Shouk app, and find out about delivery information, shouk.com.
Sloppy Mama's Barbeque
Sloppy Mama's Barbeque is accepting pre-orders for pick up and delivery at the Pulled Pork Playground for the weekend of May 15th during the following hours: May 15 (5:00 p.m.-8:00 p.m.), May 16 (5:00 p.m.-8:00 p.m.), and May 17 (12:00 p.m.-3:00 p.m.). 5731 Lee Highway, Arlington; 703.269.2718; sloppymamas.com

South Block
South Block has added their first ever salad to their menu, the super salad. The salad includes spinach, avocado, egg, and more. 3210 Grace St NW; 703.465.8423; southblockjuice.com

Stella Barra Pizzeria and Wine Bar
Develop your culinary skills with a build-your-own-pizza kit courtesy of Summer House Santa Monica and Stella Barra Pizzeria & Wine Bar. This all-in-one box has all you need to create one Margherita Pizza built for two, including tomato sauce plus the freshest mozzarella and basil ($16.95). 11825 Grand Park Avenue, North Bethesda; 301.770.8609; stellabarra.com
Summer House Santa Monica
You can still enjoy the comfort of Summer House's signature cookies at home. Pick up your cookie dough favorites including chocolate chip, peanut butter, and more ( $2.50). Summer House is also offering assorted pints of ice cream ($7.95). Flavors change seasonally, currently oreo, funfetti, and coffee are available while supplies last. 11825 Grand Park Avenue, North Bethesda; 301.881.2381; summerhousesm.com
Taco Bamba
Taco Bamba is now offering lunch satellite drops( Monday-Friday at 11:30 a.m. or 12:30 p.m.) and dinner neighborhood drops (Sunday- Thursday for groups of five or more). All orders will be prepaid online and individually bagged and tagged for pickup at an appointed destination, such as a driveway. Cool down with a pint of Taco Bamba's new homemade ice cream. Flavors include chocolate chocolate chip, churro dulce de leche, mango vanilla, and peanut butter chocolate chip (all $6). Only available in virginia. tacobamba.com
The Imperial
The imperial is offering at home dinners for two ( $45-50) with courses such as potato salad, beef wellington, chocolate mousse, and so much more. Other offerings include the picnic pack ($22), and sandwiches ($10-16). 2001 18th St NW; 202.299.0334; imperialdc.com

The Inn at Little Washington
Beginning on Memorial Day Weekend the Inn at Little Washington will be welcoming outside guests for a special grounds and garden tour (11:00 a.m. and 1:00 p.m.). The guided tour will observe social distancing as it takes visitors around the property into the field of dreams through the vegetable gardens, chicken pavilion, perimeter walk, flower gardens and formal boxwood parterres. Several of the private, walled gardens in guest cottages will also be available for viewing. 309 Middle Street; 540.675.3800; theinnatlittlewashington.com
The Salt Line
The Salt Line is reopening its kitchen and bar for delivery and pickup. Offering comforting classics with a menu inspired by the traditional New England fish houses, Chef Kyle Bailey and the team are also making it easier than ever to "DIY" with culinary experiences for the home. One of the menu features is the fresh catch plate with your fish of choice, sauce, side, and preparation. Available for to-go Monday-Friday from 4:30 p.m. – 8:30 p.m. and 12:00 p.m.-8:30 p.m. on Saturdays and Sundays. 79 Potomac Avenue SE; 202.506.2368; thesaltline.com

Think Food Group
ThinkFoodGroup is adding a few new and seasonal offerings. For Memorial Day Beefsteak Dupont is bringing back the beloved Beefsteak Burger – an official sign of summer. Plus, add Family Style Take & Bake dishes from Beefsteak, including the pasta primavera ($15); Mac & Cheese ($12); and cabbage rolls ($15). The new family style feasts include the lamb shoulder feast for 4, offered Friday – Sunday, 48 hours advance order necessary ($135) and spring mezze feast for 2 ($65). The tapas party night includes goods like roasted, smoky piquillo peppers, chorizo, and more ($100). 717 D Street NW 6th floor; 202.638.1910; thinkfoodgroup.com
Tony Chittum
Chef Tony Chittum is now making fresh and frozen pasta (and basil pesto) that are for sale on Neighborhood Provisions. Pastas include selections like squid ink bucatini, spinach mafalde, and more. 2000 Mt Vernon Avenue, Alexandria, VA; neighborhoodrestaurantgroup.com

Trap Tacos
The Uncaged Chefs will launch a new kind of Taco Tuesday with Trap Tacos; named after Trap music which is a subgenre of hip hop that originated in the south. Trap Tacos take classic taco styles and infuse the flavors from different urban and international backgrounds. Expect Birria style tacos featuring flavors such as a crab mac and cheese taco with a Cajun cream dipping sauce, and more. Trap Tacos will happen every Tuesday at The Uncaged Chefs location from 11:00 a.m. – 8:00 p.m. District Heights, Maryland; 301.664.4233; theuncagedchefs.com
TTT
TTT will offer a selection of juicy tortas, tacos, quesadillas, and burritos available a la carte as well as family-style meals served in a catering format. For the perfect pairing, TTT offers a selection of pre-batched margaritas and sangrias showcasing the diversity of Mexico's celebrated spirit ($12-$14 for a 12oz). Those who order from TTT's new carryout menu on Tuesday, May 5 will enjoy one complimentary margarita per order in honor of Cinco de Mayo. Carryout and delivery options are available seven days a week, from 12:00 p.m. to 7:00 p.m. 8407 Ramsey Avenue, Silver Spring; 301.755.6132; .tttrestaurant.com

Yellow
Chef Michael Rafidi will open Yellow, a Levantine-inspired cafe for carryout. Yellow's all-day offerings include pastries from Chef Gregory Baumgartner that merge French technique with Middle Eastern influence, as well as beverages spanning from coffeehouse classics to specialty iced coffees and cold drinks. Lunch features an assortment of mezze and sandwiches on homemade potato pita bread. Yellow will be open Wednesday-Sunday from 9:00 a.m.-3:00 p.m. for carryout. 1346 4th Street SE; 202.921.9592; yellowthecafe.com
Xiquet
Chef Lledo released a new four-course seasonal tasting menu featuring Pan Tomaca served with cherry tomato & grape salad, hot smoked salmon, and more. The seasonal menu is available through May 31st. Guests can also purchase at-home paella kits (nationwide shipping available) created by the international award-winning chef as well as extra paella essentials including Iberian cheese and charcuterie via Tock. 2404 Wisconsin Avenue; xiquetdl.com