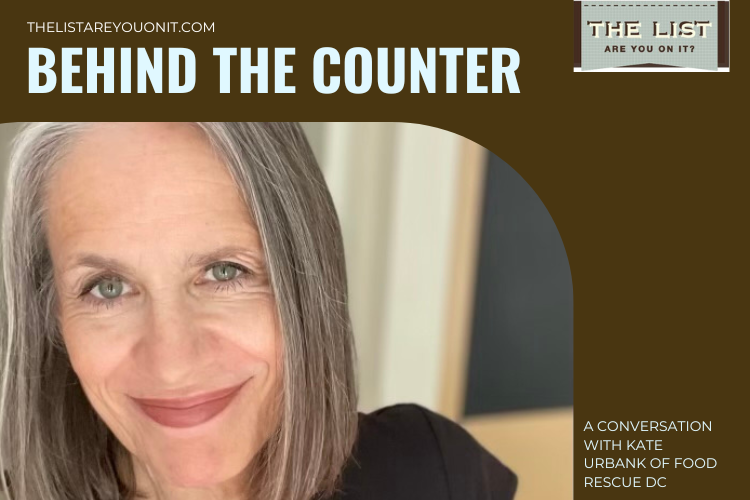 Behind the Counter: Kate Urbank of Food Rescue DC
Today we are going Behind the Counter with Kate Urbank, Site Director of Food Rescue US – DC. Her counter is a big one, encompassing DC, Northern Virginia, and parts of Maryland, across which her vast network of volunteers moves a LOT of food. They share her conviction that the nation's capital should have a strong program to serve the region's food insecure populations and prevent the waste of fresh, healthy food.

Kate caught the food rescue fever as a volunteer for the flagship Food Rescue US site in Fairfield County, Connecticut, where she lived. "It was so simple! I downloaded an app and searched matched rescues between food donors who hated to waste and partner agencies that needed healthy food. I found one that worked for my schedule and followed the detailed pick-up and drop-off instructions. In less than an hour, I saw the difference I was making by transporting food from here to there. I was hooked! It was good for people, good for the environment, and good for my community."

When she moved back to DC in 2015, she hoped to volunteer to do food recovery there and was surprised to find that there was no such food rescue program. With encouragement from the DC Food Recovery Working Group and the DC Food Policy Council, she launched Food Rescue US – DC. By October 2016, it was up and running, and to date, it's kept over 9 million pounds of food out of landfills, instead directing it to food insecure residents.

You've explained a bit about how the program works. Who donates the food?
We rescue from businesses large and small, including We, The Pizza, Levain Bakery, Call Your Mother Deli, DIG, Wegmans, Costco, Whole Foods, Lyon Bakery, FRESHFARM, and several corporate cafeterias including Sodexo at National Geographic, FLIK Hospitality at Freddie Mac, Restaurant Associates at the World Bank Group and Meriwether Godsey at Sidwell Friends School. We rescue from some independent restaurants and have welcomed a number of them to our Family Meal for Migrants program. They simply prepare extra "family meal" — the wholesome food offered to their staff members — and donate it through us to members of the migrant community seeking asylum here. It's a timely and wonderful way to stretch our mission.

Who gets the food?
We partner with a number of DC Housing Authority properties to provide seniors with nutritious and delicious food. And while we partner with well-established food providers, we also seek out groups that may be under the radar and in deep need. Since Covid, we've done a lot with Mutual Aid groups that know the needs of their food insecure neighbors. Soup kitchens, shelters, pantries, schools — we do our best to meet the need wherever it is, and our program is free of charge to the donors and the agencies.

Is food donation safe?
Food donation is protected by the Bill Emerson Good Samaritan Food Donation Act, signed by President Clinton in 1996, to discourage waste and encourage donation. The law honors a congressman from Missouri who recognized early on the need for appropriate public policy to guide this work. In 2022, President Biden signed the Food Donation Improvement Act, a bipartisan law that strengthens and clarifies the 1996 legislation. As long as food is safely handled and stored prior to the rescue and donated in good faith, food donors are protected from liability.

Do you need a car to do food rescues?
Typically yes, cars and SUVs are essential, but we now have an enthusiastic group of rescuers who use their bikes to transport food and we even have a couple that employs a "rescue wagon." For some of our larger rescues, our partner agencies dispatch their own trucks. If there is good food available for donation, we find a way to rescue it.

How can people help?
Volunteers and food donors can learn more and sign up at app.foodrescue.us. New partner agencies should contact me so I can assess their needs and get to work sourcing food for them. We're always looking for referrals and tips about businesses that might want to donate, or places that need food, or speaking engagements that help spread the word about our work. I can be reached at [email protected] and our socials are X: @FoodRescueDC; IG: @foodrescueus.dc; Facebook: @FoodRescueUSDC.
In addition, we have our annual gala coming up on September 21, 2023, which will be a delicious, fun night to benefit our programs.

Food Rescue US - DC must have its challenges. What fills your tank and keeps you going?
There's a practical, measurable outcome associated with every individual rescue, and over the long term it adds up to a lot of food and a lot of goodwill. But there's so much more to it. I love our program because it reflects the diversity of the DMV and its food culture. But most of all I love the stories that emerge every day from our work, the stories that speak to the transformational power of rescuing food. The volunteers who get to see where the food is going and what a difference it's making in the lives of others. The recipients who understand that there are people and establishments out there who respect and care about them and want to ensure their access to fresh and wholesome food. Every rescue knits these people and institutions together. It's food that is the anchor and the medium of exchange, of friendship and community. That's beautiful not just for Greater Washington, but for the world, and that's what keeps me going.

To learn more about Food Rescue DC, tune in to Kate's episode of Industry Night, here and here.