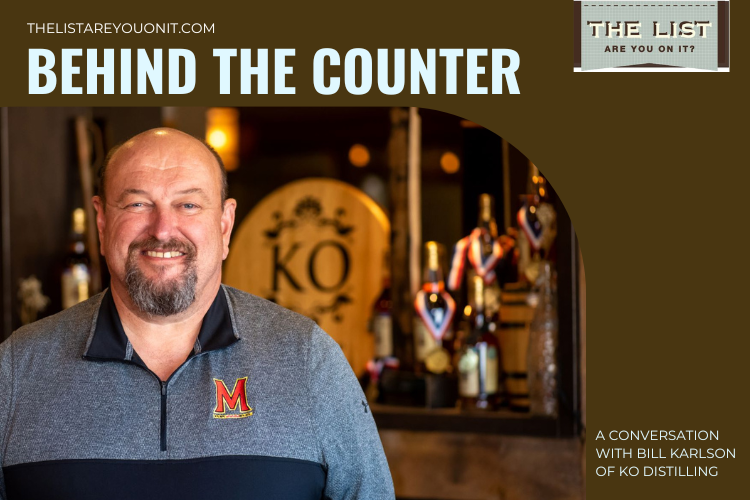 Behind the Counter: A Spirited Conversation with KO Distilling
KO Distilling is located in Virginia, which happens to be the birthplace of American Spirits, in case you didn't know. KO Distilling is a state-of-the-art craft distillery that creates award-winning spirits with local ingredients. Longtime friends Bill Karlson and John O'Mara (the "K" and "O" in KO Distilling- haha - get it?) met as classmates and cadet midshipmen at the United States Merchant Marine Academy. After successful careers and retiring early, Bill and John set off to create craft spirits with local ingredients, high-quality production methods, and a passion for involving their local community. KO Distilling has handcrafted three award-winning lines of spirits, including: Bare Knuckle Whiskeys, Distiller's Reserve Whiskeys, and Battle Standard 142 Gin.

TheListAreYouOnIt.com learned about KO Distilling and needed to know more. Bill and John have a passion for the history of distilling which provides the foundation for their products. Here's what we found out:

You both have such an interesting background. How did you go from midshipmen to distillers?
John and I had similar career paths. After graduating from the Academy, we both sailed briefly in the U.S. Merchant Marine. In the mid-80's, we both came ashore and began working for government contractors in the DC area. I ended up working for the same company for 26 years. John worked for a few companies, the last of which he was an owner. We formed our company in 2013, thus starting our 3rd careers.

What is it about the history of spirits in the United States that fuels your passion for the products you produce?
Everything! In 1620, the first documented American whiskey was made in Virginia. Four hundred plus years later, we are honored to help continue that tradition. Also, in 2000, there were about 24 operating craft distilleries in the U.S. Twenty-two years later, there are now over 3,000 American craft distilleries. That kind of entrepreneurial growth helps fuel our passion to make and sell the spirits we produce. And of course, there is Prohibition. Next year will mark 90 years since Prohibition was repealed. Believe it or not - to this day, we are still dealing with the remnants of Prohibition. Findings way to deal with those kinds of issues definitely fuels our passion for change.

Let's talk Whiskey! How did you come up with your process? Why copper? What barrel do you prefer and how do you decide on the char for the barrel? (All these questions, we know! But we really want to know!)
Early on in our startup, we received a U.S. trademark for "KO", but not for our legal name of Karlson & O'Mara Distilleries. So we took "KO Distilling" as our trade name. As a sideways play on KO for "knockout", we came up with a brand name of "Bare Knuckle" for our whiskeys. Our wheat bourbon, rye whiskey, and wheat whiskey bottles all feature American boxers from the early 1900's. For us, the image of a champion boxer fighting with his/her hands conveys strength and skill, which plays right into the hand-crafted theme of what we do every day to make high-quality spirits.
Honestly, we did not come up with the process. We still use the same age-old process of milling, mash/cooking, fermenting, and distilling mash bills (i.e., spirit recipes) to create our spirits. What we did do though is enhance that process with state-of-the-art technologies to improve the process and hence the quality of our spirits.
Copper is used for stills for two reasons. First, spirits made in a copper still taste and smell better than those made out of a stainless steel or other metal still. The reason is the copper "cancels-out" the sulfur put out by fermenting yeasts (think - the smell of rotten eggs). Second, copper is a fantastic conductor of heat, which helps make the distillation process better.
We actually have 2 copper stills at KO, both of which were made by Vendome Copper & Brassworks out of Louisville, Kentucky. The first is a 550-gallon copper pot/hybrid still which we used for our whiskey and gin production from 2015-2017. In late 2017, we added a 30-foot, 12-inch diameter continuous column still which allowed us to quadruple our whiskey production. We now put up over 1,000 bourbon, rye and wheat whiskey barrels a year. To do that, we use over 325 tons of Virginia grains a year. BTW, our first still is named "Ginny" b/c it is still used to make gin and it was our first still in VirGINia. Our tall second still is "Skinny". Both are workhorses.
When we were getting ready to open to the public in 2015, there was a barrel shortage across the nation. We were on everyone's waiting list for barrels. One day John and I decided to fly to Louisville and knock on the door of Kelvin Cooperage. Even though we had no appointment, Kelvin's President, Kevin McLaughlin, welcomed us. Thankfully, we got our first order of barrels. We have been sourcing barrels from Kelvin ever since. All of the 53-gallon new charred American oak barrels we purchase from Kelvin are medium char (Char 3). We also have some Independent Stave Company (ISC) heavy char (Char 4) barrels we use for our High Rye Bourbon. As to which char is better, well that depends. Different char levels can provide different flavors, and may require different aging duration, depending on the spirit. For instance, we love Char 3, but have considered if Char 4 might be better for column still-produced spirits. Char 4 barrels may provide more complex flavors, but may require a little more time in the barrel to mature.

On to Gin! We'd love know about the botanicals and again the history the memories that you are saluting.
From the get-go, John (a gin lover) wanted us to make our own gin. So, we experimented until we got one that John was satisfied with. That was Gin Recipe #4. We used (and still use) 8 botanicals for that recipe: Juniper Berries, Cinnamon, Cardamom, Coriander, Angelica, Orris Root, Grains of Paradise, and Bitter Orange Peel. We use less of a juniper load than a typical London Dry gin. The result is a New Western, or "American Dry," style gin that not only has the piney taste of any good gin, but also other flavors that help make the spirit complex. With ours you get a juniper pop upfront, followed by citrus notes, then a little bit of a peppery, cinnamon finish.
We make our gin with our pot still. We place 7 of our botanicals in the still with some Neutral Grains Spirits. We also place the Bitter Orange Peel in the stainless steel gin basket on the side of the pot still's hybrid column. We then distill that mix. When done, we cut the gin distillate with pure water to get it down to 114 Proof for our Battle Standard 142 "Navy Strength" Gin or 90 Proof for our Battle Standard 142 "Standard Strength" Gin. We then filter and bottle our spirits. Occasionally, we also make Battle Standard 142 "Barrel Finished" Gin, where we "rest" some of our new-make gin into a used KO bourbon barrel for 4-6 months.
All three of our gins have a brand name of "Battle Standard 142". At John's and my alma mater, 142 cadet/midshipmen were killed at sea on merchant ships during World War II. The United States Merchant Marine Academy flies a Battle Standard (flag) in honor of those men. At KO, we try to honor them as well with our gin labels.

All your products are kosher. With the Jewish Holidays right around the corner, we are curious about what is involved in order to hold that distinction.
All of our KO distilled spirits were Kosher-certified by the Rabbi Shmuel Herzfeld of the Ohev Sholom - National Synagogue in Washington, DC. Generally, distilled spirits can only be certified as Kosher if they do not contain any grape elements or certain animal ingredients (pork, rabbit, birds of prey, catfish, sturgeon, most insects and any shellfish or reptile). Our spirit cases have a "DC Kosher" icon to show that the spirits are Kosher. Our new Bare Knuckle High Rye Bourbon, however, is not Kosher, as we sourced that spirit from another distillery in Indiana that did not try to get a Kosher certification for that spirit.