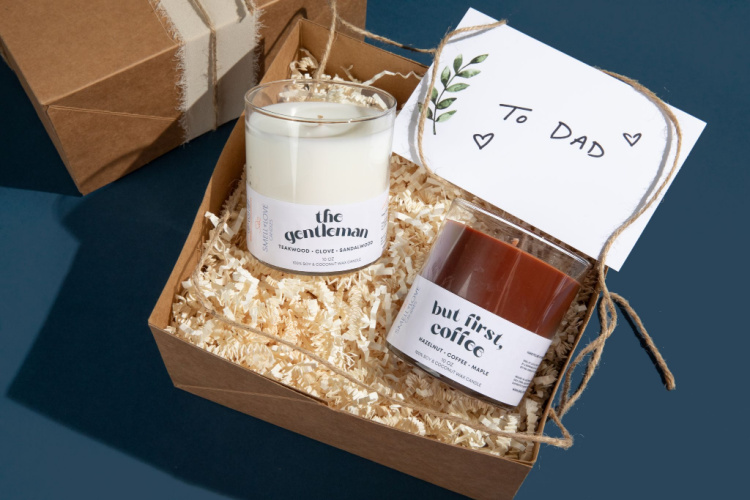 Dad's Day Done Right
Photo: Smell of Love Candles
Why is honoring Dear Ol' Dad fraught with so much chintz? No soap on a rope, boring tie, or goofy apron should be given to the person who provides you with all that fatherly love and support. Brothers, uncles, fathers, and friends should all be celebrated for the gift of love that they share. Per usual, the team here at TheListAreYouOnIt.com has you covered. This upcoming Father's Day, Sunday, June 19th make Dad say "that's delicious!":

NEW: Father's Day Lunch with All Purpose
All he wants is a hot slice (or 5) and a cold beer, trust us ... we know. Both All Purpose restaurants will have their respective brunch menus on offer, and the best part: dads are gifted with a pint of the DC Brau collab, Full Count Lager, on the house. The ballpark-inspired lager pairs perfectly with brunch fan-favorites like Fried Brussels Sprouts Hash and BLT+E along with seasonal pizzas and all the dippies. Plus, enjoy bottomless mimosas or Aperol Spritzes; 202.849.6174; 1250 9th Street NW; Click here for more information.

Father's Day Offerings at Atlas Brew Works
On Sunday, June 19th from 1:00 p.m. until 6:00 p.m., The Atlas Brew Works team will be celebrating Father's Day this year by offering a free drink to any guest that makes their team members laugh with a cheesy dad joke. Those who do not drink beer can opt for a glass of wine instead. Limit one drink per customer. Atlas Brew Works will also be offering a special Father's Day Bundle package. The package includes $60.00 worth of gift cards, a six-pack of Atlas beer, and an Atlas keychain. The package costs $60.00; 202.832.0420; 2052 West Virginia Avenue NE #102; To order the package, click here.

NEW: Blue Rock Family Meal
Chef Bin Lu and the team at Blue Rock are preparing a four-course, family style meal in honor of Father's Day. Guests at Rappahannock County's newest dining and travel destination can celebrate dad with spectacular views of the Blue Ridge mountains while enjoying a delicious line-up, including white gazpacho, beef tartare, baked tromba pasta with meatballs, NY strip with hasselback potatoes, creamed spinach, and parker house rolls, finished with olive oil cake and an ice cream sundae bar. The menu is available for $125 per person and an additional beverage pairing can be enjoyed for $74. Reservations can be made on Tock. 12567 Lee Highway, Washington, VA. bluerockva.com

Boxwood Winery's Father's Day Barbeque
Treat Dad to lunch at Boxwood Winery's Pavilion overlooking their vineyard and winery this Father's Day. Dad can enjoy an upscale guy's buffet catered by Monk's BBQ, along with his choice of a half bottle of red, white, or rosè. Some meats include Beef Brisket, Pulled Pork, and Pulled Chicken. Side dishes include Custard-Filled Cornbread, Classic Potato Salad, Smoked Gouda Mac & Cheese, and more. The event will take place on Sunday, June 19th from 11:30 a.m. until 2:00 p.m. Tickets cost $60.00 per person; 540.687.8778; 2042 Burrland Lane, Middleburg, VA; To purchase a ticket, click here.

Father's Day at Brasserie Libertè
Give dad the gift of lunch or dinner at Brasserie Libertè this Father's Day. They will be offering their signature brunch menu with menu items such as Steak and Eggs, Eggs Benedict, Beef Bourguignon Skillet, and more. Guests can pair their dishes with their Mimosa Kit, which includes a bottle of sparkling wine and a seasonal juice for $35.00. If guests prefer dinner, they can enjoy options such as Beef Bourguignon, Coq Au Vin, Fettuccine Bolognese, and more. Brasserie Libertè is open on Father's Day from 9:30 a.m. until 3:45 p.m. for brunch and from 4:00 p.m. until 10:00 p.m. for dinner; 202.878.8404; 3251 Prospect Street NW; To make a reservation, click here.

Father's Day at Carmine's
Father's Day specials at Carmine's, the family-style Italian eatery in Penn Quarter, include a roasted Angus beef tenderloin and a platter of Pasta Boscaiola. Carmine's entire menu will be served on Sunday, June 19th as well; 202.737.7770; 425 7th Street NW; For more information, click here.

NEW: 2-for-1 Cheesesteaks Father's Day Weekend at Cheesetique
This Father's Day weekend, enjoy two 'Tique cheesesteaks at Cheesetique for the price of one. Available June 17-19 for dine in orders only, give Dad what he really wants – extra cheese, obviously! And don't forget to ask for the ~perfect~ wine pairing, to go along with your meal. Del Ray & Shirlington, VA; https://www.cheesetique.com/reservations/

NEW: Bring on the Magic at City-State Brewing
Begin your Father's Day with a performance from the colorful magician "The Great Zucchini" at 11:00 a.m. Known as Washington's most magical preschool & kindergarten entertainer, this show makes every child a star, and is guaranteed to bring the laughs. Plus, enjoy food trucks, games, music, balloon art, and of course house-made drafts and cans from the craft brewery and taproom. 705 Edgewood Street NE; citystatebrewing.com

Golf-Themed Father's Day at The Commentary
This year, Father's Day falls on the last day of the U.S. Open Championship, so The Commentary Social House in Ballston will be screening golf's biggest event and featuring golf-themed cocktails along with Father's Day brunch specials, so golf dads can combine everything they love on their special day. The All-American social eatery and vibrant bar is where West Coast meets East Coast flavors come together in an elegant but cozy atmosphere, big screen TVs in the cozy lounge and over the bar will broadcast the tournament throughout the brunch and dinner hours; 703.537.4204; 801 N Glebe Road, Arlington, VA; Click here for more information.

NEW: Father's Day Jazz Brunch at Dolce Vita
On Father's Day, Dolce Vita is offering a special Father's Day menu from Chef Elier Rodriguez to complement the restaurant's jazz brunch. Specials from the $55.00 option include a Grilled Branzino and Mango Panna Cotta with fresh berries. Guests can also opt for the $35.00 Social Brunch option that includes a bottle of sparkling with juice, salad to share, and two entrees; 202.506.4872; 1610 14th Street NW; To book a reservation, click here.

Father's Day Specials at Fiola Mare
Fiola Mare is offering some "father-approved" specials this Father's Day, available for dine-in and at-home enjoyment. The Fiola Mare Seabucket includes lobster, snow crab, clams, mussels, sweet corn, marble potatoes and more. It can feed between 4 to 6 guests and costs $550.00. An in-house special featuring the Seabucket is also available for $475.00 in addition to their 16-ounce Spice-Crusted Prime Rib Special; 202.350.4982; 3100 K Street NWTo make a reservation, click here.

(GIFT IDEAS) FlyWithWine Glass Travel Case
This unique wine glass carrying case by FlyWithWine is tailor made for wine lovers who like to drink their favorite wines in their favorite glasses while not at home. Easy to carry and made with a hard outer shell and heavy-duty foam inserts to protect even the most fragile of glasses, it makes it easy to travel with two wine glasses to restaurants, wine tastings, and other venues where the wine glasses being offered don't measure up to fine wine enjoyment as it should be with your own high-quality glasses. The wine glass case inserts will accommodate most major branded "Universal" (one size for all) mouth blown and machine blown glasses. Available from $99.95; 707.320.0567; Click here to purchase.

(GIFT IDEAS) FlyWithWine: The VinGardeValise
Give dad the gift of keeping his favorite wines safe from breakage while traveling this Father's Day. TheVinGardValise by FlyWithWine is a line of tough suitcases that are gentle on glass, thanks to dense foam inserts designed to cradle wine bottles. These suitcases also double as a carry-on piece of luggage or as a checked wine travel case to travel safely with up to 5-bottles of wine. TheVinGard Valise costs $279.00; To order, click here.

Father's Day Crab Bod Dad Bod Package at Hello Betty
On Father's Day between 11:00 a.m. until 3:00 p.m., Hello Betty will be offering a special Crab Bod Dad Bod Package. This package is designed to feed between 2 to 4 people and includes a fire-roasted crab basket served with red bliss potatoes, corn on the cob, and house-made Old Bay vinegar. There will also be a beech beer cooler that features a 6-pack of Betty's choice and Crab Bod Dad Bob Koozie. The package costs $90.00; 301.389.5840; 940 Rose Avenue, North Bethesda, MD; To make a reservation, click here.

NEW: Father's Day Offerings at Immigrant Food and Immigrant Food+
For Father's Day weekend, the IFood Group will be offering special deals at their Planet World and White House locations. At Planet World, guests can enjoy a "Bleu Burger and Global Beer Combo" special for $28.00. At The White House location, guests can enjoy "Immigrant Burger Burger and Global Beer Combo" for $22.00; 202.888.0760; 925 13th Street NW (Planet World); 1701 Pennsylvania Avenue NW; To make a reservation at the Planet World location, click here; To make a reservation at the White House location, click here.

Father's Day at Juniper Restaurant
On Sunday, June 19th, Juniper Restaurant at Fairmont D.C. is honoring Dads this Father's Day with Dad's Brew and BBQ. Executive Chef Jordi Gallardo and Executive Sous Chef Jason Rowley will be preparing the BBQ that will take place from 11:00 a.m. until 2:00 p.m. There will also be a live grilling station, as well as their Sunday brunch menu. Executive Pastry Chef A.J. Thalakkat will be preparing family-style desserts for guests to enjoy. Dad's Brew and BBQ is priced at $42.00 for adults and includes two beers per person, and $19.00 for children 12 and under; 202.457.5020; 2401 M Street NW; To make a reservation, click here.

Father's Day "L'Auberge Chez Francois Style"
Celebrate Father's Day at L'Auberge Chez Francois & Jacques' Brasserie! Why not let Chef Jacques and team craft a delectable Father's Day Experience to honor your dad or special someone in the comfort of your home (chez vous)? Featured dishes include an Organic Mesclun Salad and Classic Lobster Thermidor. Orders should be placed by 5:00 p.m. on June 16th; 703.759.3800; 332 Springvale Rd, Great Falls, VA; To make a reservation, click here.

Lena's Father's Day Specials
Lena's Wood-Fired Pizza & Tap is celebrating dad all weekend long (June 17th through 19th) with two amazingly delicious specials - Slow Roasted Prime Rib and the Spaghetti alla Impossible Bolognese. Special to-go offerings are available for those who want to celebrate at home. Beer-drinking dad's get 25% off growlers of beer to-go; 703.683.5330; 401 E Braddock Road, Arlington, VA; Click here for more info.

(Gift Ideas) Neighborhood Provisions Meat Lovers Subscription
Load up the larder for the month! Introducing, the Red Apron Meat Lovers Subscription -- the perfect solution for conscious connoisseurs everywhere. Featuring local, ethically sourced, and freshly butchered cuts of beef, pork, and poultry hand-picked according to the highest standards, this subscription saves you a trip to the butchery and lets you rest easy knowing you're receiving the highest quality meats in the game. Order before 6PM on Thursday, June 16th and receive two strip loins and a certificate made for Dad; 703.549.0201; 2000 Mt Vernon Avenue, Alexandria, VA; Click here to order.

Father's Day at Nobu
Bring dad and the entire family to legendary Nobu DC, where the talented chefs magically transform the highest quality Wagyu beef into a sumptuous offering of Wagyu Tacos, Wagyu Tataki and Wagyu Sushi and where renowned Executive Sushi Chef Micheole "Chico" Dator creates artistic and oh-so-edible sushi delights. Plus, you can – and should - enhance dad's celebratory mood with choices from among Nobu DC's celebrated cocktails, including the Kikori Old Fashioned and the Nil Fashion; 202.871.6565; 2525 M Street NW; For reservations, click here.

(GIFT IDEAS) Officina BBQ Kits for Dad
Looking for the perfect gift this Father's Day? Love to grill with friends and family? We are launching Macelleria di Officina, a BBQ kit, where you can enjoy an authentic Italian culinary experience in the comfort of your own home. Available for pick-up starting June 8th through Labor Day at The Wharf; 202.747.5222; 1120 Maine Avenue SW; Click here to preorder.

NEW: Old Ox Brewery's Beer Dinner for Dad
Celebrate dad with a delicious five-course menu and local ales from Old Ox Brewery. Featuring dishes like Seared Duck Breast, Sugar Smoked Ribeye and more paired with craft beer for a memorable celebration. Dinner is being served on June 18th at 7:00 p.m. at $90.00 per person; 540.326.4000; 500 North Pendleton Street, Middleburg, VA; Click here to make a reservation.

"Fête des Pères" Celebration with Opaline
Opaline Bar & Brasserie is celebrating all fathers on their special day with Glenlivet Whisky Flights on Sunday, June 19th from 4:00 to 9:30pm. One ounce pours of single malt Glenlivet include 12-, 14- and 18-year-old whisky at $37.00 per flight. Executive Chef Daron Lee will pair the flights with specially seasoned popcorn. He and his team will also be serving Opaline's summer menu that pairs well with many of Dad's favorites such as 10-ounce New York Steak and Seared Antarctic Salmon; 202.730.8701; 806 15th Street NW; Click here for reservations.

Pizza and Pilsners for Papas' Day at Pizzeria Paradiso
Pizzeria Paradiso will be celebrating dads all Father's Day weekend with Pizza and Pilsners for Papas' Day. On June 18th and June 19th, dads can enjoy their favorite pizza and beers at any Pizzeria Paradiso location. For $25.00 guests can choose one large 12-inch pizza and one pilsner. Available for dine-in and carryout only; Multiple Locations; To place an order, click here.

(GIFT IDEAS) Father's Day Smell of Love Candles Box
Give the special dads in your life the gift of a Smell of Love Candles Box. Choose between their most popular scents to create your own bundle. Each box comes with one 10 ounce candle of your choosing, one room spray scented with Fresh Linen and Odor Eliminator, and one loofah soap scented in Caribbean Teakwood. Father's Day Boxes are currently on sale from $55.00 to $48.00; To purchase, click here.

NEW: Smokecraft Modern BBQ's Father's Day Packages
Chef Andrew Darneille is offering a series of Father's Day Packages that feed 6 to 8, including everything from Build Your Own Nachos, St Louis Rib, and the BBQ Sampler Platter as well as platters of Wings, Smoked Avocado Deviled Eggs and Pork Belly Burnt Ends. Meats are also available by the pound, as well as a la carte sides like Mac and Cheese, Collard Greens, Baked Beans, Bourbon Sweet Mashed Potatoes and Coleslaw. Preorder by Thursday, July 16th at 5:00 p.m. The restaurant will also be open for brunch and dinner; 571.312.8791; 1051 North Highland Street, Arlington, VA; For more information, click here.

NEW: Father's Day Celebration at Ted's Bulletin
If it's a celebration you're looking for, the Catalogue brands have you covered. This summer, Ted's Bulletin will be launching a new summer menu with light and refreshing additions to their already delicious menu. Reserve the private dining room or call ahead for a special brunch, lunch, or dinner for the whole family. Weekend menu specials include Summer Surf & Turf and a classic Country Fried Steak; 202.265.8337; 1818 14th Street NW; For more information, click here.

Truluck's Father's Day Menu
In addition to Truluck's usual menu of seafood and steak selections, all locations will be showcasing a special Father's Day entree: Tenderloin Medallions with Maine Lobster Oscar and Smoked Salmon with a Twice Baked Potato on Sunday, June 19th. The Father's Day Special is priced at $125.00.; 202.898.0680; 700 K Street NW; To make a reservation, click here.