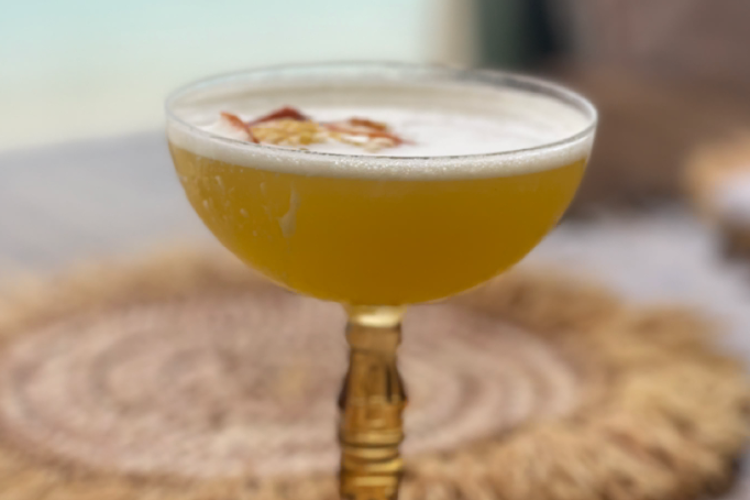 Drinks of December
Oh the weather outside may be frightful, but the cocktails sure are delightful... Warm or shaken over ice, boozy or alcohol-free, join us around the DMV to sip on drinks that will warm you right up:

A Grown-Up Advent Calendar (Gifting Alert) : ChurchKey's Advent Beer Box is now available for pre-order. For $149, enjoy 24 fresh, rare, and exciting beers from 20+ of the most exciting breweries in the beer scene (packaged in a custom-decorated box to keep the beers themselves a secret). Boxes are available for delivery on Monday 11/27 and Tuesday 11/28, as well as available for pick up from Saturday 11/25 — Thursday 11/30 at select pickup locations in Virginia and DC. Order here.
A Club Worth Joining (Gifting Alert): Any Day Now, the cafe and restaurant from Chef Tim Ma, is launching a monthly wine club. Each month, wine fans are invited into Any Day Now where they have the opportunity to taste nine different wines, selected by beverage director Ryan Ward, alongside delicious snacks from Chef Matt Sperber. Guests can also purchase wines at the retail shop. 2 I Street; anydaynowdc.com
Savor Sips (Gifting Alert): dLeña has proudly joined forces with the renowned Herradura distillery to unveil the restaurant's first-ever proprietary tequila bottles - an exclusive reposado tequila of unparalleled quality. The perfect gift for tequila aficionados this holiday season, enjoy bottles from American Oak bourbon barrels handpicked by the restaurant team on a trip to Mexico. Available for purchase onsite at dLeña only, the 750ml bottle sits at a premium price point of $450. Enjoy this Herradura double barrel reposado with a robust agave nectar and flavors of caramel, banana, and minimal peppercorn with a long and smooth finish. There are limited bottle quantities available. Purchase here.
NEW: 12 Days of Cocktails: King Street Oyster bar is kicking up the holiday spirit with 12 days of cocktails this December. From Wednesday, December 13th - Monday, December 25th you can enjoy cocktails like It's Christmas Morning In The Caribbean, Yule Mule, and more every day. 7 Ridge Square NW; kingstreetoysterbar.com
Relief from the Sunday Scaries : Soothe your Sunday Scaries at Nama Ko with Executive Chef Derek Watson's new combini menu, available every Sunday from 4-9PM. Inspired by his recent trip to Japan, enjoy an all night happy hour menu including build-your-own ramen, wagyu sliders and more alongside signature cocktails. 1926 14th St NW; nama-ko.com
This Makes Us Happy (Happy Hour Alert): The Salt Line has launched a new winter happy hour. It is Monday to Thursday from 4 pm to 6 pm + Friday "Happy Afternoon" from 12 pm to 6 pm. Enjoy half priced oysters, wine special prices, $10 cocktails and more. 79 Potomac Ave SE; thesaltline.com
NEW: Old Fashioneds at Home (Gifting Alert) : The Popal Group's Afghan bistro Lapis and their underground vinyl cocktail bar, Lapop, will have four different signature cocktail kits available for purchase for the holiday season. All kits contain housemade syrups and bitters inspired by Afghan flavors, like cardamom, masala and saffron, and each one will come with recipes and instructions for various cocktails. Try the Lapis Old Fashioned Kit ($35) with a premade Old Fashioned (2 servings) + bitters and syrups for mixing, the Manhattan Kit ($30) with a premade Manhattan (2 servings) + vermouth and bitters, or the Cocktail Kit ($50) which includes two servings of the premade Old Fashioned, Manhattan, and Strawberry Negroni. They're also selling a Bitters Kit ($30) which includes cardamom bitters, cherry-vanilla bitters, and Char Masala bitters. lapisdc.com
$$Nothing About This $$Seems Dangerous … $$At All$$ : Tysons Corner Center launched a new Sip and Shop Program at the center, called "Shopping with a Twist" being the first indoor shopping center in the region to have this premier amenity for shoppers. You can add a "twist" to their shopping experience by sipping on their favorite alcoholic beverage while strolling through Tysons Corner Center, the Plaza, and most retail stores. Shoppers that are 21 years of age and older will be able to purchase an alcoholic beverage from participating restaurants, and stroll throughout the common areas and most stores at Tysons Corner Center. Shopping with a Twist will be in effect daily during center hours (10am-9pm Mon-Sat / 11am-7pm Sun), although individual restaurant hours may vary. Beverages must be in a logo'd disposable cup provided by the restaurant where the drink was purchased. Find out more info here.
Quill in Hand: Touted as one of DC's best cocktail bars, Quill, located inside the luxury Jefferson DC, is shaking up its menu and adding some seasonal drinks to its crafted menu of classic and signature cocktails. Try the Hail to the Pumpkin King (Wheatley Vodka, Cotton & Reed All-Spice Dram Housemade Spiced Pumpkin, Soda), the Shake Your Tamarind (Bombay Sapphire Premier Cru Gin, Cotton & Reed All-Spiced Dram, Citrus Tamarind, Lime, Chilli Oil), and more. 1200 16th St NW; jeffersondc.com